After the initial "yay, snow!" cheers comes the realization that you now have to come up with educational activities for your preschoolers or kindergarteners, to help keep them busy–and ideally, learning–all day long. And while I totally understand letting PBS air a few more shows than you might normally allow, I also think an unexpected day stuck indoors is a great way to try out new activities that give their brains a workout and help reinforce important skills. It's the kind of stuff you may not have time to do together on a regular old day.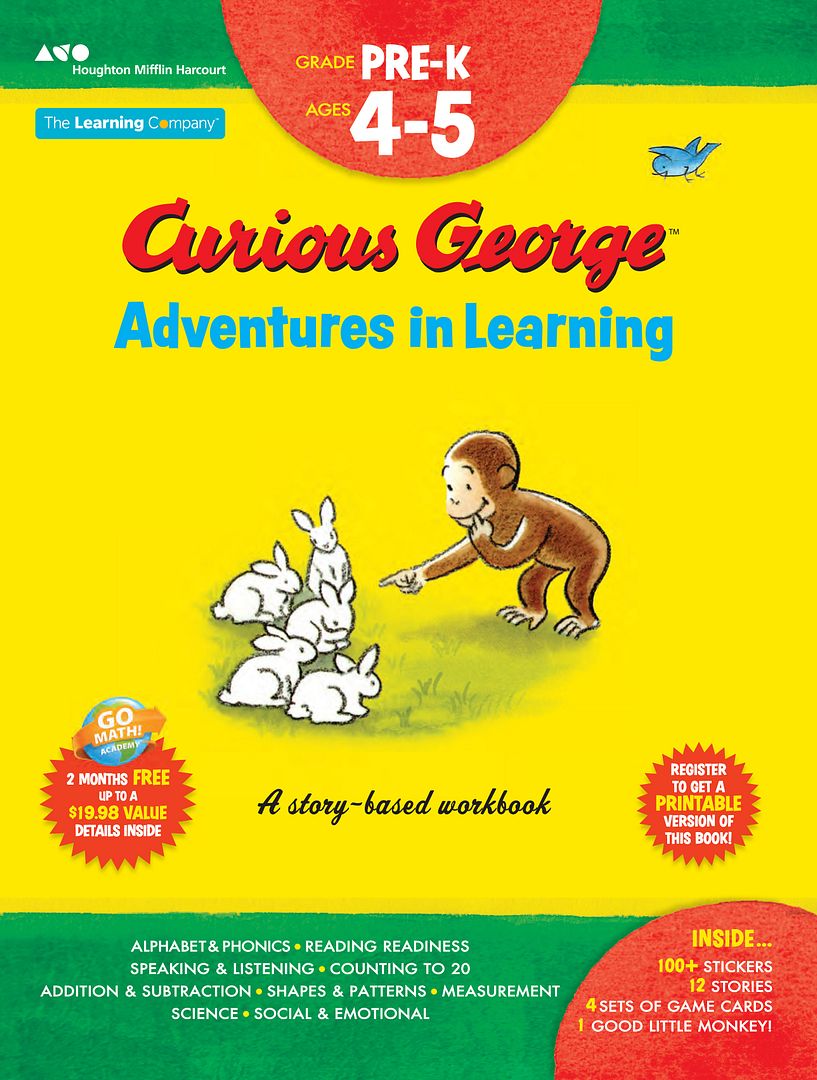 That's why I'm so pleased to welcome our sponsor Houghton Mifflin Harcourt (HMH), whose fun, educational workbooks for kids like their new Curious George: Adventures in Learning activity books are a staple in many of our own homes, since they wrap science, math, and reading practice into mini-stories that kids love. And they've given us the opportunity to pull together a huge collection of our own favorite fun and educational indoor activities that you can do with preschoolers or younger kids.
Trust us, it was hard to stop at 23! So channel some of that awesome preschool energy, dig through these suggestions, and you've got the makings of a very full day. Even when it's indoors.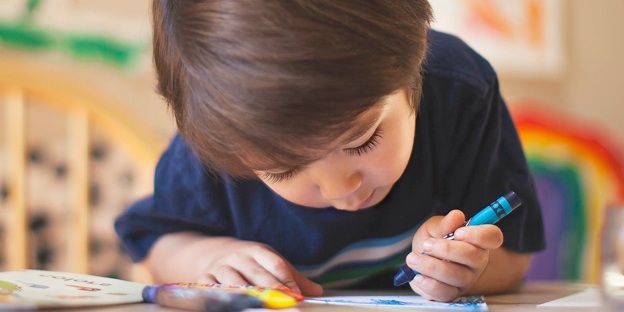 1. Craft away!
Nothing wrong with raiding your craft stash for some crayons, paints, or colored pencils and construction paper. But I also have a few crafting kits set aside for an unexpected snowy or rainy day. You can grab fantastic single Kiwi Crate kits at Target, or sign up for a 3-month subscription for the adorable new, all inclusive Koala Crate for kids ages 3-4. Then, just open and go for a whole new craft for your kids.
2. Throw a tea party.
Pinkies in the air, everyone! Practice your very best manners with a semi-formal tea party with your kids, tiaras optional. We've shared some fun ideas for an Alice in Wonderland tea party but take it a step further: Show the kids how to set a table and then enlist them to cut cucumber sandwiches into neat shapes with cookie cutters which is great for small motor skills. You can even serve some yummy flavored herbal teas served in those china cups you never use.
 3. Make cards for a VIP in your family
Phone calls and Facetime are great, but grandparents, aunts and uncles love receiving a handmade card from the kids, just like in the olden days of 1985. Plus it's a fun way for kids to practice their letters. Get out stamps, paints or even downloadable coloring pages, and let kids draw their own special artwork, then make sure the kids sign it themselves in their best handwriting.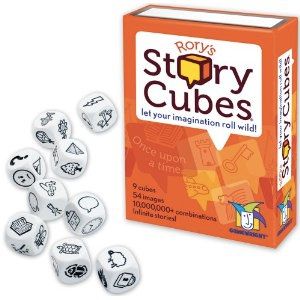 4. Create new stories.
My kids always love story time, especially if they are the storytellers. Rory's Story Cubes by Gamewright let you turn storytelling into a game we can all play around the table. Or check out our own Story Starters Grab Bag with free printable artwork.
5. Find new ways to play with blocks
Blocks are probably a staple in your home, and are great all their own. But if you need a new way to put those DUPLO or Mega Bloks bricks to use, build a tower as tall as each child. (Love that idea from Anna of The Imagination Tree). Then grab the measuring tape and show kids how to read their exact height. You can also build a second stack as tall as their birth height so they can see how big they've grown in just a few years.
To develop imagination and inspire creative play, we also love this idea from the same site, which puts blocks to use in a homemade kids play area made with just a big, used cardboard box and a Sharpie.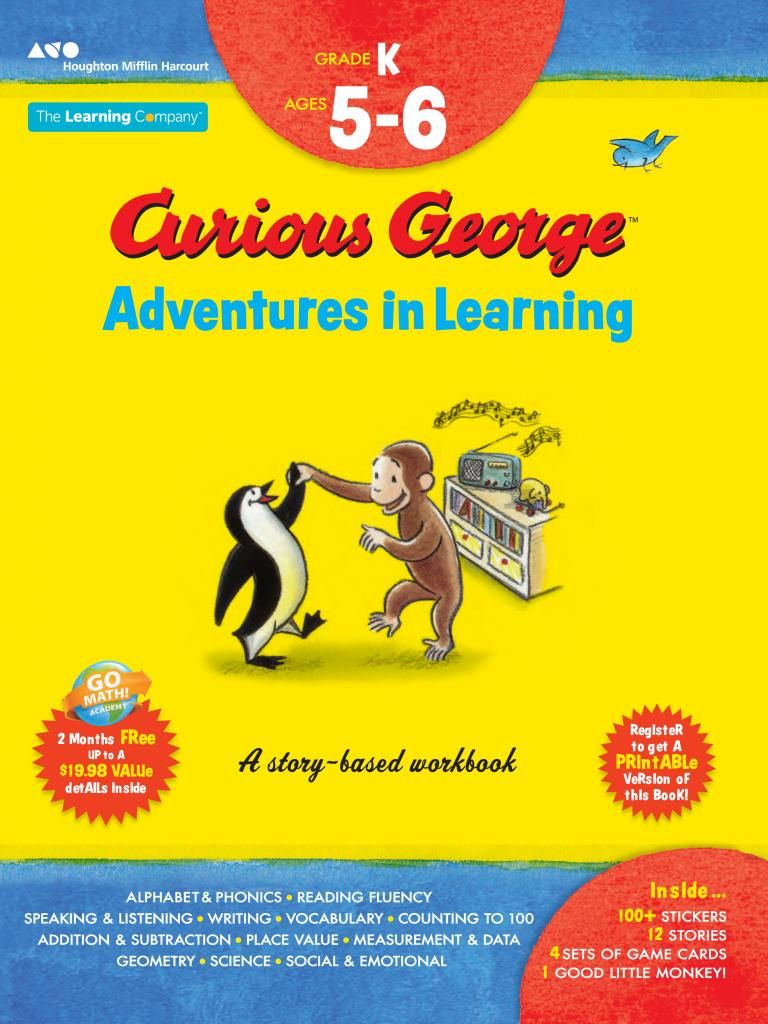 6. Make learning fun
I already said I love having fun educational workbooks on hand for kids, like Curious George Adventures in Learning activity books from HMH which feature a full 300+ pages! That's a lot of rainy days. They're leveled for kids in Pre-K, Kindergarten, or First Grade with activities targeted just for them including handwriting practice, shape recognition, counting skills, reading comprehension, and science and measurement.
Best of all, each workbook you buy can be downloaded free so you have it right away. That way, your kids can also revisit their favorite pages again on the next snow day. (Oh, you know there will be one.)
7. Create no-fuss block prints
Save the sponges or fancy DIY stamps, and just use your kids' wooden building blocks to make geometric art with this easy block print activity. Play with patterns and color, and talk about the shapes they see. Challenge older kids to see if they can turn two triangle prints into a rectangle, or put block shapes together to make little houses or ice cream cones.
8. Bored? Board games!
Even if you received the latest and greatest video game system for Christmas, pull out all your board games and spend some unplugged time playing your kids' favorite games. We especially like games that encourage collaborative play, like the ones from Peaceable Kingdom. Or hey, get out the classic board games like Sorry. It's okay if you cheat a little bit so the kids win. We won't tell.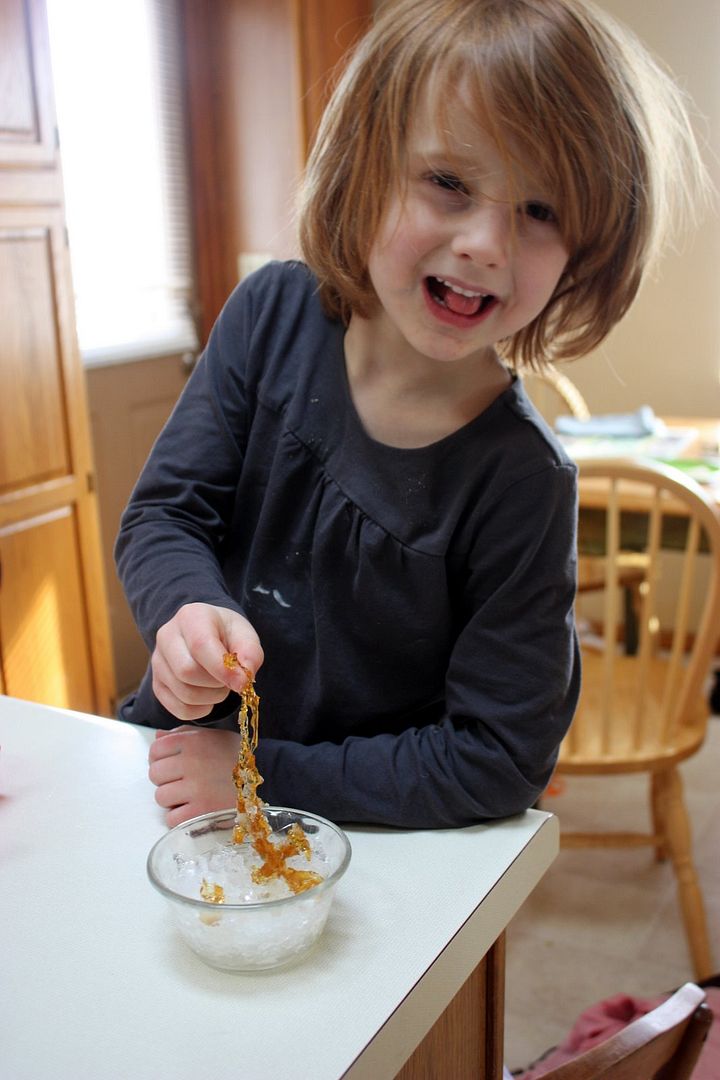 9. Make magic in the kitchen.
Work with what you already have on hand. Shake, shake, shake a jar of cream until it turns to butter, or grab bananas out of the freezer for the quickest and easiest one-ingredient ice cream. It's a science lesson! Or if the winter weather cooperates, turn some fresh, clean snow outside into some sweet maple snow candy like they did in pioneering days.
10. Host an art gallery show
We love asking the kids to hang their artwork on the walls (Scotch tape only, please!) and then call the adults into the room so they can explain them–then auction them off. Maybe for pennies, marbles, or cookies. If your child loves jigsaw puzzles, you can also turn your living room floor into a gallery by assembling the puzzles so they cover the entire floor, then oohing and ahhing over the finished results.
11. Practice letters without pencils or crayons.
One creative way to practice handwriting: put down the pencil and give little kinesthetic learners the chance to make some shaving cream letters. If they've got their manuscript letters down, show them how to make a few cursive letters. Kids love signing their names in script. Especially in shaving cream. Consider aprons. Just saying.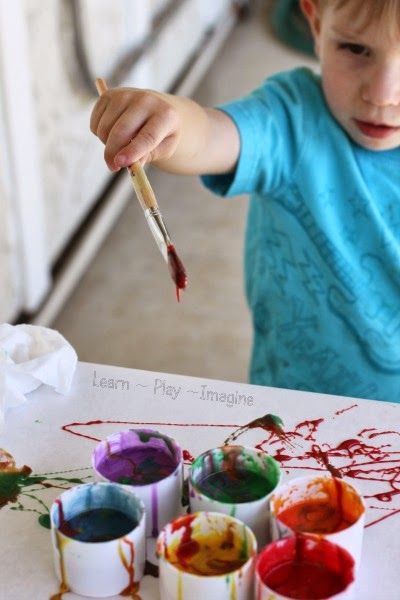 12. Learn colors with paints
Do blue and yellow really make green? What about red and blue? Do some color mixing using one of these edible finger painr recipes for some sensory play that is messy but delicious. Be sure to schedule bath time into your day, ideally right after this activity
13. Make active time, learning time
There are so many great ideas that can turn active indoor  playtime indoors  into an educational activity, like this Shape Hop Skip and Jump idea from Learn Play Imagine. There are lots of fun ways to use the shapes to get kids moving with just a roll of painters tape and some shapes on the floor. You can come up with other ways to play, too, like adapt musical chairs so that kids need to end up on whatever shape you call out as the music stops. Or practice balance by walking around shapes carefully without falling "off" the tape. This is also a great way to teach more complex shapes, like octagons, to younger kids.
14. Turn recyclables into educational crafts
Here's another educational craft idea for preschoolers that I love: If it's too cold to build the real deal outside, try out this smart and super-cute Counting Snowmen preschool craft from Housing a Forest that uses your old (clean) egg cartons to form a snowman number line. Terrific way to mix arts-and-crafts with math. Be sure to play the Frozen soundtrack on repeat while doing it. Kidding.
15. Read aloud. The way Meryl Streep would do it.
A new study just out this week finds that reading out loud to your kids even through all of grade school can be essential to raising avid readers. So start now! Grab a big stack of picture books and read aloud with as much charisma as you can muster. Extra bonus points if you create different voices for each character. Extra, extra bonus points if you get out of your chair and act out each character. Need some new books? Stock up on some of the best books for kids from the past year.

16. Take up sewing. Or at least lacing.
Lacing cards are a great way to strengthen little fingers and practice dexterity. I love the sweetly illustrated options from House 8818. With an "ouch-free" plastic needle, thick thread, and holes that are large enough for little hands to work with, these six cards will have your preschooler "sewing" before the day is out.
17. Make a calendar your child can follow
Preschoolers and kindergarteners are just starting to understand the concept of time, and days of the week. A calendar can be a huge help. Check out this free printable coloring calendar for kids from Itsy Bitsy Fun which is a great starting point. Or create your own calendar on a wall with chalkboard paint or dry erase board. Ask your child for help naming the days, and filling in events like activities, chores, holidays and special birthdays.
18. Make bathtime, alphabet time.
Let kids put on a bathing suit and turn the tub into a little pool, complete with goggles. Throw in some foam bath toy letters which our kids have always loved. Or, I love the diy idea from Teaching Mama in which you take plastic letters and freeze them in a thin layer of ice which dissolves as kids play with it. See if they can put all the letters in alphabetical order as they break free of the ice.
19. Offer up a little educational screentime
Make the most out of screen time by checking out 12 of the best educational apps for preschoolers on Cool Mom Tech. Whether you want to reinforce reading skills, shapes, or overall fun and learning, you'll find some great options that we highly recommend, and download for our own kids.
20. Download free educational printables
We're so lucky to live in the age of the Internet–also known to parents as the age of free printables. We've featured tons and tons of printables for kids on our site, from toys you can make to snowflake templates and coloring pages. Or visit the Houghton Mifflin Harcourt site and download a free PDF mini-workbook of educational activities for kids. They're all super fun.
21. Host a scavenger hunt
Mix active play with reading and problem solving with a fun indoor scavenger hunt. Hide cards in key locations around your house with simple directions for finding the next card. A card may have an instruction like jump five times, crab walk to the next card, or try to walk a super-straight line—all great for building gross motor skills. When you sense that energy is flagging, lead your kids to the last card which will send them right to the kitchen for a delicious snack.
Or this variation is so fun: It's an Alphabet Photo Scavenger Hunt idea from Fun at Home with Kids, that will get the kids moving and thinking. Older kids can take a photo for each letter of the alphabet they find, then you can make a collage of their photos, A-Z. If you have lots of time, create a simple photo book to save the memory.
For younger kids, pick a letter and ask your preschooler to name everything he can see starting with that letter. Don't pick X or Q or your game will end very, very quickly. And yes, B can be for Butt. It certainly would be in our home.
22. Get a jump on Valentine's Day
You'll be the happiest person ever on February 13th if you encourage your child to start writing his name on classroom cards now. We have lots of ideas you can make right from home in this list of 14 printable Valentine's Day cards. I'm a fan of Anda Corrie's free printable cards shown here, which your child can personalize for each of his or her classmates with crayons, yarn, and imagination.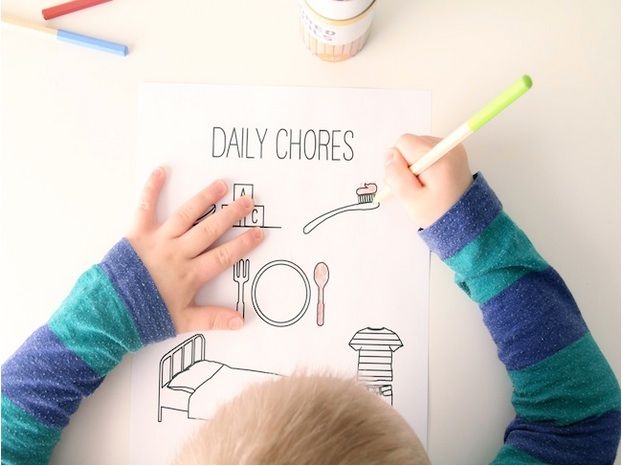 23. Clean up!
I always announce a "Ten-Minute Tidy" whenever things are getting out of hand, and with fun kids' music playing loudly our clean-up time turns into a sort of dance party. I also love the idea of using a preschool-friendly printable chore chart like this one by Kersey Campbell from And We Play. As daily chores are done, they get colored on the page, with the hopes of a finished page by the end of the day. We should all be so lucky to end each day that way!
Many thanks to our sponsor Houghton Mifflin Harcourt (HMH) whose new workbooks, Curious George: Adventures in Learning, combine stories with tailored activities for kids in preschool, kindergarten, or first grade and help make learning fun.