As a symbol of rebirth and new beginnings, the egg plays an important role in both Easter and Passover celebrations. This means that no matter which spring holiday you're celebrating this week, you're likely to be eating lots of eggs. You might even have a bunch left over—or unloaded on you by your hosts—which will have you eating eggs well beyond your holiday meal. If that's the case, fear not: we've got you covered, and I'm not talking egg salad sandwiches 15 ways. Instead, these five truly awesome recipes that use hard boiled eggs will help you finish your stockpile in no time.
I've seen a lot when it comes to food, but grated egg on pasta is a new one, at least for me. It sounds scrumptious, especially in this Cauliflower Pasta with Pecorino, Grated Egg and Pine Nut recipe (above) at Bon Appetit. This Sicilian inspired recipe does call for quite a few ingredients, but they come together in a few, fairly easy steps that are so worth it.
This Healthy Mediterranean Protein Bowl at Healthfully Ever After looks like a beautiful, light dinner to me. But if you don't think your kids are down, save it as a lunch for yourself. It's a perfect mid-day meal that will travel well, too if you're packing lunch. You can always substitute chicken for the salmon of course.Oh, and those micro greens? Any greens will do, should you not be into spending lots of money on teeny tiny greens.
 Related: 5 ways to use hard boiled eggs for quick weekday breakfasts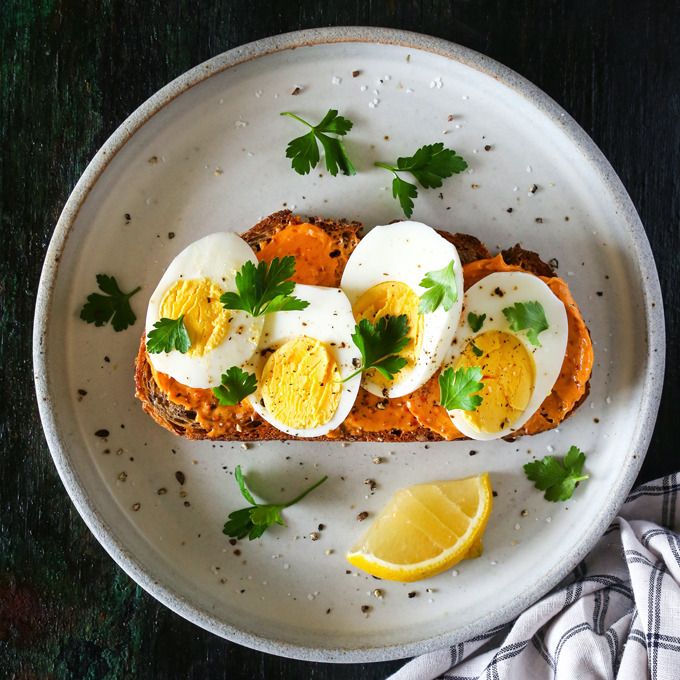 Sliced hard boiled egg on avocado toast is a beautiful thing but, if you're looking to freshen up that idea, I'm thinking that you don't need me to give a recipe for that. This Hard Boiled Egg Toast with Harissa Butter at Kitchen Konfidence, on the other hand, is a simple recipe that we all need. My older son and I would gobble down this heavenly-sounding recipe in two seconds. The little one? Well, he can have the avocado version.
This Asparagus Gribiche recipe at the Wimpy Vegetarian may be among the easiest and quickest ways to cook a side dish that seems super fancy. A traditional French preparation, sauce gribiche is made by mashing hard boiled egg yolk with mustard and oil and stirring in the chopped egg whites along with capers, cornichons, and herbs. It's totally delicious, and one of those things you can whip up even when the cupboard is bare — because, really, you can skip the herbs. You can spoon it over nearly anything, but asparagus is one of my favorite things to pair with sauce gribiche and it's a perfect combination for the spring season.
 Related: How to hard boil an egg, perfectly

I love a cobb salad—and it might be the absolute number one way to use up hard boiled eggs besides egg salad—but I wanted to forgo the classic version for this creative Strawberry Cobb Salad with Strawberry Bacon Vinaigrette via Neighborfood. Are you intrigued, too? Food blogger Courtney knew that she'd like this from the get-go, but wasn't sure that her mister would agree. He did, though, saying that the strawberries tasted like slightly sweet tomatoes once mixed in. If that sounds as good to you as it does to me, give this salad a try in your spring meal plan.