Along with sunshine, cloudless skies and seriously earned chill time, this time of year also brings with it the celebrated Summer Reads season. You know, those great books filled with thrills, mystery, laughs, romance, history, and frolic that everyone is saying you absolutely must read this minute. We're all for it; let's turn those pages! But first, how about nabbing a cute book tote to stash all that summer reading? Hey, if you can't put your book down, might as well take it with you.
So we've got 7 fun, funny and fashionable book totes perfect for trips to the library or honestly, the grocery store. There's never a bad time to show off your literary love.
Related: 10 funny reusable grocery bags: Because even eco-crusaders have a sense of humor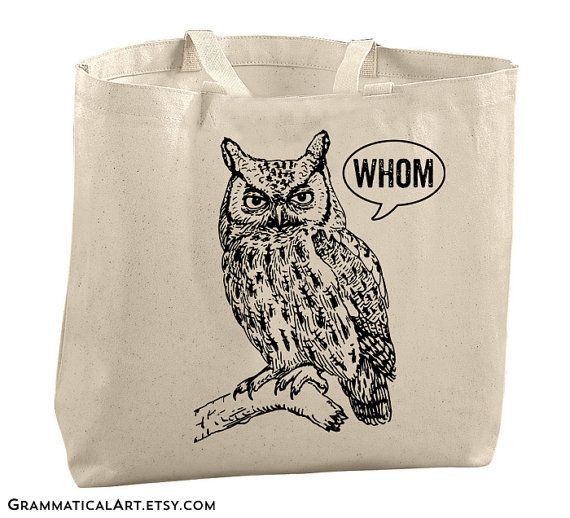 1. For the Grammar Nerd: Owl Whom Jumbo Tote

This one made me cackle, but then I'm kind of a grammar nerd who also digs how stone-cold serious owls look. (I'm still chuckling as I type.) The 100 percent cotton, natural canvas tote is screen printed in black and at 20 inches wide it's pretty roomy. You can dash plenty of books in here along with other beach and poolside essentials. (GrammaticalArt, $20)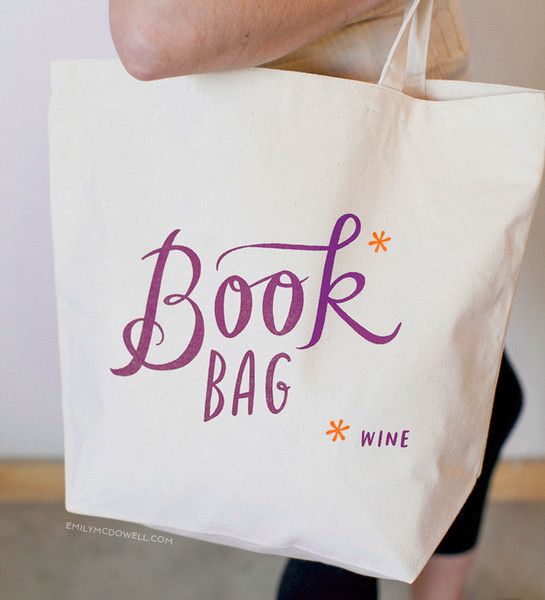 2. For the reader with a sense of humor: Emily McDowell Book* (Wine) Tote
This wink-wink message from among the fabulous totes by Emily McDowell goes the real talk route. You may be carry books in this heavyweight canvas, screen printed tote or maybe it's something to pair with your books?  Super sturdy (it has a gusseted bottom) and roomy, the bag measures 15 inches tall and 18 inches wide, and the shoulder straps have a 13-inch drop — so you've got plenty of wiggle room for your bold red, crisp white or bubbly, uh, books*. (Emily McDowell Studio, $20)
Related: 3 cool tote bags for Moms that help support other moms right back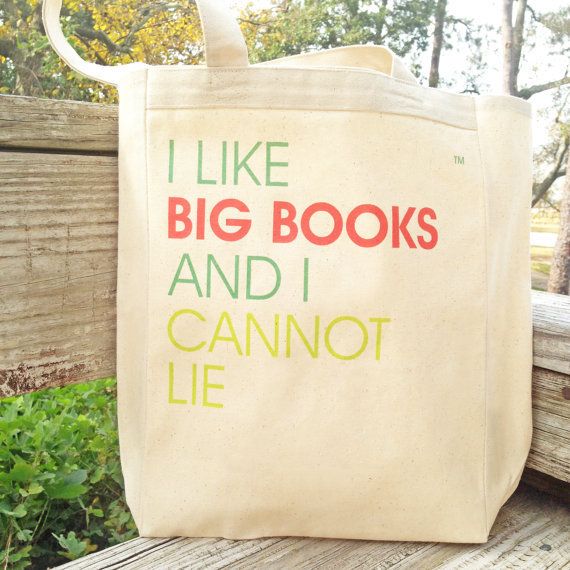 3. For the child of the 90's: I Like Big Books And I Cannot Lie Tote
Man. Sir Mix-a-Lot had no idea what he started back in the early '90s with this one, did he? We featured this tote bag's play on Sir's Grammy-winning (ahem) ode to junk in the trunk last fall along with some other funny reusable grocery bags. If you go for this natural, heavy cotton, medium tote, just be prepared for people saying, Oh mah gawd. Look at her tote! (FairhopeSheSells, $25)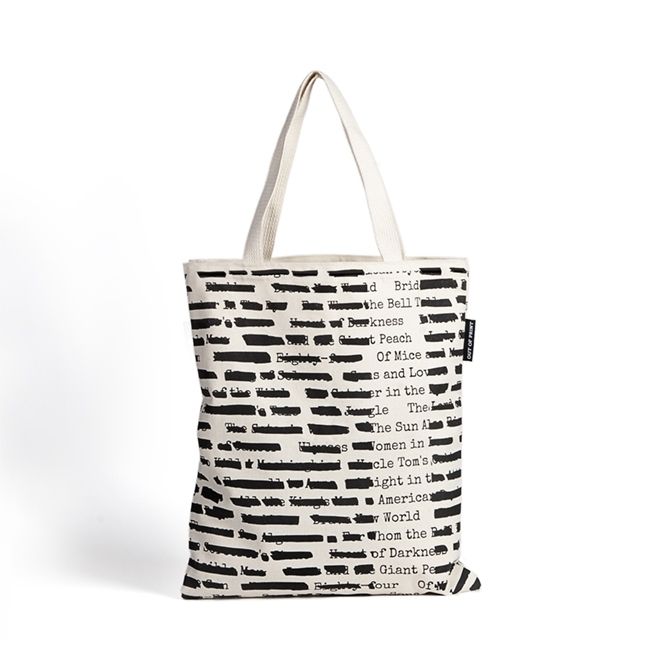 4. For the literary crusader: Banned Books Tote Bag
We fell for this literary rebel bag from our friends at Out of Print last fall during Banned Books week, and we're still mighty smitten by it. The clever, 100 percent canvas, flat tote features 50 banned book with parts of their titles blackened out. Seeing all of these pivotal, historic, yet "outlawed" book titles together on one tote is quite remarkable. And knowing that free access to read them is still (in many places) not permitted sends a heat through my bones. Reading is truly fundamental, so it feels good knowing that the purchase of this tote bag sends one book to a community in need. (Out of Print, $18)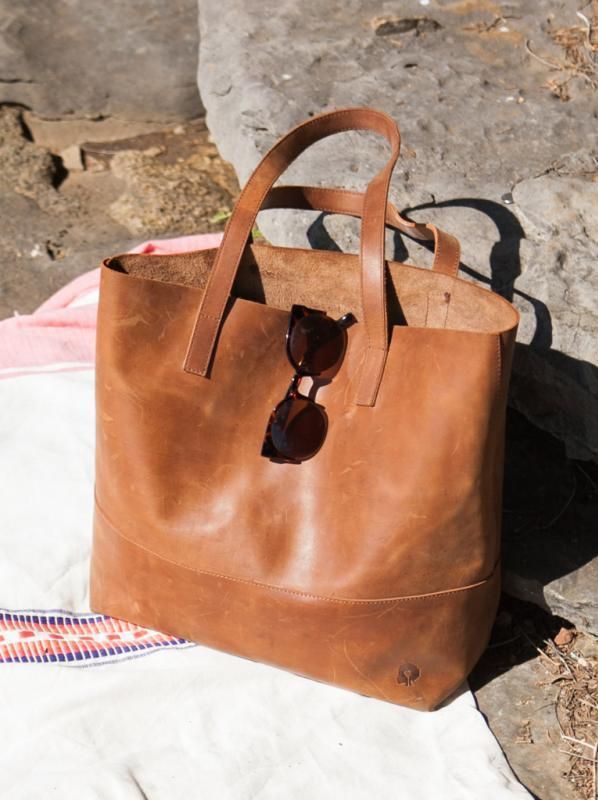 5. For the stylishly, socially conscious: Mamuye Leather Tote
If you want to upgrade from canvas, consider this fine leather option from the good folks at fashionABLE, one of our favorite companies dedicated to creating sustainable business in Africa by working with local women there to teach them a marketable, sustainable trade. This fab tote is handcrafted from a gorgeously high-quality Ethiopian distressed leather in one of three colors, plus it comes with a smart, little detachable leather pouch that's great for stashing your phone or keys. Or library card. (ABLE, $178 with free global shipping)
6. For the New Yorker at heart: Dear New York, I Love You Tote
How sweet is this typewriter crafting a love note to New York? Whether you're traveling there, or far from home and just reading about it,  it's a sweet sentiment. Plus, we like that the bag is made from natural cotton that includes a blend of cotton yarn from the remnants of newly made clothing, with the rest made from recycled soda bottles. Who says New Yorkers aren't Team Green? (Cool Mom Picks indie shop, $32)
Update: Regretfully, the great.ly shop is no longer in operation. We hope you'll find other cool stuff you love throughout our site.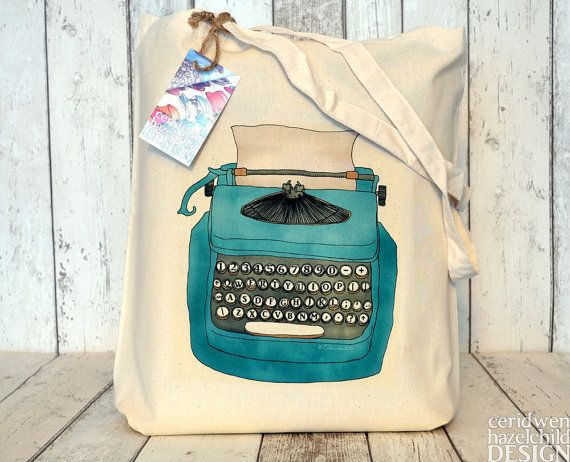 7. For the reader of the classics:  Manual Typewriter Tote Bag
This fair trade cotton tote appeals to both the eco-friendly fan and the vintage lover, thanks to a vibrant, blue, heat-applied typewriter illustration on the front. It's lightweight but durable, and we love how perfect it is for fans of the classics, or just reluctant tech users. It's like the tote that says, "yeah, I can be reading books on an ereader but I'm not going to. What do you think of that?" (ceridwenDESIGN, $11.78)