I kind of want to say that you never forget your first Mother's Day — but depending on how recently you've had your baby, the truth is, you may very well forget it! Which is why if you have a special, brand new mom in your life, it's really wonderful to get her a special first Mother's Day gift she can cherish. Even if she has no recollection of opening it, whatsoever, in years to come. (Ha.)
We hope these Mother's Day gifts for new moms  spark some terrific ideas. And of course, be sure to check our 2016 Mother's Day Gift Guide which has dozens of options in every price range that she's sure to love too.
Just one tip: She may be a new mom and you may be excited to buy baby gifts — but try and stick with something for her and not the baby. You want to avoid the whole "Happy Mother's Day…it's a new onesie for the baby!" situation. Trust us.
CMP is an rstyle and amazon affiliate
Parent Hacks: 134 Genius Shortcuts for Life With Kids by Asha Dornfest ($7.80, Amazon)
We called it the book that will literally change a parent's life, and when that entire parenting life thing is brand new to you? Even more so. A must-have for any new mom.
Handmade Fair Trade Brave bracelet ($78, The Brave Collection; use code MOTHERSDAY for a free hand-painted Mother's Day card with purchase)
Is bravery an essential skill for navigating motherhood every day? Absolutely. We love this reminder that YES, you can do it! And because it's hand-woven and hand-carved in Cambodia to help support and empower female artisans, it also reminds us we're all in this together.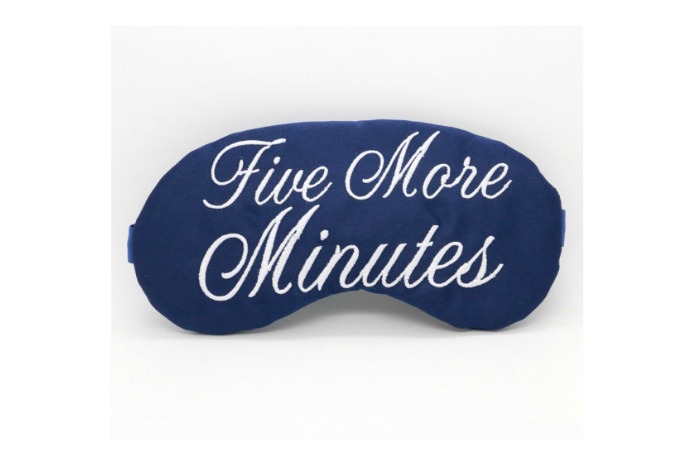 Handmade sleep mask ($14, The Sleepy Cottage)
What is not to love about this? Give her a morning to sleep in too, while you're at it.
Personalized Battery Charger ($53 on sale, Shutterfly)
You think she took a lot of selfies pre-kids? Just you wait to see the workout that any new parent's smartphone camera gets. First off, make sure she has a good one. Next step, keep her juiced all day with a portable battery charger like this one that blends sentimentality with practicality.
Related: 14 cool Mother's Day tech gifts
Personalized new mom wine labels ($19.99, Label with Love)
In last year's roundup of Mother's Day gift ideas for new mom, we found these custom wine labels and we're still in love. If she's ready to enjoy a glass of her favorite Sauvignon Blanc or Pinot Noir after a long 40 weeks, whether on a date night or a girls' night out, these will make those sips even more enjoyable.
Mother of Dragons Mommy + Me Set ($32 plus discount with newsletter signup, Psychobaby Online)
In this year's Ultimate Baby Shower Gift Guide, we featured this nerdy-fabulous take on the Mommy and Me set. And after this season of Game of Thrones, we have the sneaking suspicion it's going to be more relevant and empowering than ever.
White noise BabyShusher machine ($35, Milk & Honey Babies)
As I said, we're not big fans of getting moms something for the baby on a day that's supposed to be for her but this white noise machine that can help the baby sleep? That's alllll about her, too.
Custom baby footprint jewelry (Starts at $89 for a zipper pull, Formia Designs)
The amazingly talented Mia Van Beek, who makes the most wonderful jewelry from children's artwork, is still taking custom orders for Mother's Day through today, May 2, so hurry! This baby footprint jewelry idea is just genius — perfect as a charm, a keychain, a pair of earrings, or a silver brooch.
If you order late you can always present an IOU – and for something this incredibly special, it may be worth the wait.
Related: Cool, affordable keepsake jewelry for Mother's Day
Newlie Lily Tote diaper bag ($99, Newlie)
A diaper bag that looks as gorgeous as any accessory? Perfect gift for any new mom, and we love the prices from this brand new diaper bag company spun off from the founder of Timi & Leslie.
Personalized 14K Crossbar Date Necklace ($249+, Lisa Leonard)
For years we've been touting the lovely, not-too-spendy personalized jewelry and keepsakes from Lisa Leonard and this gorgeously modern 14K necklace engraved with a baby's birthdate is no exception. It does take a few weeks because it's made to order, so put a photo of it in a card, and then she'll get to celebrate a second Mother's Day at the end of the month.
Motivational coffee mug + gourmet coffee gift set (Mug $18 Emily McDowell; Coffee Set $18, La Columbe)
A DIY Me-Time Mother's Day Gift Basket (tutorial on our site)
Kate put together so many awesome tips for creating a homemade me-time gift basket that you can fill with her favorite treats, small keepsakes, and other pampering items that bring joy.
Related: 18 ideas for cool, homemade Mother's Day gifts
New mom safety pin necklace ($66, Nordstrom)
Dogeared makes such fun, affordable jewelry that's ready-made for gifting, and we've got a thing for this old school diaper pin. Plus, it's a reminder that thing could be harder — we could still be using safety pins for diapering!
Donation to a US family in need in her name ($ varies, GOOD+ Foundation)
The organization formerly known as Baby Buggy now has a new name and a new mission to support US families of all kinds living in poverty through 100+ programs across the country. (How adorable is this young volunteer on the Good+ Instagram feed!) For the mom who feels she has everything she needs, we can think of no more thoughtful gift.