Each year, when we put together our Father's Day Gift Guide, we have an extra-soft spot when it comes to seeking out cool Father's Day gift ideas for new dads. There's something so special about commemorating the day for the very first time — even (let's be honest) if he's so tired he hardly remembers it in years to come. That's okay; that's what photos are for, right?
We hope one of these first Father's Day gifts for new dads strikes just the right note for you. And be sure to check the rest of our guide for plenty of other ideas, whether sentimental, silly, sweet, and everything in between.
CMP is an rstyle affiliate
More Father's Day Gift Guide Posts:
*13 awesome Father's Day gifts for dads who love camping
*13 of the coolest personalized Father's Day gifts
*22 fantastic Father's Day gifts under $25
*24 wonderful DIY Father's Day gifts, crafts & printables to fill him with love
1. A perfectly framed photo of the baby
We always think a beautifully framed photo of the baby (or him and the baby, or you and the baby, or you all and the baby) is a cool gift for new dads on Father's Day, especially if he doesn't yet have one. (He's gotta have one! C'mon!) We've covered tons of great places to buy photo gifts, including the best photo books under $30 to save you a little money.  But for a classic wall or desk frame, a new find we love is Frameology (also at top), which makes it wildly easy to upload a photo and have it delivered without much work on your part. They have dozens of frames that suit his style in all kinds of materials. Ground ship is free, but at this point, check the site to see which faster option you may need to make Father's Day delivery.
And hey, there's always printing a photo from a trusted photo site like Shutterfly and having it framed locally. We love supporting our indie local businesses (shout-out to Jubilee Gallery in Brooklyn!) who do an exquisite job matting and framing your most special photos to turn them into fine art.
Related: 14 cool custom photo gifts for anyone on your list
2. A cool monitor that lets him keep his eye on the baby when he's away
We think so many dads would love a video monitoring system for the house, whether for security reasons (have to protect that new kiddo) or so he can peek in on the baby's nap if he works out of the home. The Withings Home system is not only gorgeous, it has all kinds of cool techy features like monitoring air quality and even playing lullabies. Added benefit: When lullabies help the baby fall asleep easier, you two can squeeze in an episode of Game of Thrones before your own bedtimes.
3. A diaper bag that's all his own
We know new dads today are more involved with child care than ever before, and so many would appreciate a bag like the Quicksilver Daddy Daybag that we shared in our 2016 Baby Shower Gift Guide. It transitions from work to the gym to diaper duty seamlessly — and, if he's not into patterns and polka dots, then he's in luck because this bag comes in black only. Even though it has a laptop sleeve and places to keep his gear, it's still an actual diaper bag, with an insulated cooler pocket for bottles, a removable changing pad and tons of interior pockets so he can find that pacifier or lovey exactly when it's needed.
4. Coffee gifts. Because, coffee.
Oh, the all-night diapering and feeding marathons. We remember the groggy mornings too, and we're pretty sure any new dad would appreciate the jolt of caffeine in this tasty Up All Night coffee gift set we helped curate and co-curate with the awesome team at Mouth. It has everything from Brooklyn-roasted Sumatra coffee to espresso cookies. In fact, maybe go ahead and order one per month until the baby starts sleeping through the night. (Save 10% with code CMP10)
Related: Cool coffee gifts for the caffeine obsessed.
To make it more special, consider including a cool coffee mug. We're picky about mugs when we recommend them, but we think this Daddy Just Looks So Damn Good on You, Baby mug from Big Sky Bibs on Etsy is just great for a Father's Day gift for new dads. Plus, the baby can't read the word damn yet so you're all set!
5. A photo of the baby wearing the perfect onesie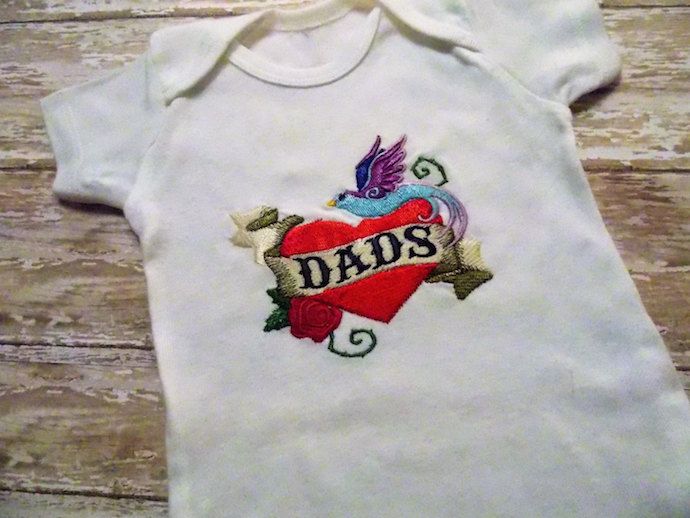 We love the tattoo trend on baby gear which never really goes away, and this sweet DADS tattoo heart onesie at Sew Nerdy Gifts is a great tribute to any new baby with two dads. Even better: take a picture of your new kiddo wearing the onesie for him and frame it to present on Father's Day. Totally adorable.
Another option is this fun Super Dad onesie we found at Little Royaltee Shirts on Etsy. We just suggest messaging the shop before you order, just to be sure this one arrives in time for Father's Day. You want time to photograph the baby wearing it too, right? Of course you do!
Related: 7 Father's Day photo shoot ideas that are so each and cool!
6. Tickets for a guy's night out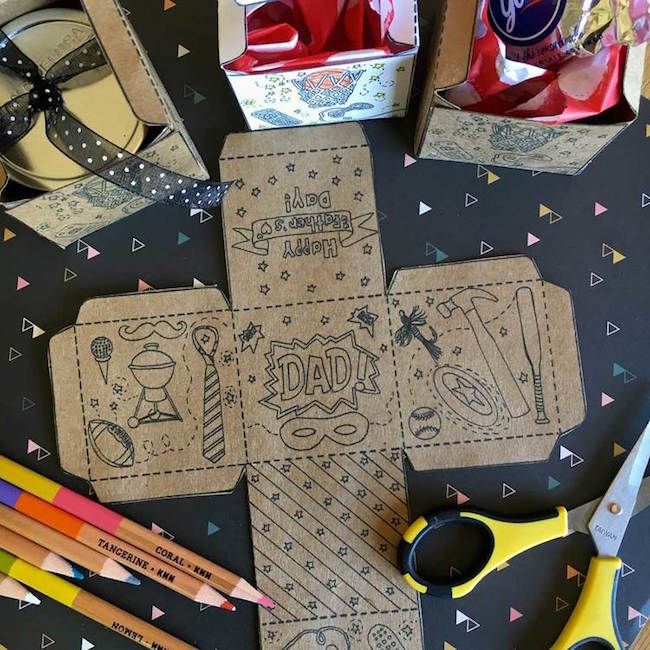 You know how much you're craving that girls' night out when you can finally keep your eyes open for more than 30 seconds? A lot of dads could also use a break from some of the daytime rocking and nighttime feeding duties, with a chance to just get out and hang out with the guys. Splurge on a special night out (or weekend?) for him — a fishing trip with the guys, tickets to a great sporting event, those hard-to-get concert tickets, or even just a night out for dinner and a good, stiff drink or two.
As far as presentation, we'd make a coupon, a card, or buy a little trinket emblematic of the night out, then wrap it all up in this cute printable Father's Day gift box at Pam Ash Designs.
7. A new camera for documenting every moment. Which he will.
A few years back, in our roundup of the best Father's Day gifts for new dads, we recommended a really fantastic new camera like the highly-rated Sony Cyber-shot DSC-RX100. Yeah it's a splurge but one you'll all benefit from for decades to come. Because let's be honest, when you're a new parent of any kind, you will be taking photos. Lots of photos. Millions of photos. And that may be an understatement.
8. A ring that holds a special message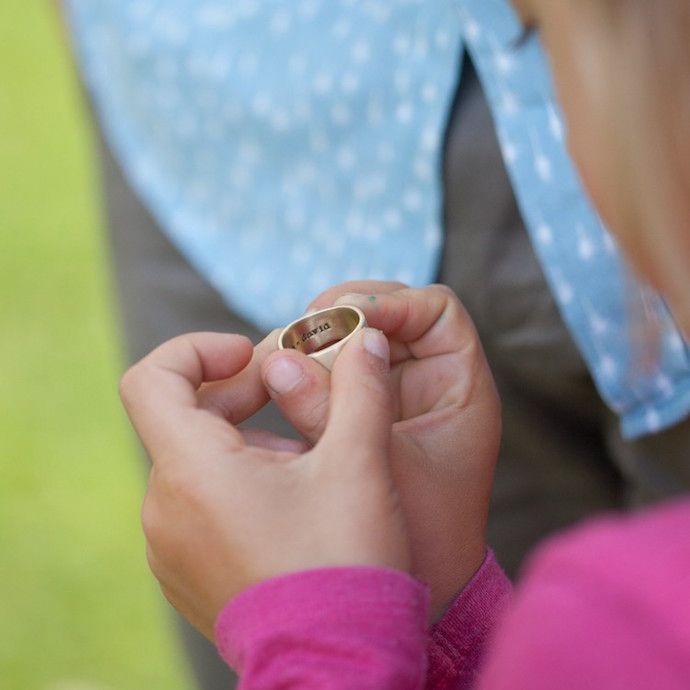 We love, love, love CMP fave Lisa Leonard's beautiful custom jewelry for ourselves, but if you've got a dad who's the big cool chunky ring type (you know who he is — he's probably got tattoos and some cool string bracelets on right now) then we'd recommend this custom solid gold men's ring. You can personalize the message inside the band, like the baby's name and maybe a special message from them. So sweet.
9. A fun board book for bedtime reading
In our post on great Father's Day gift ideas under $25, we recommended looking for a special book. Because books always make terrific gifts, no matter the price. One option we recommended was Ahmet Zappa's new Because I'm Your Dad. And we also remain fans of the sweet, silly board book, Your Baby's First Word Will be Dada by Jimmy Fallon which you can find through Amazon or even Land of Nod. It also happens to be a top pick in our 2016 Baby Shower Gift Guide this year. Because it's awesome.
10. A custom family portrait
Your first year with a new baby is a monumental experience, so we think you should create a tribute to all the great moments of his being a dad with a cool custom portrait of him with your baby. We've collected dozens of our favorite custom portrait artists for you to choose from, although some of the creation times are prohibitive.
One option to save time is commissioning a printable custom family portrait like the one shown here from Wall Story. You can even commemorate the pregnancy, as with this portrait here, if he's celebrating a just-about-to-be-a-father Father's Day. (Liz knows all about that; her first was born in early July!)
11. Cufflinks that show off his favorite job title
For new dads who enjoy dressing up, these sweet Dada cufflinks by Tali Gillette are a sentimental way for him to show off his favorite new title: Dada. They're made of pure sterling (with the price tag to match) making them a stunning keepsake for a swanky dad who likes his french cuffs.
12. A journal that becomes a keepsake for the baby
We love this absolutely stunning Wisdom leather journal from MRK Style. Present it with a note that he should use it to jot down all of his words of wisdom for the baby, with the hopes that he keeps it up long enough to have a truly treasured keepsake gift to present at his first child's high school graduation. We hate to say it, but…it will be here before you know it.
Be sure to catch dozens of other fantastic ideas for dads of all kinds in this year's Cool Mom Picks Father's Day Gift Guide!