It's that time of year: Camp clothes shopping! Or more accurately, the time I look at the kids' camp clothing checklist and realize we have outgrown everything and gah, where am I going to get those non-itchy navy shorts again?
If you're like me, I wanted to share the places I tend to do best with my kids' own camp basics: comfy cotton tees, shorts, shoes, underwear, and durable swimwear.
And of course they have to fulfill my own needs for clothes that hold up for horseback riding in the rain, tug-of-war over mud puddles, diving off of docks, and who-knows-what that's used to launder said clothes with each week.
If the kids even remember to put them in their laundry bags at all.
This post contains affiliate links and some purchases may generate a small commission that helps support our team at no additional cost to you. Top image: Primary basic tee in white + Primary gym short in navy | © Liz Gumbinner

– Updated for 2021 –
Related: The best summer camp care package ideas for tweens and teens:
A helpful list from a mom who's been sending them for 8 years
1. For all camp basics: Primary
Since they launched in 2015, women-run Primary has not let us down with their super wearable, sturdy, cotton mix-and match basics, which you can see on my own kid, at very top. I have bought many. Then they added swimwear and that's helped us too.
I especially love that they tell you the height and weight of the kid modeling each piece, which helps me get sizing right every time. And those cotton unisex gym shorts in french cotton (with just a little spandex for stretch) are perfection for any summer camp or summer activity at all.
Primary has added a Camp Concierge for busy parents — send your checklist to camp@primary.com, and for no extra charge (yay free!) they'll customize a shopping cart for you from their camp collection of kids' basics. You can change or update, but it's still a bit of a time-saver and I'll take all of those I can get. [Note: double check to see if it's still operating in 2021]
PS Props to Primary for hiring such inclusive models, including differently-abled kids. It's a joy to support a company like this.
Sale Alert: Keep an eye out for Primary warehouse sales for up to 60% off, with tees as low as $5, cardigans (my kids' favorites) for $12, leggings for $9.50, and shorts for $9.50. 
Call me old-fashioned but I prefer more modest swimsuits for my girls that let them swim without losing half their suit! Hanna Andersson has not let me down for swimwear — the suits are so well-made, we've passed down some suits now to the third lucky owner!
I like their contemporary but classic swimsuit patterns, cool swim trunks for boys — that my girls happen to like too —  in great patterns like sharks and bats, a decent assortment of kids' rash guards that are great for chilly lake swimming, and right now, more than 130 mix-and-match swim separates that I'll call "appropriate" in their styling.
(I know, I'm an old boring mom. I own it.)
Sale alert: Look for frequent sales, especially after the start of summer. Always click on their sale section — you can find up to 70% off sometimes. 
Update: I now also really want to commend the Lands End swimwear department for kids. My older daughter wanted boys board shorts instead of bikini bottoms and theirs are perfect. It was even my cool pick of the week on our podcast.
Related: Life saver! 8 super cool swimsuits for picky tweens and teens that moms will approve of too.
3. For shorts and tanks: Target
I love that now you can find sturdy well-made, and often US-made clothes for pretty great prices, but I'm not immune to the lure of Target's "tanks and tees from $4" sales. Cat & Jack shorts are always affordable, and well made, if not "hand it down 10 times" sturdy. One of my daughters prefers longer shorts, and we find the long boys chino shorts are perfect for that, and rarely over $15 if that.
We've also had good luck with the boys cargo shorts for a little less sporty look.
(I really wish they'd get rid of those gendered sections, since there's no reason girls can't wear basically all the boy clothes — and vice versa.)
The tees and tanks, as mentioned, are also staples for us, like the girls camis, which run as low as $4. Whoa.
But I'll be totally honest, you're definitely looking at one-season swimwear at Target. They're affordable, sure; but my kids tend to have stretched-out elastic straps and faded prints by the next summer, if not the next winter vacation down south.
Sale alert: Does Target ever not have a sale?  Always click on the Deals category up top, then scroll down to Kids Clothing and Accessories.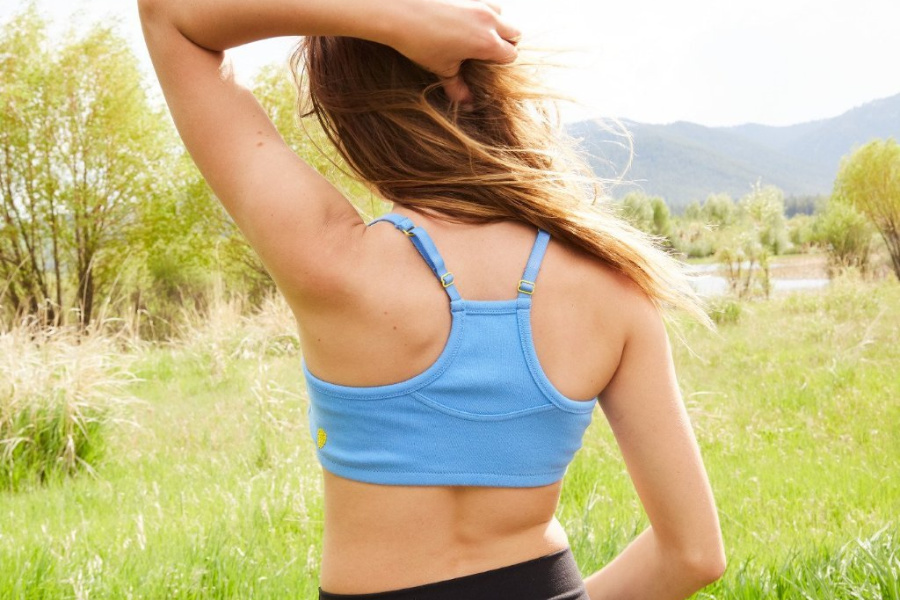 There's good reason that parents and girls both totally rave about Yellowberry, and that their Aspen bra has had up to a 7,000 person waitlist: They are awesome. Whether your daughter needs actual support, or just more coverage under tees and tanks, there really are no better made bras for girls that I've found. Nothing even comes close.
Considering how girls these days ("girls these days!") live in their bras and let them poke out of clothing, and considering how much confidence a comfy, proper-fitting, amply supportive bra can provide, I'd rather splurge on these for camp and save everywhere else.
Also, check out their girls camisoles which offer excellent coverage, and the seamless underwear which is so fantastic, I wish it were less expensive — but the quality is simply amazing, it makes my girls feel confident (which means everything when you have tweens and teens), and I like that I'm supporting a smaller, woman-run company. Go Meghan!
Sale alert: Signing up for the mailing list list gets you 20% off your first order, plus email alerts about other flash sales and availability of wait-listed items. Worth it. There's also a rotating sale section of last chance items and shipping is always free over $100.
5. For camp shoes: Zappos
Well of course Zappos! The overnight shipping is a godsend when I'm yelling, "you just outgrew your sneakers? Why didn't you tell me!" four days before camp starts. And they accept exchanges up to 12 months — and sometimes just a wee bit after. Ask me how I know.
While every camp has different footwear requirements, I'm a big fan of Native Shoes, which are waterproof, but give you the support (mostly) of a sneaker. I much prefer them to flip-flops in a canoe, on a slippery dock, in mud puddles, or in shower stall. Or hey hit the Crocs selection and find every color or style you could want.
You'll need real sneakers too for camp — let alone rain boots, riding boots, or hiking boots –and yes, Zappos has plenty for kids of all sizes.
Sale alert: The sales items marked boy or girl rarely include fewer than 7,000 possibilities of all kinds.  Right now there are more than 3,000 kids shoes on sale. While the Adidas sneakers above are gone, there are lots of tie-dyed sneakers for kids if you like the look, plenty on sale. 
6. New Addition for camp basics: June & January
June & January has evolved from a small, parent-run baby brand, to include a nice selection of kidswear, and added a great new kids' swim collection  that we shared here a few years back. If you hop over, you can find a collection of camp basics at June & January now up to size 11-12 (thanks for going higher, folks!) and they are perfect for tossing in those overnight camp trunks or sending a few in a care package.
Admittedly, my own youngest is just at the top end of their sizing which is why I can't honestly call them one of my own go-to camp basic shops. But for your tweens and younger kids, I absolutely recommend the great quality at nice prices.
They offer just a bit more style than your average basic solids, even when they are solid.  There are some fun if simple t-shirt graphics, plus new partnerships with small brands like Typical Black Tees. and Rivet Apparel Co. Also find rompers, easy play dresses, and a growing list of extras you may need for camp like goggles, headbands, and knee-high socks.
Look around. Fun stuff.
Sale Alert: It's now easier to find the June & January sale page than it used to be! Click over for 50% off and more on all kinds of camp basics your kids will love.