Trending right now. As in, this second.
You are listening to our podcast, right?
We love seeing kids who are thriving and living their passions, which is exactly how we'd describe 10-year old Camilla "Pepper" Persley, a podcaster and journalist who specializes in professional sports (especially women's basketball). You might have seen her recent...
We read a fair amount of parenting books, and lately we've seen the idea of "influence" popping up when it comes to the role we play with our children. That's why we were so excited to welcome author Kelly Rippon as a guest on Spawned with Kristen and Liz this week....
Last week, my entire social network (online and off) buzzed loudly about author Judith Warner's New York Times article about adolescents and the pandemic, Stop Calling It a Lost Year. Parents had very strong opinions! Especially those who didn't actually read the...
So much coolness. Where to start…
Being Star Wars Day and all, I was so excited to discover that one of our favorite small-label children's clothing brands, Nununu, launched a Star Wars clothing collection for kids. I was even more excited to see that it's all 40% off for a limited time! With sizes...
Watching President Biden describe some of the details of his American Families Plan this week -- well, it's made me emotional. It's so much of what we've hoped for. And frankly, so much of what our own parents and even grandparents have hoped for. This is big. For...
As I was browsing ecards for teacher appreciation week, I was thinking that when I wrote about 8 creative ways to thank our teachers during a very different Teacher Appreciation Week last year, I had no idea that a full 12 months later, many of our teachers and kids...
No sooner did we all feel the relief of the George Floyd verdict last week, that even more Black Americans were needlessly shot and killed by police officers. It's upsetting, it's infuriating, it's terrifying. And we all need speak up and work toward the long overdue,...
Honestly, we have never done a dedicated guide to home office gifts for moms, even if we have incorporated home office gifts for her throughout our other Mother's Day gift guides, and especially on Cool Mom Tech. But this year, more moms than ever are working from...
As moms ourselves, we can say that photos gifts for Mother's Day are one of our favorite gift ideas, especially these days when so many of the pics of our kids (and with our kids) are sitting on our phones or hard drives. That's why we're so excited to be working with...
By now, you know that we're pretty big book fans here at Cool Mom Picks, so we always jump at the chance to talk about them, and to their authors. This time, we're so thrilled to chat with an author of books for older kids like ours, and ones that have such an amazing...
While I think any and all Mother's Day gifts are meaningful, this year is different. If you normally see your mom on Mother's Day, like I do, this year is going to be extra hard if we're not able to have those huts, that time together, those...
Leave it to Em & Friends, the site formerly known as Emily McDowell and Friends, to create the perfect pandemic-era Mother's Day cards. From funny to encouraging, insightful to empathetic, they're got to be one here that suits someone you know. As soon as I saw...
For years, we've been recommending cool subscription gifts that make great gifts, and that includes Trade Coffee. So we're happy to partner with them on a fantastic deal -- right in time for Mother's Day and Father's Day. too. Right now, we're offering our readers 50%...
Last week, my entire social network (online and off) buzzed loudly about author Judith Warner's New York Times article about adolescents and the pandemic, Stop Calling It a Lost Year. Parents had very strong opinions! Especially those who didn't actually read the...
So far, we've loved what's happening with The We Time Project that we introduced last month: In order to help you connect more with far away friends and family around shared experiences,  we've been offering our readers 30 days worth of unlimited free online courses...
Oh hi, it's me, your handbag-obsessed friend in NYC, now looking for cute backpacks for summer. As I virtually window shop my way across the internet I'm seeing lots of cute, colorful backpacks that are on trend for 2021 and my "add to cart" finger is getting itchy....
So, how about 2021, parents? It's been a pretty rough year (which we know, understatement of the century), and well, let's just say, we could use a laugh. We could also use a few other things too (cough hugging friends cough), but for now, a good hearty laugh will do....
After such a long winter, it's finally bike-riding season: Hooray! And, whoa are you all getting on those bikes! I've seen so many kids riding bikes in our neighborhood, that my son's mountain bike team has doubled in size since last year. Bike shops and bike...
We certainly couldn't forget to include cool gifts for stepmothers in our Mother's Day Gift Guide this year. After all, for a lot of us, Mother's Day is a chance to give thanks to all the nurturing women in our lives who have helped make us who we are -- and that...
For years, we've gotten plenty of pitches from publishers for countless children's books about holidays. And by holidays I mean, generally Christmas. But that's starting to change, and we're so thrilled to see more representation of all kinds of families, and all...
For years, Jessica Lahey has been one of our favorite parenting columnists and authors. So we were honored she joined us to offer her wise advice on talking with our kids about drug use, abuse, and addiction, all of which you can find in her essential new book, The...
Oversized handbags are trending and well, hallelujah, the world has finally caught up with New York City! See, we don't have cars (or trunks or gloves compartments) in which to stash our daily lives, so we just carry our entire lives with with us at all times in...
As someone who didn't grow up around animals, I've learned a lot raising kids who love them, especially my youngest who is an avid horseback rider. When she first asked to take riding lessons, I thought it might be a passing phase, especially considering she had tried...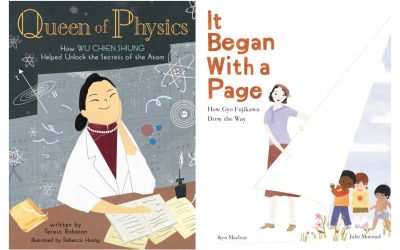 When it comes to creating empathy and developing a commitment of justice and respect in my children, I tend to turn toward good children's books. In fact, we've shared some of our favorite children's books about important African American figures, great kids books...