Trending right now. As in, this second.
You are listening to our podcast, right?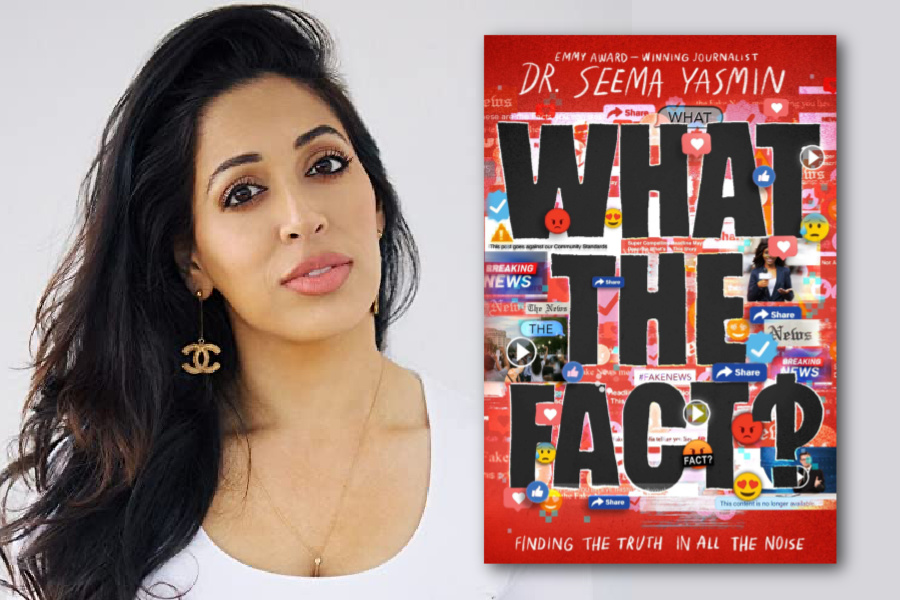 According to Dr. Seema Yasmin, we're living through a misinformationdemic. I've always thought that media literacy should be a mandatory subject for kids, but it's never been more evident than today -- so I'm incredibly grateful for Seema's wonderfully helpful,...
We're back with Season 6 of Spawned with Kristen and Liz, launching our new season with an incredibly helpful episode about developing healthy eating habits and positive food relationships with tweens and teens. But, our guest, Nicole Cruz, a registered dietician...
If you've got as many photos on your phone as we do, then you know how challenging it can be to find what you need when you need it. Holy smokes. But we are not alone! How do I know this? Well, this week's Spawned podcast guest, Casey von Stein, aka Miss Freddy, a...
So much coolness. Where to start…
Are moms okay right now? I really want to know. So I called on the one guest I knew would have a terrific birds-eye view: Jessica Grose, author and The New York Times Parenting Editor. If you've ever had a must-read parenting article sent to you by a friend, it's...
Last year, I decided to take a peek at Amazon for an affordable bathing suit, and after reading a ton of reviews, I grabbed this one from the brand Sporlike. And let's just say, it didn't disappoint. I feel fantastic in it, and every time I wear it, I get tons of...
With Mother's Day right around the corner, we thought it would be so fun to ask the kids in our lives, if you could have anything delivered to your mom, what would it be? Let's just say our kids know us very, very well! Also, who has a direct line to George Clooney,...
If you haven't secured the perfect Mother's Day gift yet, rest easy. Okay, not that easy, because it's literally just a few days away. But if you hustle, we can still help you out with these awesome last-minute gifts that don't feel improvised at all. Even if they...
If you've got as many photos on your phone as we do, then you know how challenging it can be to find what you need when you need it. Holy smokes. But we are not alone! How do I know this? Well, this week's Spawned podcast guest, Casey von Stein, aka Miss Freddy, a...
If there's ever a seasonal style trend I can behind, it's a specific color, especially this year's lime green, mostly because it can be super easy and mostly affordable to add to your existing wardrobe. I'm already a big fan of bright colors, so grabbing a few lime...
Mother's Day gifts don't have to be extravagant or expensive to be wonderful -- something I'm very appreciative of considering the price of everything from groceries, to gas, to how many kids are we putting through college? In fact, my favorite Mother's Day gifts will...
I can't think of a better role model for young athletes (and young people in general) than GOAT gymnast and mental health advocate Simone Biles, so I was thrilled to see the new Simone Biles collaboration with Athleta Girl. The collection for girls 6-16 features fun...
Readers have asked us for ways to celebrate Earth Day with the kids -- and while the 50th anniversary in 2020 was marred by quarantine, 2022 seems like a perfectly good time to make up for it. Certainly there will be celebrations in local parks, collaborative town and...
Two years ago, Crayola introduced the Colors of the World crayons, which included a veritable rainbow of 24 skin tone crayons that not only celebrate diversity, but create an opportunity for kids to learn respect for others and more fully represent themselves. The...
This year, I've been on the hunt for Mother's Day gift books, because even the mom who has everything can always use an inspiring, uplifting, sentimental, or just thoughtful new book. Consider that a Mother's Day gift book can be for any mom who loves reading of...
This is a sponsored message for Generation Joy When parents say we need need basics for our kids, we don't mean basic basics. They have to be soft and comfy so kids wear them, high-quality and durable so kids can wear them a lot, and of course stylish. Because why...
Among the hottest Mother's Day gifts now and forever: self-care gifts for moms. And grandmas, of course. We all know that these days, moms are working harder and longer than ever before, often juggling paid work -- at home or not --  family obligations, household...
If you're like us, then you're always quite curious about everyone else's self-care skin routine. So when author and podcaster Kate Spencer (you know her from Forever 35!) was a guest on Spawned a few weeks ago, we had to ask. Especially since she (along with co-host...
Calling all chaos Muppets, order Muppets, and general fans! LEGO is launching a new line of Muppet Minifigs, including some of our most favorite and iconic Muppet friends. Kermit! Grover! The Swedish Chef! And yes, my personal favorite, Miss Piggy, plus a few more....
The truth is, handmade DIY Mother's Day gifts that kids can make and give themselves (or okay, maybe with a little help) are just extra touching. Of course as moms, we know that every gift from our kids is a special gift, whatever it is, whatever the cost. But, from...
This is a sponsored message on behalf of Theraderm  With summer right around the corner, that means it's sunburn season too, which can totally stop a family vacation or beach trip in its tracks. You probably already know how important aftercare can be to help prevent...
We're always searching for ways to save money where we can, but with grocery and gas prices on the rise, it's definitely on our minds. Thankfully, there are simple changes you can make right now that can save you money. And no, we're not going to tell you to start a...
My teens have grown up watching Laurie Berkner's fun-filled music videos on Nick Jr, and spent many afternoons dancing to her greatest hits like Victor Vito and I'm Going to Catch You. They've fallen to sleep listening to her gentle lullabies playing in the...
My relationship with Kim Kardashian is a bit fraught, so I was pretty reluctant to try her Skims line of undergarments. But after getting bombarded with Instagram ads after my search for a strapless tube bra, I figured I would give them a try. A little background on...
There's a lot of inspirational quote jewelry out here. And it's lovely -- but this is definitely not that. Instead, Presently has created a truly meaningful collection of bracelets, each engraved with mantras derived from actual cognitive behavioral therapy practices....