You know what's scary? Realizing you've invited a bunch of little butterflies and superheroes to invade your home for a pre-trick-or-treating soiree, and then realizing your house is not ready. Ahem.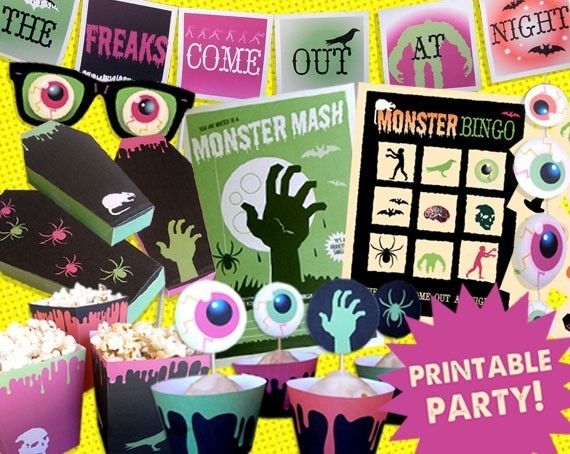 Since making a last-minute dash to a party-supply store sounds about as appetizing as a vampire bite, my strong suggestion is you settle back and DIY. Particularly if you can call hitting "Print" on your computer "doing it yourself".
Besides the obvious convenience, the printable
Schlock Horror Halloween party
from the UK's
happythought
is way cooler than anything you'll find lying in the ravaged racks of any store's Halloween section.
How cute (I mean TOTALLY SCARY) are the little coffin favor boxes? These alone are worth the mere ten bucks for this entire kit.
Happythought, who endeared themselves to us for giving away a free printable Father's Day garland in June, has thought of just about everything here: bottle labels, cupcake wrappers, zombie glasses on a stick, eyeball garland, even a Monster Bingo game.Plus if you don't love the color scheme, convo them and they'll tweak it for you.
That banner proclaiming The Freaks Come Out At Night? That's totally going in my kids' room after Halloween. –Christina
Get your Schlock Horror Halloween Party Printables, or their super-cute Bunny Halloween Printablesf rom happythought in time for Halloween. And don't miss their awesome Day of the Dead printable partyfor those who go all out on November 1.