With the money I'm spending on Halloween costumes and bags of candy, I'm not about to drop a fortune on decor too. So, I'm so pleased to have found so many affordable (and free!) printables that don't require me to do much of anything or spend much of anything.
This is way easier than finding a costume that my precocious ten-year-old and I will agree on together.
Throwing a bash? Anders Ruff's Haunted Halloween Printable Party (above) includes such pretty hues and special touches, it'll look like you spent a fortune. You don't have to tell a soul that it was all 40% off and just required some paper, tape and scissors.

The Twinery's Halloween Tags look so cute printed on sticker paper and affixed to clear treat bags. Or turn them into gift tags to go with party favors if you are sending your guests off with more than a sugar high.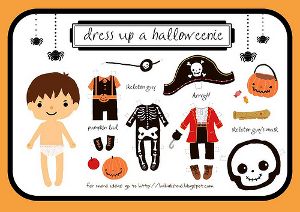 Calm the kids down before it's time to trick-or-treat with this too-adorable set of printable Halloween paper dolls by Babalisme. [update: you can download them via scribd at this link or searching for user: babalisme]


Prefer your ghosts to be less scary and more geeky-retro? Then you'll love this template to make your own Pacman Halloween garland. Wacka, wacka. . .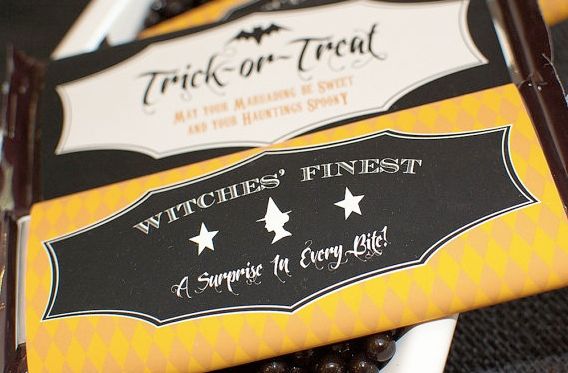 This Be Witch ing printable party pack by Frog Prince Paperie will help you go all-out for the next Halloween gathering, with everything from chocolate-bar wrappers to a big Trick or Treat banner.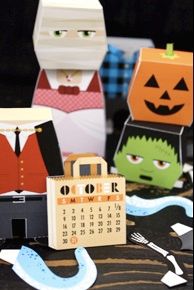 My kids will love the mix-and-match heads and bodies from Scout Creative's Monster Mash printables. Don't forget to print out the calendar so you can point to it whenever the kids ask (again), How much longer til Trick-or-Treating? [Updated 10/14: Unfortunately this printable is no longer available.]