Get out the flour and sugar. Crack the eggs (better use than egging the grouchy neighbors, trust us). Monster mash everything up. And then select the perfect creepy cookie cutters for a very happy Halloween snack.
First we brought you NINJAbread Men. Now we're digging these GingerDEAD Men! Just cut out the shape with one side and impress the bones with the other. Mmm…crunchy.
Future mad scientists might enjoy the four fun shapes in the Labcutters Science Cookie Cutters. Some iced beakers and test tubes would be the perfect accompaniment for chemistry homework. Baking involves tons of science, you know. Don't believe it? Leave out the baking powder and see what happens.
/div>
Portal geeks will freak over the eight metal cookie cutters housed in this lovely, officially licensed, collectible Portal Companion Cube. It takes four different cookie cutters to achieve the Companion Cube cookie, but we're sure it only takes one mouth to eat it.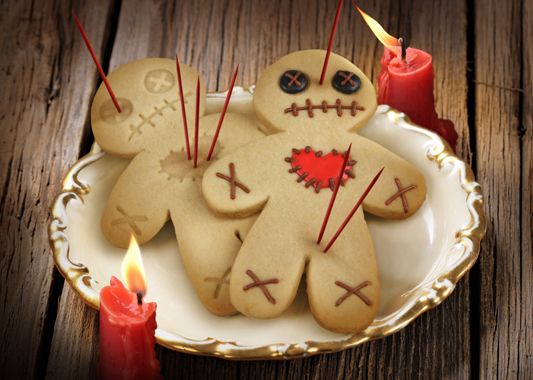 If you liked the GingerDEAD Men, you might get a kick out of this adorable Cursed Cookie Cutter. Use the molded plastic cookie cutter on one side, stamp in the designs with the other, and enjoy nibbling, torturing, and poking full of holes while pretending it's that woman who always cuts in the carpool line. CRUNCH.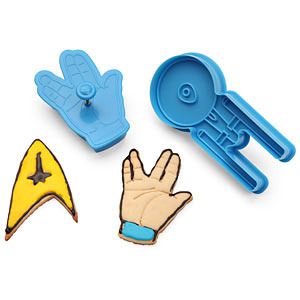 Star Trek fans (raising hands here!) will munch long and prosper when baking with these Star Trek Cookie Cutters. The officially licensed collectible box includes five spring-loaded cookie cutters for all your tribble-feeding needs. Come to think of it, you could make little gingerbread men with red shirts and send them on a
disastrous away mission to your stomach.
So now you've got a bunch of adorably geeky, sweetly creepy cookies. Where can you put them all?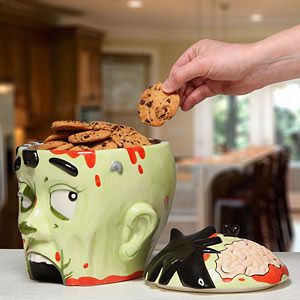 In a Zombie Head Cookie Jar, naturally. It's ceramic, spattered with blood,  and hungry for your braaaaaains. Also, a fun way to store candy to hand out on Halloween night instead of that same old lame salad bowl.