Magic Chunks are delicious, all-natural, wheat-free, and sometimes dairy-free. And my kids and I love them. Pull up a chunk and let me tell you why.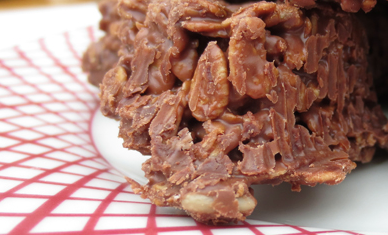 [Don't miss an exclusive discount after the jump!]
Magic Chunks happened quite by accident, when Nutty Steph's Vermont-made granola just wouldn't get crunchy enough, thanks to an unusual batch of maple syrup. Now, each slightly more than bite-sized cube includes thick-rolled oats, Vermont maple syrup, rich dark Equadorian chocolate, nuts, and a mixture of seeds, spices, and oils–all locally sourced except for that chocolate. And hey, no one cares about the crunch anymore.
We tried Dark Chocolate, Black Forest, and Peanut Butter, and each one was a big hit. Honestly, Mommy kept most of the Original Dark Chocolate for herself. Highlights include the fact that there's nothing artificial, that Vermont maple syrup is the only sweetener, and that there are dairy-free, wheat-free, and gluten-free options. My kids also thought they were a very fancy dessert treat, as compared to boring old granola bars. Score!
Now the prices certainly reflect the and local, highly selective sourcing of ingredients. But if you're having trouble finding high-quality gluten-free goodies, or you just want to spoil someone with a gift that's healthy and different, it makes a spectacular indulgence.
Only one question: Where's the Magic Bacon Chunks, Steph? Because the only thing that could make them more magical is bacon. –Delilah
Find Magic Chunks, delicious chocolate bars, and hand-mixed granola at Nutty Steph's. CMP readers can get 25% off any 1-lb. bag of Magic Chunks using code CM-MAGIC!
And if you're in Vermont, you should totally stop by the Nutty Steph's flagship store.