You had big Halloween plans, right? And then…time slipped away. I've been there. Start by forgiving yourself: it's just Halloween after all, and to a kid, everything looks delicious. Throw together a one of these super cute, last-minute treats with what you have on hand or can easily grab at the store.
No trick here: these 5 festive, tasty treats from top bloggers are perfect and perfectly easy whether you're bringing them to a friend's house or serving them up at a classroom party.
Tell me this Halloween donut (at top) from Lovezilla doesn't make you smile. My little one is obsessed with fangs (don't ask), so we have more than one pair (and color!) in my house. If you're not so, uh, lucky, stop by a Halloween costume store–and a donut shop–on your way home. Then Halloween breakfast is done. Oh, and if donuts aren't your thing, this works great with bagels, too.
You're just gonna have to trust me on this: homemade peanut butter cups are quick and easy to make at home. Really. This recipe from Fifteen Spatulas only calls for 4 ingredients. Joanne also shares step-by-step how-to photos and a video where she walks you through the process. You can do it!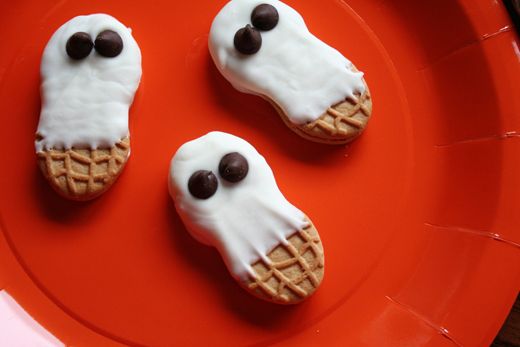 These Nutter Butter Ghosts may be an easy, last-minute Halloween kitchen project, but that doesn't mean they are any less fabulous than treats you could have slaved over. In fact, they made our list of the cutest Halloween cookies last year.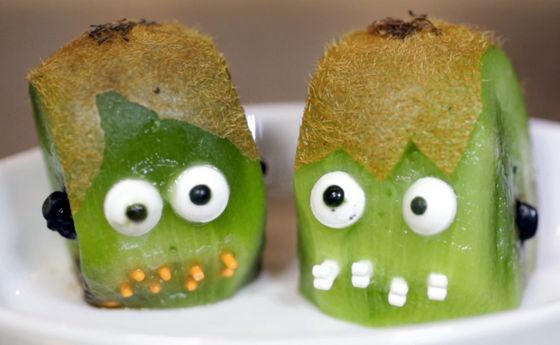 Go naturally sweet with these Kiwi Frankenstein snacks from my own site, One Hungry Mama. You just need a paring knife and sprinkles. Bonus: while watching my video to learn how to make these, you'll also get two other last minute Halloween treat ideas.
This could not be easier: Oreo cookie spiders! Just add thin pretzel rods to Double Stuff oreos, and teeny candies for eyes or even a dab of frosting. Done.
All fun treats don't have to be sweet. These Spiderweb Eggs from Martha Stewart are gorgeous, fun, and make a healthy Halloween breakfast or afternoon snack. Plus, all you need to make them is some eggs and a bag of frozen blueberries.