Since you can't give the gift of sleep for Valentine's Day, we love the next best thing: An adorable photo of your sweet baby. We've scoured the web and rounded-up some of the most creative baby photo ideas ideas for Valentine's Day, whether it's for a card to send the relatives, or just a cute photo for the nursery wall. Best part, they're all super easy; while the professionals provide wonderful inspiration, you can recreate plenty of these yourself.
This post is part of our monthly series with our Baby Shower Gift Guide sponsor babyGap, with tips to help you celebrate motherhood firsts. And there are lots!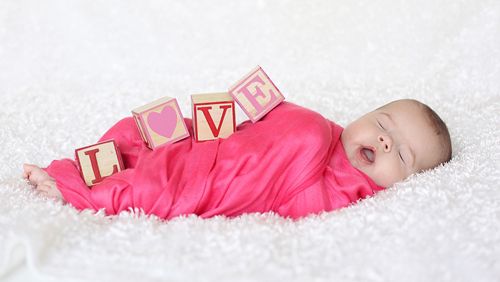 1. Swaddled Valentine baby via Baby Lifestyle
Here's a super easy idea if you've got a newborn and you can do it during nap time. Wrap your baby in a pink or red swaddling blanket, grab some letter blocks, and get snapping. So sweet!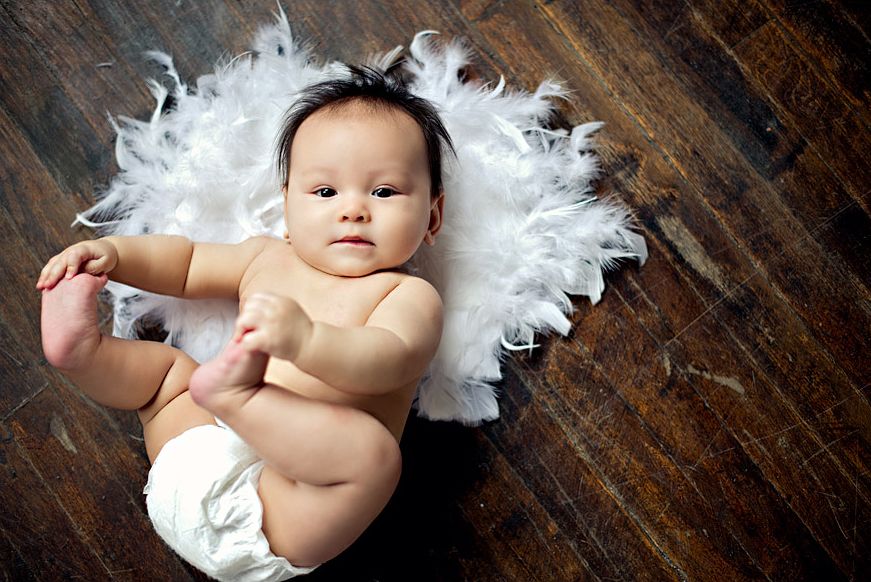 2. Baby cupid photograph via Melissa Diep
We are so entranced by this photo. All you need is some feathers and your diapered baby (stick with a white diaper cover–no cartoon characters) to make this adorable tableau. Add a little red bow and arrow next to the baby if you're feeling extra crafty.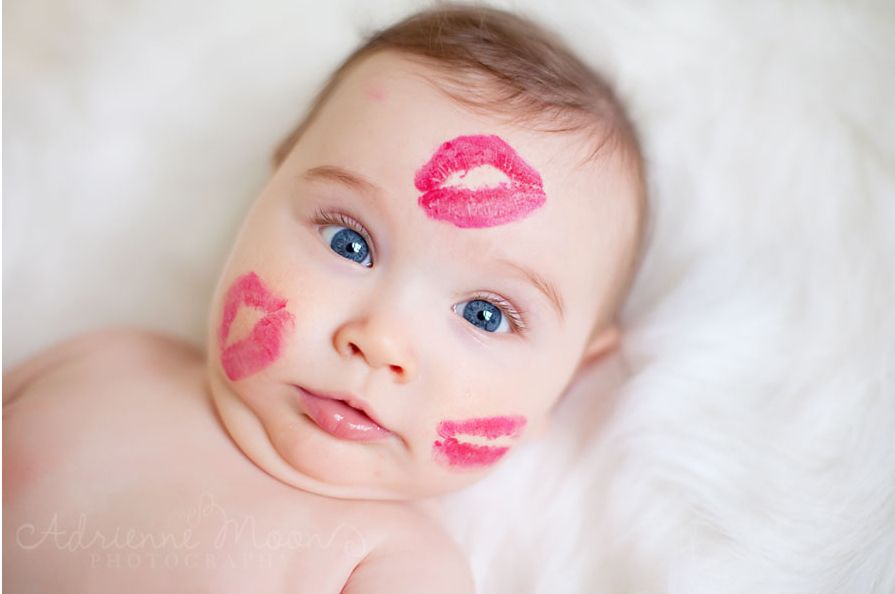 3. Lipstick kisses baby photo by Adrienne Moon:
This couldn't be easier, and who doesn't love kissing a baby anyway? Plus, it gives you an excuse to grab a fabulous new red or hot pink lip color. (At least that's how we see it.)
Lover U Striped Sweater, Original Fit Jeans, Heartbreaker Socks
Pleated Heart Dress, Favorite Denim Jacket, Cap-Toe Mary Jane Ballet Flats
4.  Valentine's Day themed clothes
As much as we love naked babies, there are so many cute Valentine's Day clothes they can wear for some cute candids all day long. The new Love Collection at babyGap offers adorable separates for boys and girls that pair so well with their classic denim line–as well as pieces you already own. Plus, we like that heart patterns on babies are cute long after February has passed.
If it's not too cold, try and get outside in natural light, otherwise find a nicely lit spot in your house near a window. Either way, it's more flattering than using a flash.

5. Baby in a basket via Photography by Jacobson
If your little one was anything like ours were, they love to play in baskets and boxes. Grab a red one at your local craft store, add some letters and in just four photos you've got a perfect collage to send out to doting family and friends.  The heart background definitely adds a special touch, though we think red balloons (or a heart balloon) would work just as well.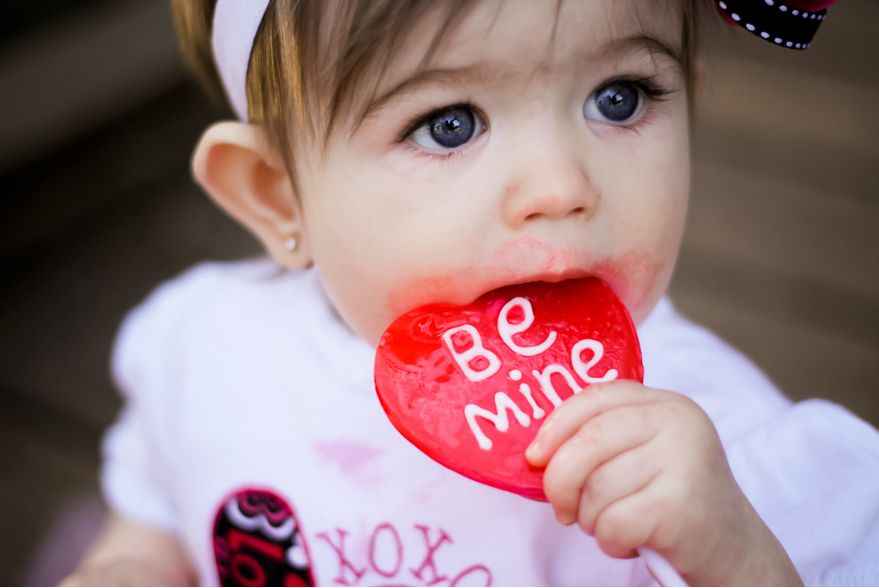 6. Baby with a Heart Lollipop via Jackie Willome Photography
If you can't procure a "Be Mine" lollipop, any big heart red one will do. And really, this is a brilliant way to get your baby to stay focused and smile. Just watch out for that red drool.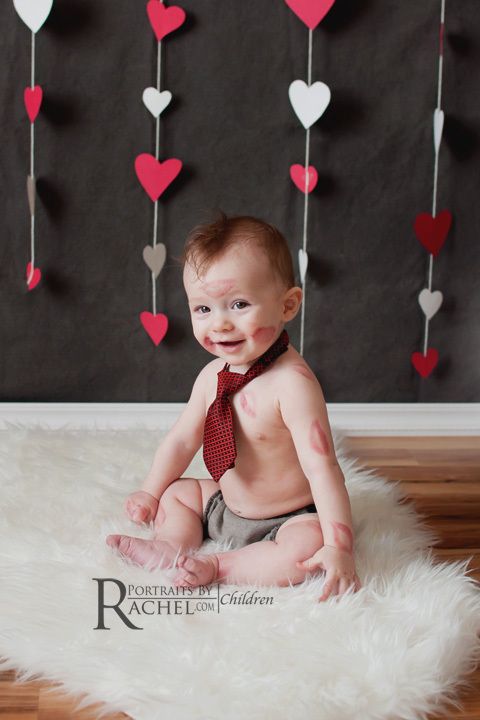 7. Baby against a heart banner backdrop via Portraits by Rachel
Even we can whip up this easy hanging heart banner which adds a fun element against a solid wall. Whether your baby is in a diaper and tie, or a simple sweater and jeans from the Love Collection at babyGap, we imagine he'll be look perfect.
Thanks to the wonderful folks at babyGap for sponsoring this series and helping us celebrate the many joys of early parenthood. To see more of their new collection of baby clothes and gifts, check out our favorite babyGap picks in our Baby Shower Gift Guide.