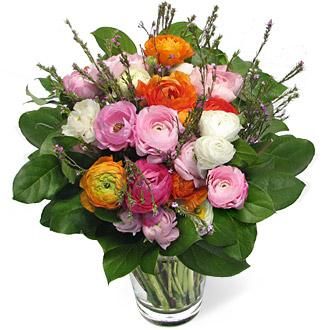 I send flowers several times a year and I've found florist shops and online flower delivery services to be very hit or miss in terms of the quality and freshness. When most of the "fresh" flowers you order are shipped in from abroad, how fresh can they be? That's why I'm madly in love with Flowerbud.com.
The majority of their flowers are grown right here in the US then cut and shipped the same day. You're literally getting your flowers a day after they were picked. They're all sent as buds so within a few days they bloom into an explosion of beautiful blossoms in a tasteful vase. The Ranunculus bouquet made me swoon and I think I must have it for my Thanksgiving Day feast.
Flowerbud's prices are definitely a bit steep (they do include overnight shipping) – more in line with the higher end floral artist shops than the mainstream catalogs for sure. If you're hoping for a $19.99 bouquet of roses that comes with a teddy bear and a balloon, this is not the site for you. -Betsy
Just in time for the holidays! find beautiful flower bouquets, and fruit baskets at Flowerbud.com.