I get to the movie theater about once a year, so it's no surprise I totally missed Ponyo when it first came out. But ever since I heard the buzz around this animated film by Japan's Hayao Miyazaki and his Studio Ghibli, I've been waiting not-so-patiently for the home release.
Now, having seen it, you can bet that I won't miss his next one.
Ponyo, which is loosely based on the original The Little Mermaid by Hans Christian Andersen (but not nearly as tragic), tells the story of a little fish who falls in love with a boy and wants to become human. Sounds familiar, doesn't it? But Miyazaki spins this story in a way that feels entirely new and so much more age-appropriate for its intended audience; the sweet innocent love between girl and boy are more like that of a little sister and her beloved big brother, not the adult romantic love we're used to seeing in animated films.
I expected to be distracted by the well-known voices of Tina Fey, Betty White and Liam Neeson, among others, but they actually add warmth to their roles of the loving if sometimes misguided elders that help the kids along on their adventures.
But perhaps the most intriguing thing I noticed throughout the film was how Miyazaki's hand-drawn animation is able to pull you in with lush, passionate visuals, especially in these days of "Bigger, Bolder and 3D!" A good story and beautiful drawings are often more than enough entertainment, if books have taught us anything.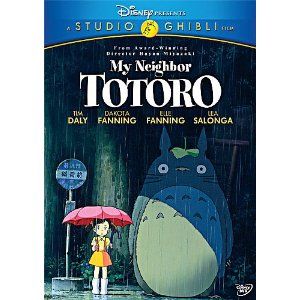 If this sounds like your cup of tea, Disney has also released three older Studio Ghibli films: Kiki's Delivery Service, My Neighbor Totoro and Castle in the Sky. We could watch Kiki and Totoro over and over together which is more than I can say for my kids' other favorites. Only Castle in the Sky, which is rated PG for its older-kid action and adventure story line, is a film I'd watch with caution around kids younger than about eight years old.
Since all of these films are Japanese in origin, your kids may enjoy picking out cultural differences–the mom cooking with chopsticks, the smaller cars, the rice patty fields–and I noticed that all of the children in these films enjoy a certain freedom that doesn't exist much anymore. But, overall, what makes me love the characters so much is that they all feel perfectly believable. Even when they're running on water or flying on a broom. –Christina
You'll find all four Disney Presents: Studio Ghibli Films, Ponyo (on combo Blu-ray and DVD), Kiki's Delivery Service, My Neighbor Totoro and Castle in the Sky at our affiliate Amazon.