I don't need a reason to cozy up with the new J Crew catalog or website, multiple times a day, so give me that plus an awesome cause and you have my complete attention. Their new fall kids collection includes two t-shirts that support partnerships with education-based non-profits.
Each is also miraculously mutually agreed by parent and child in our house as "cool." I'm sold.
The DonorsChoose.org t-shirt from the CrewCuts collection totally appeals the to 80's kid in me who loved those black and white composition notebooks. The graphic, designed by Hugo Guiness, reads "P.S. We <3 you." and promotes the Donors Choose mission of helping teachers help students. If you've never donated to one of our favorite charitable websites, it's purposeful and direct, which I find mighty satisfying.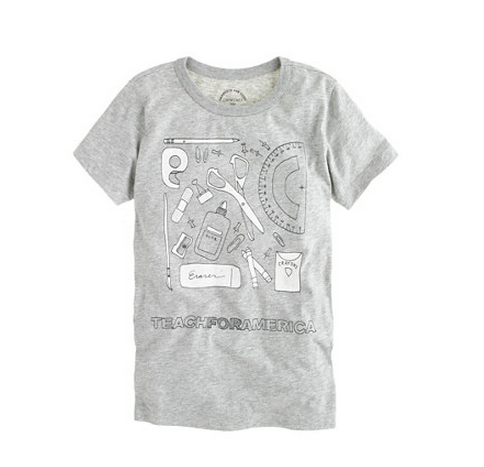 There's also a Teach for America shirt shirt which features a new year's worth of school supplies on the front, including that pesky protractor. 100% of the profits goes to the esteemed organization that helps place recent college grads in classrooms around the country to both support new educators while providing students with well-trained teachers.
Both shirts come in a gender-neutral soft grey, for boys and girls who can sport their style while helping their schools. This mom is cheering for J Crew for helping to support all of our kids' education.
Shop the J Crew Crewcuts Teach for America shirt and Donors Choos t-shir for kids at J Crew. CMP is an rstyle affiliate.