Hear ye, hear ye! How does a parent of a Hamilton-obsessed kid score major points without spending your child's college fund on Broadway tickets? By throwing a Hamilton-themed birthday party, that's how.
While I would love to give my daughter tickets to see the show (because it's on my wish list too), throwing her a fantastic Hamilton party for kids is more within my budget. Plus? So cool! So I scoured the web for the best Hamilton party ideas including invitations, decor, food, favors, and activities.
Besides a sing-along of the entire soundtrack. Which is a given.
Top: Schuyler Sister cakes via Natalia Rostova
CMP is an rstyle affiliate
Related: The Ultimate Birthday Party Gift Guide? The best gifts for kids of every age
Hamilton Party Invitations
Y-yo y-yo yo! What time is it? It's Hamilton party time with this fun printable digital download Hamilton birthday party invitation that even has room to let people know where to get to the room (or okay, backyard) where it happens. ($12, Set Forth and Sign)
Love this custom Hamilton party invitation that invites guests to party like it's 1776. Download the stylishly designed PDF yourself with high-quality ink onto cardstock and they'll look less…scrappy. ($10, Revel Press)
If you prefer to go the digital route, you can use the custom invitations above and convert them to PDFs you email to guests. Or, try this Party like it's 1776 Revolutionary e-card from Paperless Post, which also makes managing RSVPs and guest lists a snap. Personalize it with all your Hamilton party details and even your kid's favorite Hamilton quote.
Related: The coolest Hamilton gifts for the obsessed fan
Hamilton Party Decorations
Black and gold is clearly an easy way to go for a Hamilton-themed birthday party. Make an awesome first impression by borrowing ideas from the awesome black and gold party theme on Style Me Pretty, like this balloon-filled grand entrance.
I'd add in a few black star balloons (Black Sharpie on gold or Gold Sharpie on black is a simple DIY shortcut) to bring the Hamilton logo in.
Or check out the Oh Happy Day party shop for Mylar Star balloons in gold. Fun!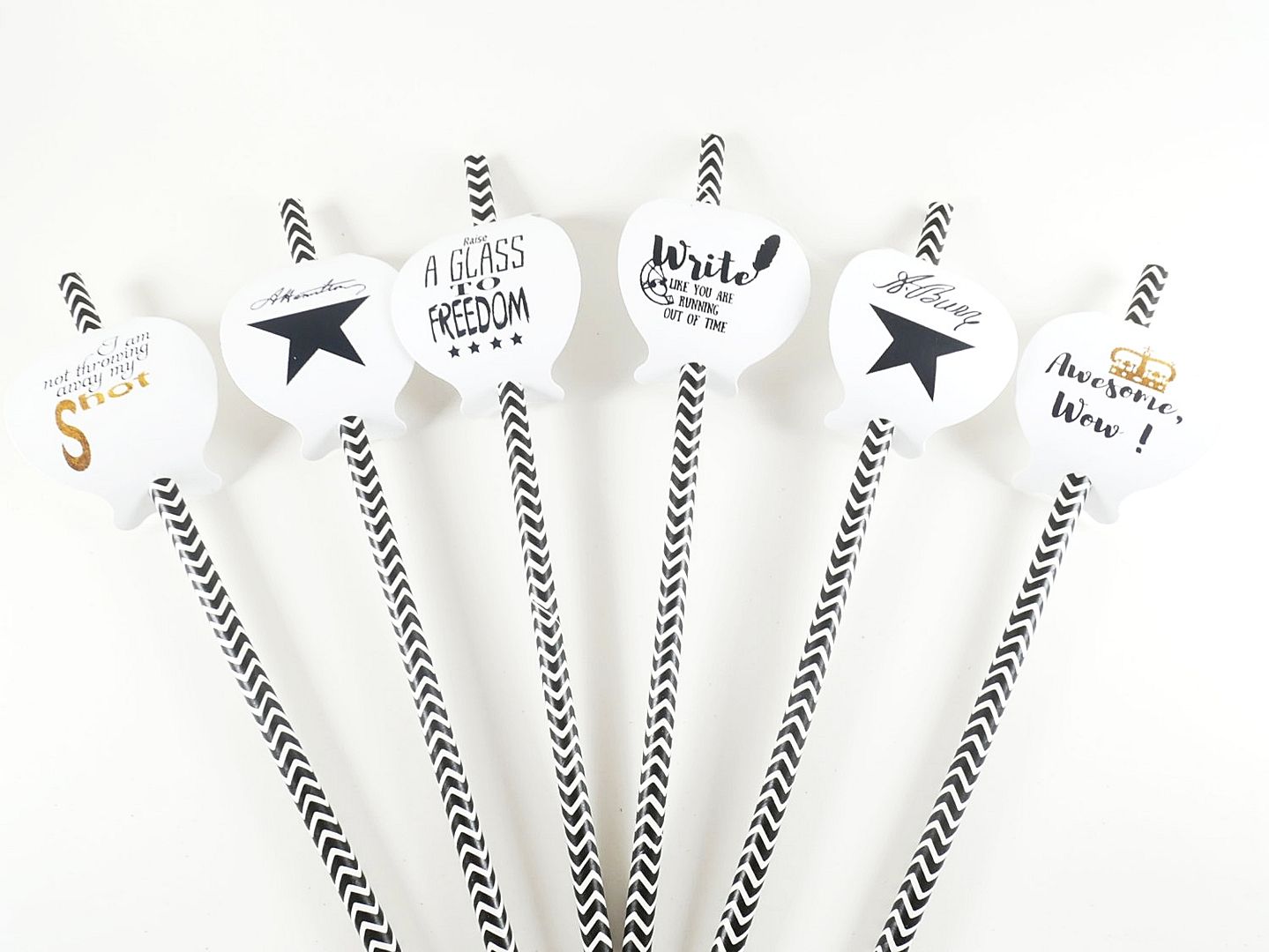 These fun Hamilton quote paper straws will make everyone want to raise a glass to freedom! Yes, a little spendy, but if you're DIYing a lot of the party, this might be one fun, memorable accent that's worth spending a little on. ($13.50 for 30, Hello Party Crafts)
This Black and Gold party collection crate is a one-stop Hamilton party decor shopping find, filled with all you need to set the scene. You could also cut the cost and purchase solid black and gold tableware from your local party store and scour your local craft store for accents. But there is definitely value in having someone do all the work for you.  ($89 for a 16-piece set, Crated).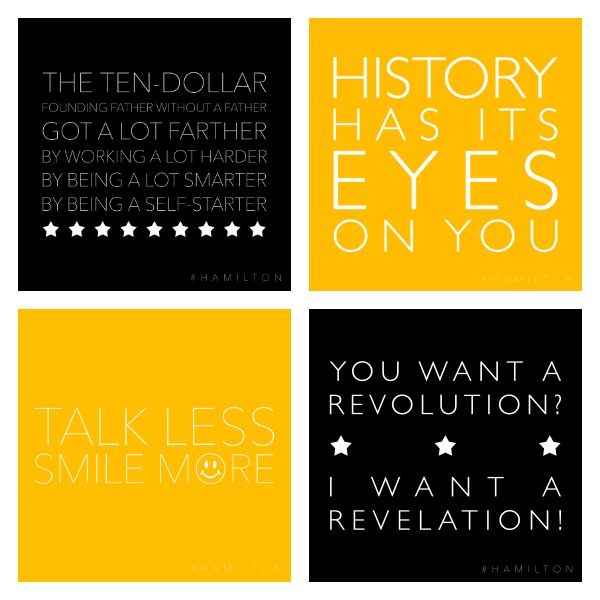 Hang the free printable Hamilton Lyric Posters in your entrance way, or around your party space for some simple, fun decor. Print small ones on card stock and they can even double as take-home favors at the end of the party. (Free, The Cottage Market)
Hamilton Party Activity Ideas
Activities Around Hamilton Music

The playlist is obvious — of course you want The Hamilton Original Cast Recording — though surely you already own it. If not, go old-school and purchase the Hamilton CD or use a streaming service like Spotify. You could also mix it up and play the Hamilton Mixtape.
Parent tip: Depending on the age of your kids (and the temperament of their parents) you may want to go with the"clean" versions of the Hamilton Soundtrack for younger kids, which cuts out a couple of F-bombs.
Now, you're set for a ton of activities! Like you can host a Hamilton karaoke contest using these Hamilton instrumentals of the most popular songs, put together by a YouTuber. (Go Schuyler Sisters!) Or give each kid a line from one of the songs and have them put on a show for the parents at pick-up.
Hamilton Party Craft Activities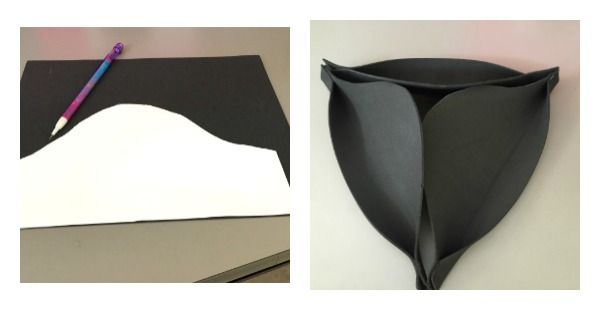 Setting up a craft activity shortly after kids arrive is always a great way to get guests settled before full-on party mode happens. This DIY Tricorn Revolutionary hat craft courtesy of Making History, a Colonial Williamsburg blog (!!), doubles as a craft — and a photobooth prop. Get your camera ready!
Download these free free Hamilton Paper Dolls printables and the kids will play like they're running out of time.  They could also be rolled up, tied with a ribbon, and given out as party favors. (Free, Vivid Seats)
Hamilton-inspired Cookie Decorating
Put out a tray of star sugar cookies, like this simple recipe from the Cooking Channel, and let kids decorate their own with either gold and black decoratifs, or stick with red, white, and blue.
Hamilton Photo Booth

Speaking of photo booth props, how can you not have one? Check out this post on the best photo booth apps so you can find one that's right for your own party.
As far as props and costumes, if you don't happen to have a whole collection of 18th-century costumes lying around, check out this brilliant mask idea.
It's as easy as printing out photos of the cast (this link goes to a fab image shot by Annie Liebowitz for Vogue, but find more via the Hamilton site's news category), blowing them up large, and if the quality isn't great, have a local print shop convert to a duotone first. They'll know what that means.
(We're dying to find the original source for the photo above so please let us know if you know who we can credit!)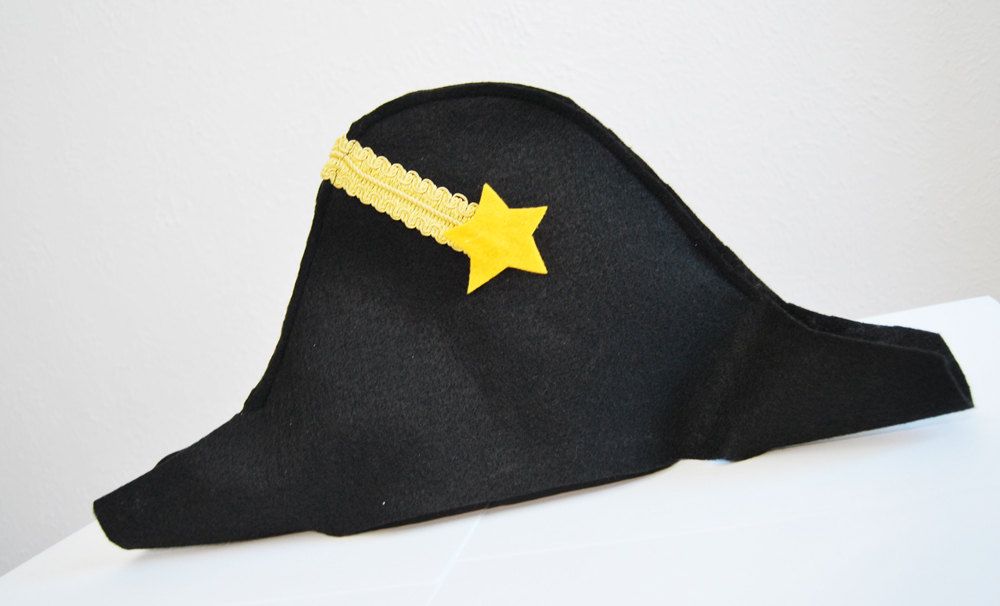 You can also supplement with a few of these Hamilton-inspired hats for everyone, which are pretty cute and relatively affordable. ($4.50, Party at Your Door)
Hamilton-Themed Fun and Games
Here's where you can really get creative. Play Pin the Crown on King George or a rousing game of Musical Thrones. Take a Twister game and rename the rows of colors with names of Hamilton characters ("Left hand on Burr, right foot on Lafayette…").
If it's warm out, just give the kids some colorful (and extremely toy-like) toy water pistols and let them duel it out in the backyard to cool down.
Buzzfeed put together a clever (and very Buzzfeed-y) Guess the Hamilton Song Based on these Emojis quiz. Inspired by those, you can print your own emoji sentences — like this one that we put together — to suggest a particular lyric or song on a series of cards, and see who comes up with the answers first.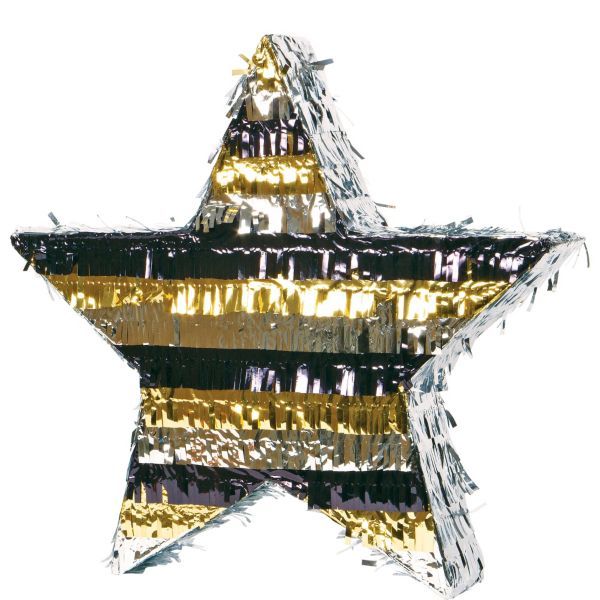 End the party with a bang (not involving any dueling pistols) with a Black and Gold Star Pinata that's perfect for a Hamilton-themed party! Filled with old-school penny candy, gum, you name it. ($16.99, Party City)
Hamilton Party Food and Treats
Get creative and serve kid favorites with witty labels, like "A. Ham Sandwiches" or "A. Burr-ger Sliders." Add a side of "History Has it's Fries on You" or a bowl of "Guns and Chips" for a complete — and fun — meal.
Sorry, I'm helpless when it comes to puns. (But they're great, right?)
The recipe above puts a super fun, party-ready twist on classic sliders with Pretzel-Mustard-Crusted Pork Tenderloin Sliders from The Food Network, a recipe we originally found at Cool Mom Eats. Pretzels + Sliders?
Hamilton would have downed 17 of those at the pub himself.
Of course cupcakes or a cake is essential for a birthday party. And while you could certainly pay a fortune for some of the amazing ones all over the web, it's really easy to just amp up plain homemade or store-bought cupcakes. In fact, you can turn your own into awesome Hamilton-themed treats with simple Playbill cupcake toppers. These are spendy, but wow, are they Tony party-worthy. ($25/12, Jacolyn Murphy on Etsy)
Another option is to use simple gold glitter star cupcake toppers. ($6.50/30, Lola Emma on Etsy)
Or hey, you could DIY pretty easily if you're up for it. Just a gold or black star, a toothpick, a little tape… and you're good!

Of course Hamilton isn't the only star of the show. We're all in love with these clever Schuyler Sister cakes shared by Natalia Rostova, AKA @Cap10Hamilton on Pinterest. WORK!
It's basically a classic Barbie Dress Cake, and this YouTube tutorial by DressPac can help you put together your own. Or take a look at the doll cake tutorial from Imperfect Women which is also helpful. Just be sure you have a Bundt pan — and some reference for an 18th-century dress.
Crazy fun idea for a larger cake: Instead of candles, try these star sparklers. ($13.50, Oh Happy Day Shop)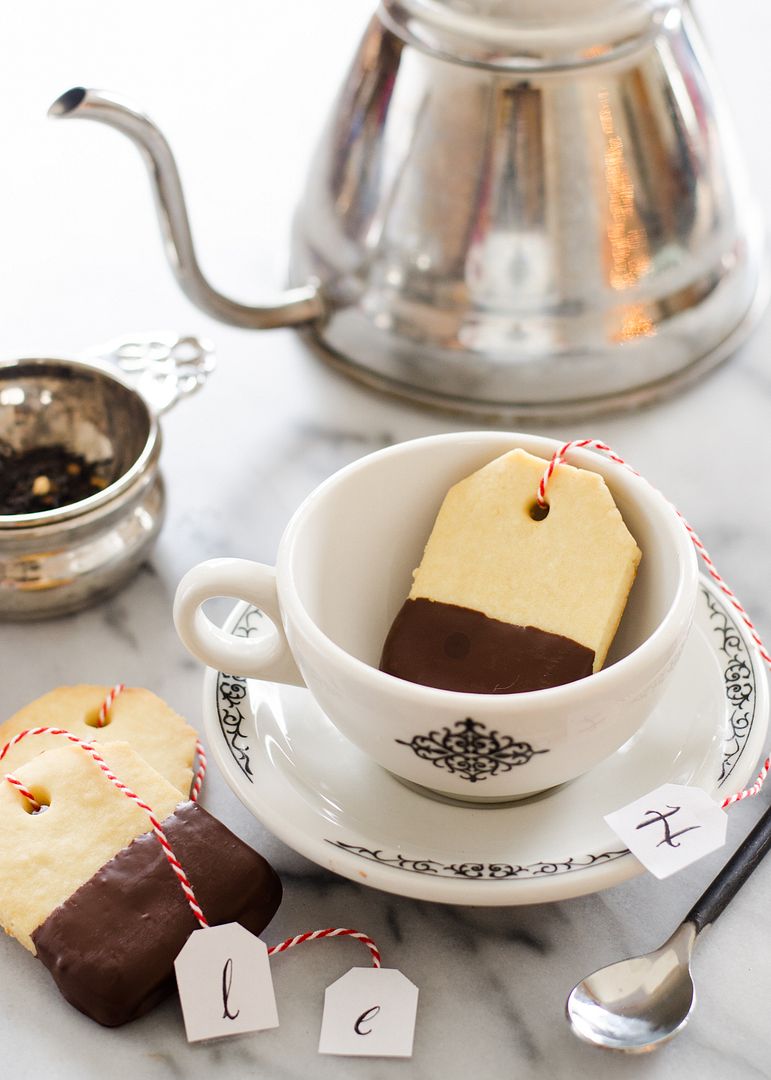 For a treat alternative, think tea (un-taxed of course), but in the form of these super cute Shortbread Tea Bag Cookies from Buttered Side Up. Also check out the option we featured in our Alice in Wonderland tea party idea post, which are adorable.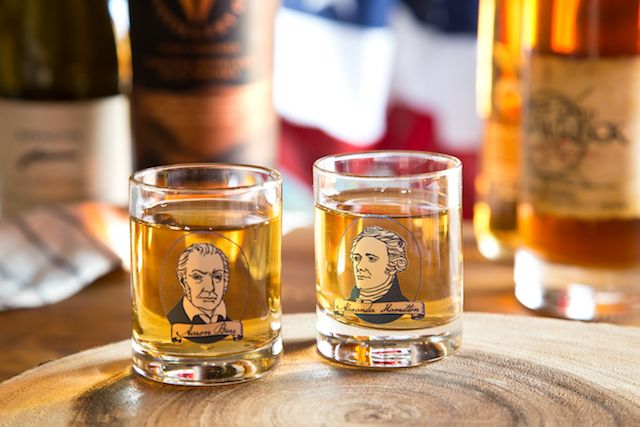 Having adults at the party as well? Satisfy them while the kids play with the My Shot Alexander Hamilton Cocktail recipe from Good Food Stories. I love that they serve them in a set of awesome Dueling Shots set of shot glasses — they've got a link on the post for where to purchase them. Nice way to inspire the grown-ups to raise a glass to freedom.
Hamilton Party Favors
These Rise Up Hamilton Enamel Pins are just amazing. And we'd rather our kids have one cool thing to take home, than a goody bag full of plastic stuff. ($15, A Sunny Disposish)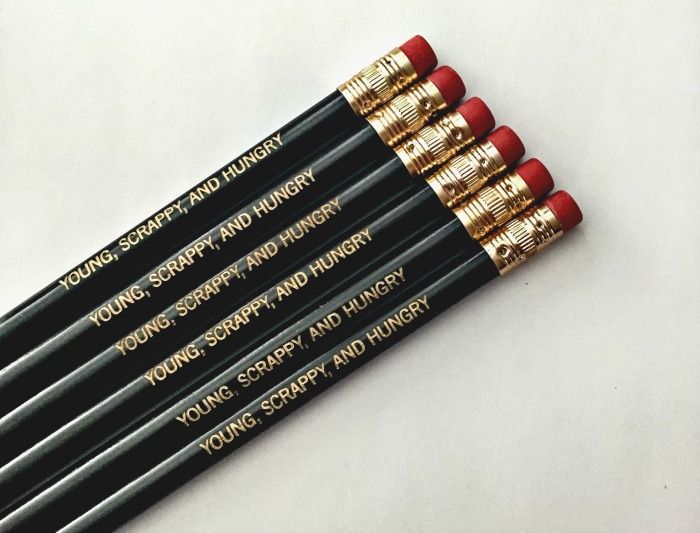 Encourage the kids to write like they're running out of time with various sets of Hamilton Pencils that we first found as a great gift for Hamilton fans our Holiday Gift Guide ($8 for 6, The Carbon Crusader)
Related: Cool gift ideas for the obsessive Hamilton fan
Kids love flair, and for something more affordable than enamel, check out these Fandom Hamilton pins featuring favorite quotes. Get one or two for each kid ($2.50/each, Geek Market)
I love giving books for favors, and Alexander Hamilton: The Outsider by award-winning biographer Jean Fritz is an excellent children's book for kids ages 8–12. I'd consider it on par with Ron Chernow's book, which originally inspired the musical, only…for kids. ($7, Amazon)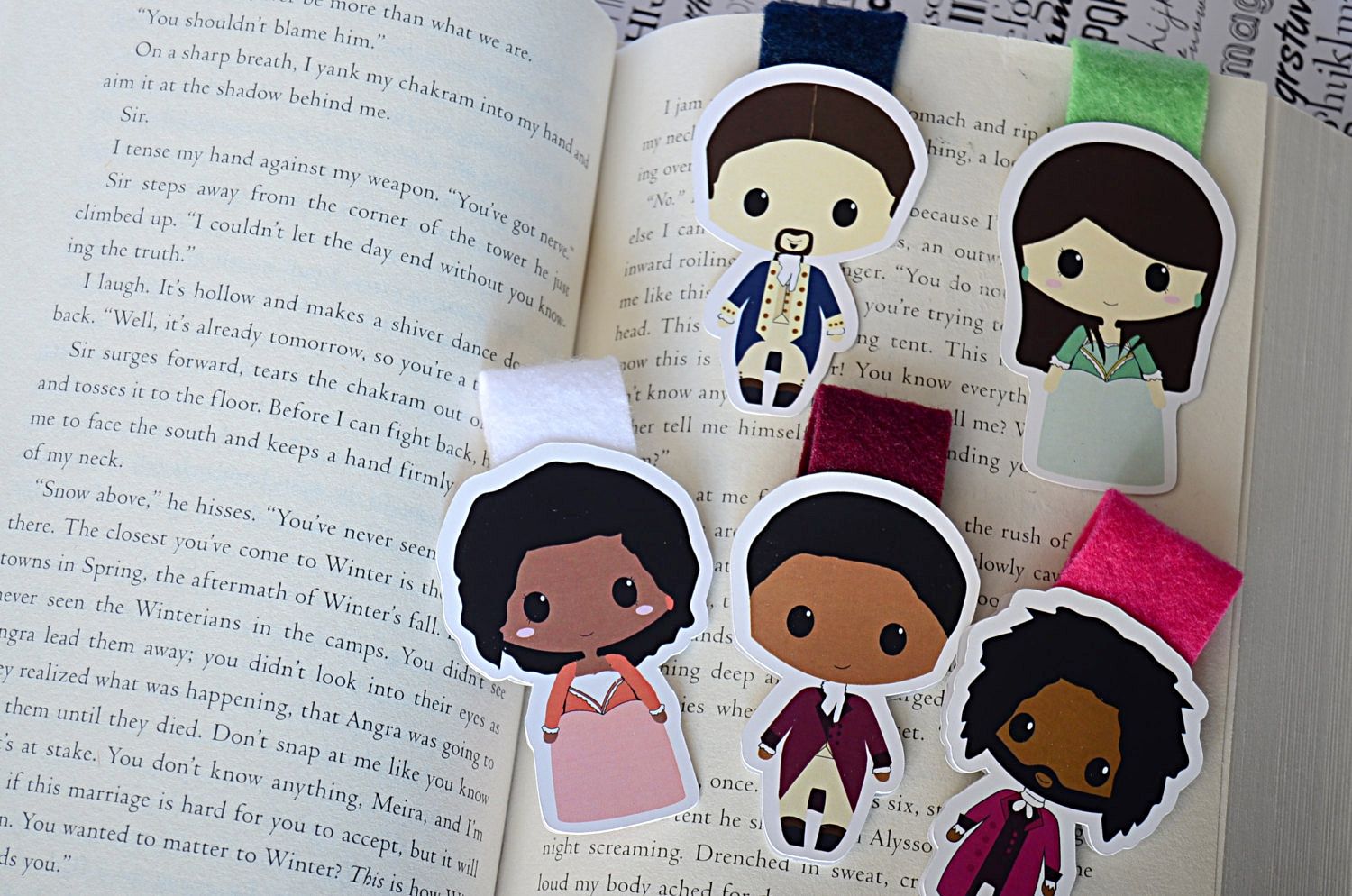 You can make that book favor even more special with these awesome Hamilton-inspired magnetic bookmarks. ($15 for a set of 5, Magic Bookmarks)
Think out of the box when it comes to older kids or adults and Hamilton party favors. So…how about a nice, pretty, pocket copy of the US Constitution? (Liz says her own 9-year-old loves hers!) Plus, the purchase price supports the ACLU. ($11.99/10, ACLU shop)
Hamilton Party Thank-You Notes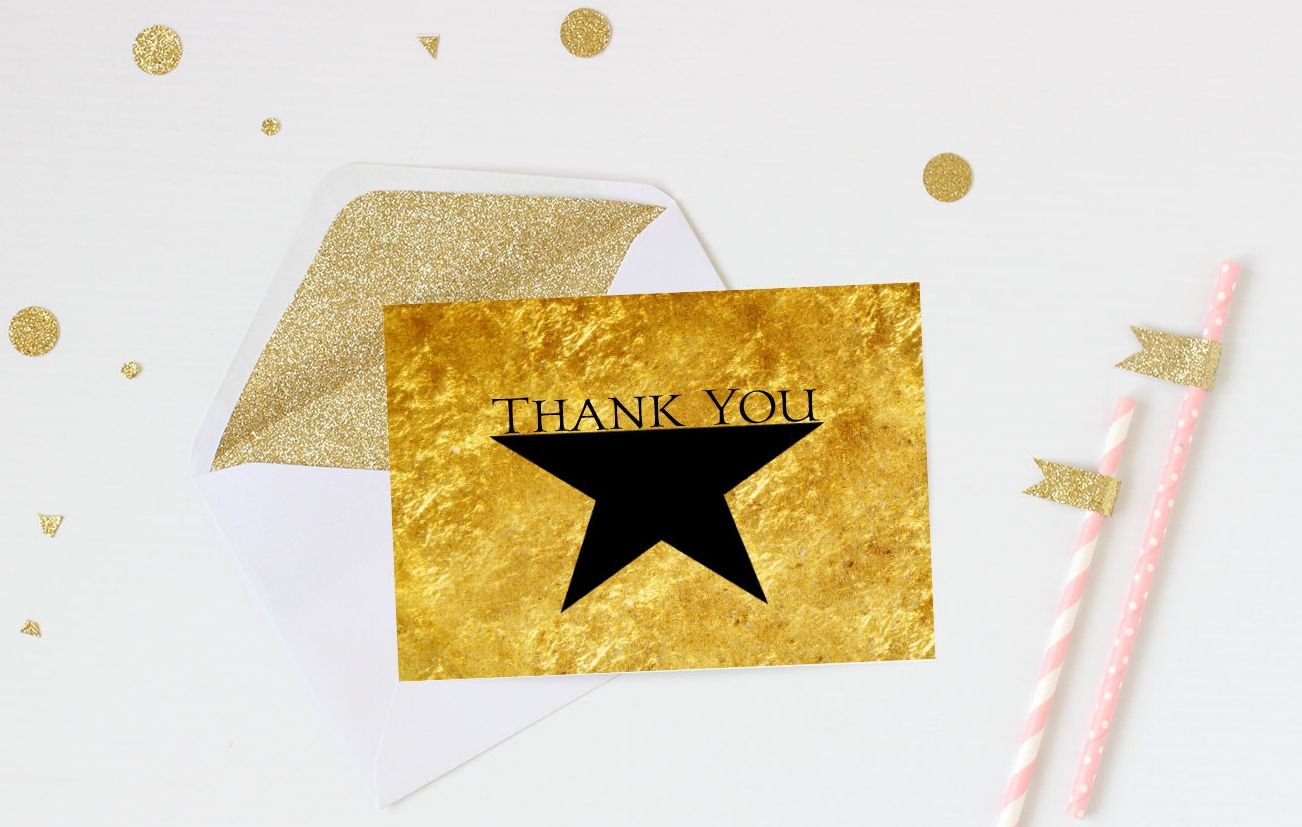 After the fun is over and the gifts have been unwrapped, it's always good form for the the birthday boy or girl send a note of gratitude. Of course any card will do, but I'm glad to have found these printable Hamilton Thank You Cards. Print the digital download yourself, then sign them, of course, with I have the honor to be Your Obedient Servant, ____ dot____." ($6, Set Forth & Sign)