Ooh, do we have Alice in Wonderland tea party ideas for you. It's such a wonderful theme, isn't it? And when a superhero, Lego, or Star Wars birthday party isn't quite right, it might be time to break out the tea set for a very merry unbirthday tea party. Or, if your curious one prefers, a Mad Hatter birthday tea party. Either way, it's always tea time.

Inspired by our sponsor, Bigelow Tea, a third generation family-owned business (so cool, we had no idea!), we've rounded up the best ideas, from simple recipes to free printables and fun decor, so you can throw a fabulous Alice in Wonderland tea party for a very important date, all without falling down the party research rabbit hole.
DRINK ME!
There is no tea party without tea, of course. You can go with a traditional proper high-noon approach and serve hot tea (decaf of course) with sugar cubes to the kids. Or, since this is an Alice in Wonderland party, after all, Bigelow has tons of all-natural decaffeinated teas and herbal teas that are the perfect inspiration for unexpected tea drinks like smoothies and lemonades.
The Spiced Orange Tea recipe from Alyssa and Carla is the perfect twist on a classic cup of tea. Bigelow decaffeinated English Tea Time blend is a great substitute for classic English Breakfast, but I'm thinking that the decaffeinated French vanilla black tea would be delicious in this recipe, too.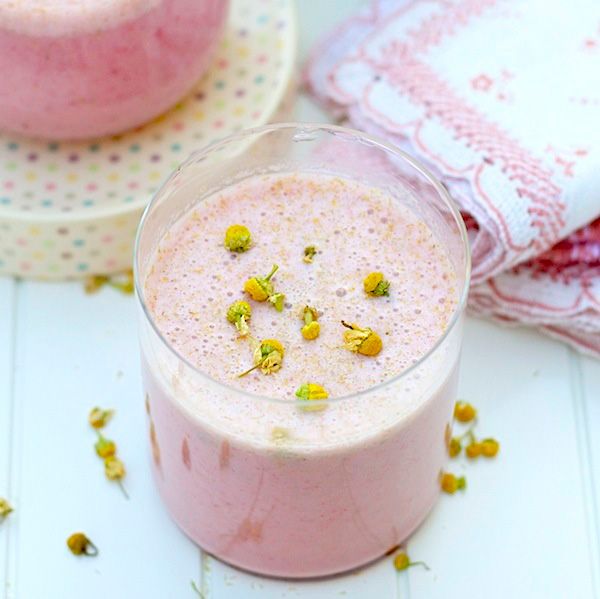 I love using herbal tea in fruit shakes and am dying to try this gorgeous Strawberry Chamomile Smoothie spied at SheKnows. The recipe calls for quinoa, too (talk about unexpected!), but I imagine it will work just fine without it.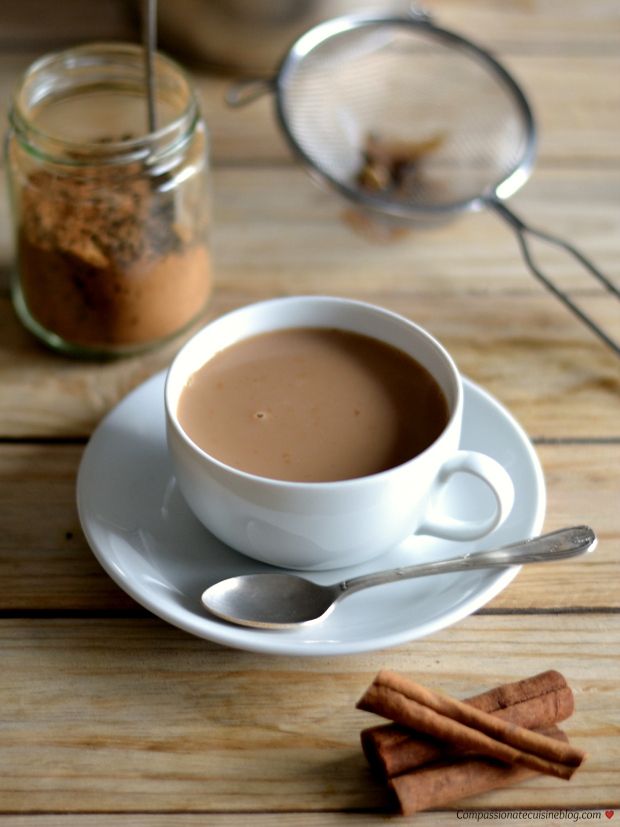 My kids love honey-sweetened chai and would happily slurp–uh, I mean daintily sip–it up at a tea party. You can make classic chai using just Bigelow Bigelow decaffeinated Spiced Chai or use it to make this Chai-Spiced Hot Cocoa from Compassionate Cuisine. What a genius idea.
Throwing a tea party in warm weather? Serve up this super refreshing Orange and Mint Iced Tea  from Everyday Musing. The recipe calls for one teaspoon of loose tea leaves, but you can substitute a tea bag for every batch. The combo of Bigelow Mint Medley Herbal Tea  and their Orange & Spice Herbal Tea will yield an awesome refresher.

And to top it all off, how adorable are these playing card straws to serve it all with? Find them at The Party Fairy on Etsy.
By the way, one of the thing we really admire about Bigelow Tea is they are part of the Ethical Tea Partnership which ensures good farming practices and safe worker conditions, plus they  they are a certified Zero Waste to Landfill company. Because we think that good global manners is important in a tea party too, don't you think?
EAT ME!
Chocolate Dipped Shortbread cookies shaped like tea bags from Le Petrin are adorable. The post is in French so you'll have to improvise a little to make these (or use Google Translate) but, between the pictures and this trusty shortbread recipe from Martha Stewart, I have no doubt you'll have it covered.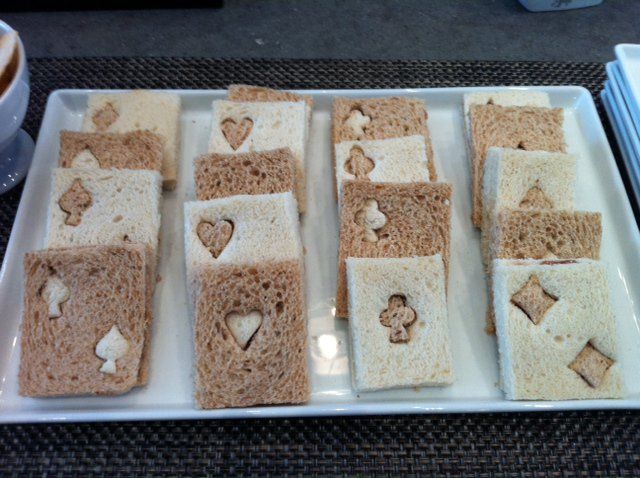 Tea sandwiches get the Lewis Carroll treatment with these playing card sandwiches from Celebrating the Big and Small. All you need is white and wheat bread and a set of small playing card cookie cutters like this set from our Amazon affiliate ($8.79). Any sandwich filling will do.
If you have cup cones, cookies and some gummies, you have what it takes to make these totally adorable Edible Alice Teacups spotted at Spoonful. Find the full instructions there. Or save yourself some time, put out the ingredients, and let the kids make them themselves.
Related: Over 100 of the coolest birthday gift ideas for kids of all ages 
PRINT ME!
While there are lots of printables and party decor inspired by the various movie versions of the Lewis Carroll book, I gravitate to ones that remind me of those beautiful Victorian illustrations in Alice's Adventures in Wonderland.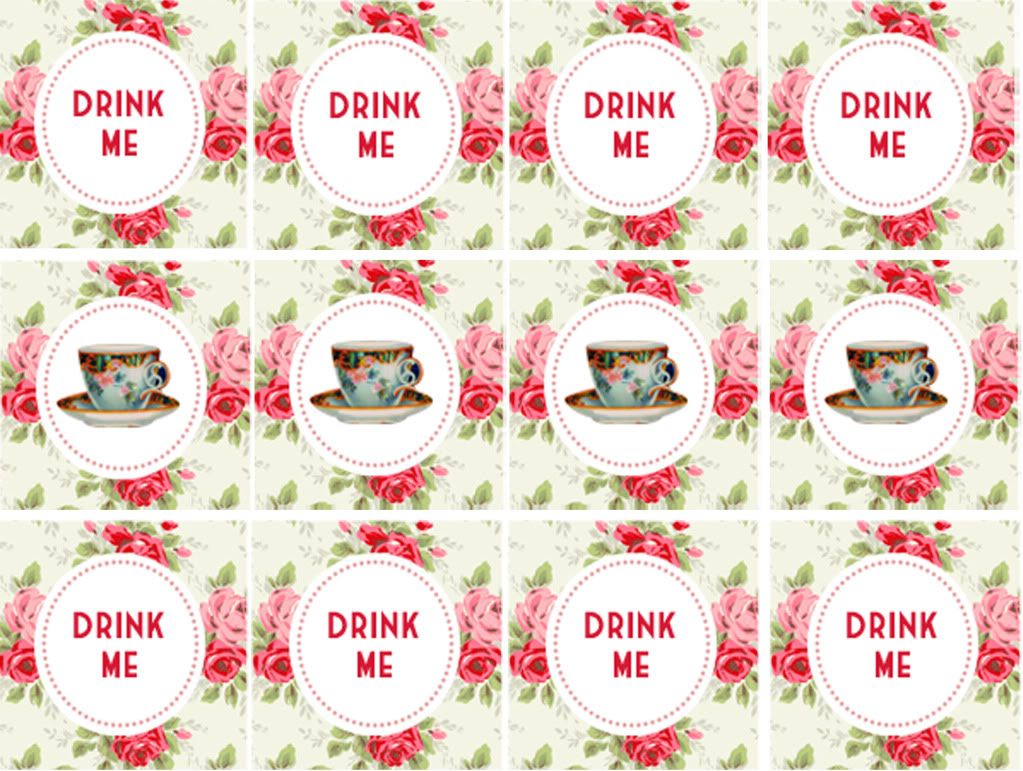 Eat me! Drink me! These free Alice in Wonderland tea party printables from Happy Home Bird have a pretty, vintage vibe without being fussy or stodgy. Download them as cards or onto stickers.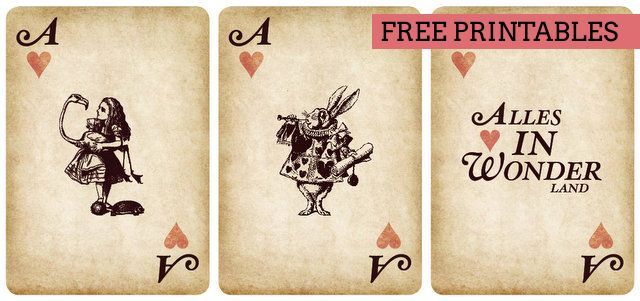 The free Alice in Wonderland printable playing cards from SouthBound Bride are in keeping with the vintage vibe of a tea party. The blog is based in South Africa, so the other printables won't work unless you're also from South Africa. The playing cards, though, make a fun table or game prop anywhere.

There are tons of Mad Hatter tea party ideas  ideas and printables at B. Nute Productions, including game and decor ideas. I like these free Queen of Hearts printable crowns because any party activity that doubles as a party favor is an activity I love.
I love this Alice in Wonderland printable page which is so perfect for party crafts, invitations, or just some very cool thank you notes when printed on nice stock. It's $2 at Popstock on Etsy.
DECORATE ME!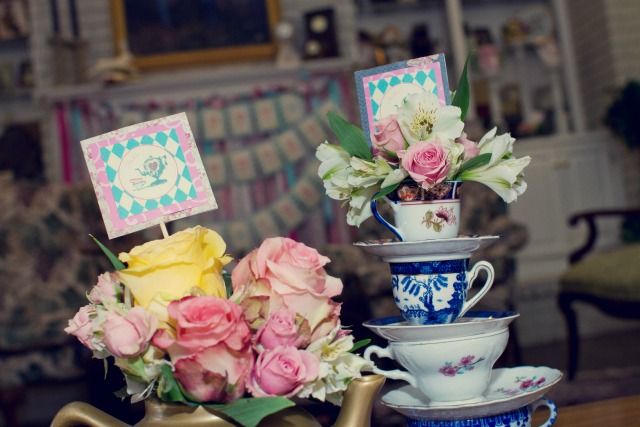 I love this charming tea party table idea from Anders Ruff, where you'll also find a bunch of other Alice in Wonderland tea party goodies. To take on this easy DIY project, hit a local vintage shop for mismatched tea sets and grab some super glue. The rest is up to you. There are no rules for this one, which makes it the perfect DIY project for me at least.
String together a DIY playing card garland for an easy Alice in Wonderland touch. Making one looks self-explanatory but, if you're craft-impaired like me, the easy directions at Country Living will walk you through the very simple process.
What would an Alice in Wonderland tea party be without arrows going this way and that? Grab some patterned card stock, scissors, and markers to make arrows at no cost or get an instant download for these Alice in Wonderland printable arrows from the KrownKreations store on Etsy (pictured, $2.99).
PLAY ME!
Of course there's always Pin the Tail on the Cheshire Cat, a water-filled teacup relay race, or certainly croquet. In addition, here are a few ideas for crafty activities that can double as party favors to take home. And we always love those.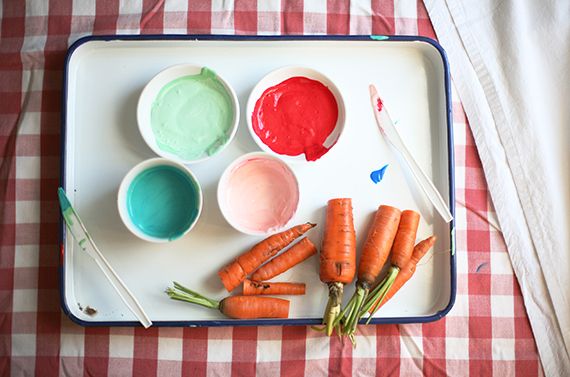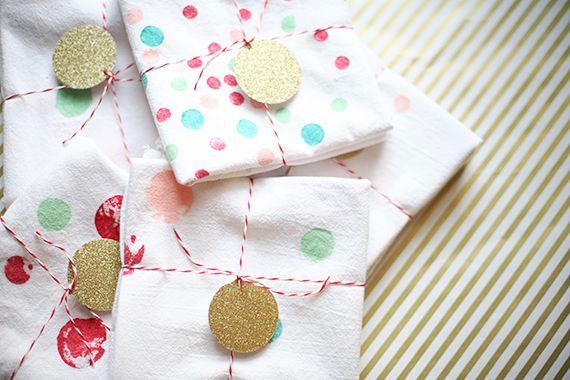 I can't get over this swoon-worthy DIY potato print tea towel project from 100 Layer Cakelet. This would make a super fun party activity for the kids and then, bonus, Mama gets a pretty tea towel favor for the kitchen!
Every Mad Hatter tea party needs a hat decorating party craft like this one that Carly, from Africa to America, put together for her own Mad Hatter Tea Party. After all, if we're all mad, we should all wear hats right?
Thanks to our sponsor Bigelow Tea for making 120 varieties of delightful, delicious, ethically-procured, natural teas that we can celebrate at a tea party or all on our own. Cheers to that.
EXTRA COOL: Bigelow is giving away 17  Bigelow Green Tea Triple Packs of favorite flavors (60 tea bags in all). Enter to be one of the 17 winners through the Bigelow Tea facebook page, through March 30, 2014.  Green tea and green practices for St Patrick's Day – how perfect.