Notice
: Undefined variable: sub_menu_style in
/home/coolmompicks/coolmompicks.com/wp-content/plugins/shortcode-menu/shortcode-menu.php
on line
192
Notice
: Undefined variable: submenu_anchor_color_style in
/home/coolmompicks/coolmompicks.com/wp-content/plugins/shortcode-menu/shortcode-menu.php
on line
195
Notice
: Undefined variable: submenu_anchor_hover_color_style in
/home/coolmompicks/coolmompicks.com/wp-content/plugins/shortcode-menu/shortcode-menu.php
on line
196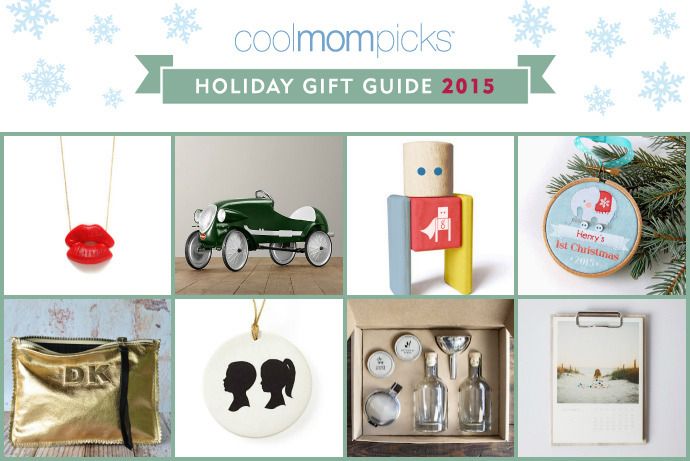 We are beyond thrilled to present our 2015 holiday gift guide, which we have to say is our biggest and our best yet. We mean it this time! (Okay, so we mean it every time.) You'll find 19 pages packed with truly fabulous holiday gift ideas for every single person on your list, in every price range, many of which are from small brands and indie makers, which makes us very happy.
From every kid on the nice list this year, to that mother-in-law who says she doesn't want a gift (but really does), to that super picky tween or teen, whether you've got a tight budget or sky's the limit, we've scoured the far reaches of the internet to have you covered with the coolest holiday gifts and even clever DIY gifts you can make yourself.
Plus, you'll find lots and lots of discount codes. Because we know you love discounts as much as we do.
UPDATE: While there are tons of fabulous gift ideas here, be sure to visit our new 2016 holiday gift guide with 350+ gift ideas for everyone on your list!
If you need a place start, try The coolest gifts for baby's first Christmas – from there you can move through the guide page by page, or click through the index on each page to check out any category you'd like. If you ask us, we like all of them.
The coolest gifts for baby's first Christmas. Aw…
Seriously cool Hanukkah gifts for kids. No latke jokes.
The coolest ride-on toys and gifts for your little speed demons
Super cool craft gifts for kids who should have their own Etsy shops by now
The most super superhero gifts for your very super kids.
Cool music gifts for the tween or teen who actually knows who Bob Dylan is
Kawaii gifts for your most favorite happy fun girl
The coolest Star Wars gifts because, duh. Star Wars.
Men's gifts so cool, they'll make his friends who just got some crappy tie really jealous
Holiday hostess gifts for the hostess with the mostess sense of humor
23 of the coolest personalized gifts that will make you glad you shopped early, for once.
The best sentimental grandparent gifts for the very best sentimental grandparents
Gifts for your favorite Millennial who's unabashedly nostalgic for 90's pop culture
18 cool (really) DIY gifts for the holidays that won't end up in the back of the closet
Gifts for type geeks who have been known to have fights with strangers online about comic sans
Cool mother-in-law gifts. A.K.A. the most impossible-to-shop-for person on your list.
40 really really cool gifts for kids under $15 that don't feel like stocking stuffers. Promise.
40 seriously cool holiday gifts for adults under $15. They're out there!
The gifts we really truly want for ourselves. In other words, get them for the coolest women you know.
All gift ideas have been editorially chosen by our staff; there is no compensation in exchange for recommendations. CMP is a reward style and Amazon affiliate partner. Some affiliate links appear in this guide, and clicking on them to shop helps to support what we do. You don't have to…but if you do, thanks for that!