Father's Day is this Sunday, so we're talking bacon. I know: so predictable, so genderist, and yet…so right. Take one look at these six recipes using bacon and try telling me otherwise.
(Coffee Bacon Waffle Sandwich? C'mon, daddy!)
Let me say that again: Coffee Bacon Waffle Sandwich (above). This thing of beauty from Bakeaholic Mama, and adapted from a Coffee Bacon Sandwich by one of our favorites, Joy the Baker, works for breakfast, lunch or dinner. Because, lets face it, candied coffee bacon is an all-the-time food.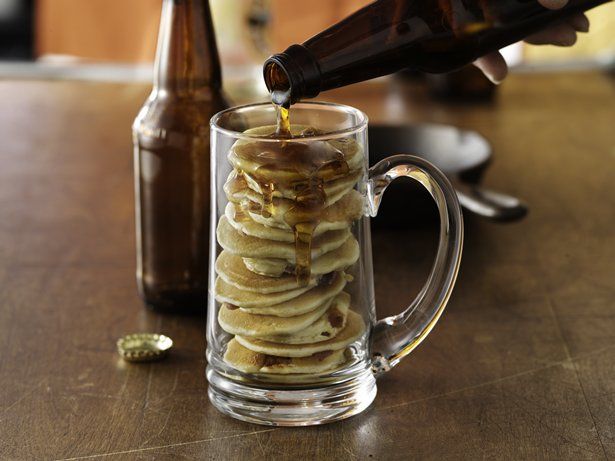 If you're looking for a non-traditional Father's Day breakfast idea, these Beer and Bacon Pancakes from Betty Crocker (really) might hit the spot. The recipe calls for Bisquick, but you can easily swap in your favorite store-bought pancake mix or make your own.
I know a papa who's been known to eat pizza for breakfast (and bet that you do, too), but I'm thinking that this BLT Pizza from Cookin' Canuck is a lovely lunch option. The recipe calls for store-bought whole wheat naan bread which makes this super quick. But, if you prefer, grab pizza dough from your local pizzeria or somewhere like Trader Joe's for a more traditional crust.
Thanks to "The King" of all mac daddies, Elvis Presley himself, we know that bacon and peanut butter are a natural pairing. Meseidy from The Noshery take the genius combo a step further with her Thai Peanut Butter Bacon Burger. Meseidy says that it's all about the toppings and piles on peanut butter, bacon, grilled pineapple, sriracha, and cilantro. Don't knock it til you've tried it.
If you want bacon to be the main meat, this Mac and Cheese with Bacon and Caramelized Onions from Julia's Album is your ticket. There's no béchamel, no roux, nothing fancy. This is just a classic recipe that uses milk, heavy cream, white cheddar and gruyere cheese. So easy.
No bacon-fest is complete without a drink to wash it all down. Bacon and Brown Sugar Old Fashioned anyone? This cocktail from The Marvelous Misadventures of a Foodie, inspired by Don Draper (another mac daddy, if I say so myself), is the ultimate mantail. Or, uh, manly cocktail. Get cracking on infusing bacon bourbon and you've got a nice little nightcap at the end of the day.
For more ideas for feeding Dad, don't miss these 3 Mother's Day brunch menus and 7 delicious brunch recipes including the perfect pancakes.