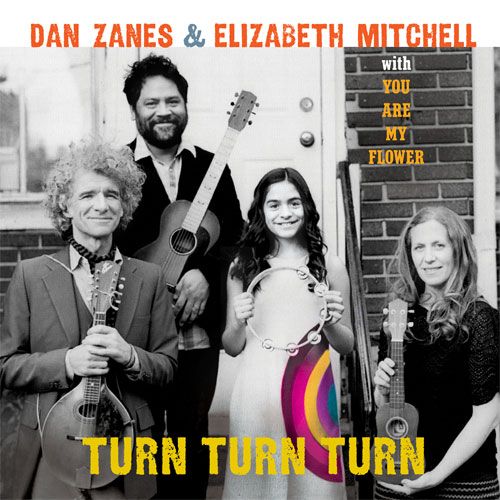 I've always loved Dan Zanes and Elizabeth Mitchell for making such special music that families can enjoy together. And now they've joined musical forces to produce a collection of songs that is joyful, upbeat, and so very lovely. You won't want to miss this one.
[Keep reading for your chance to win your very own autographed copy for your kids, from Dan Zanes and Elizabeth Mitchell. Whoo!]
In their first collaborative CD Turn Turn Turn, Dan Zanes and Elizabeth Mitchell have put together a collection of original and deserve-to-be-heard-again folk songs. It's sure to be a new classic, a must-have in every parents' music collection for the kiddos.
The sound is relaxed and homey, as if a bunch of your favorite musical friends set up in your backyard and played the day away–if your musical friends were as talented as the crew assembled here.
From the toe-tapping and totally delightful Sail Away Ladies to the quietly beautiful revival hymn When I Get Home, Dan Zanes' rustic indie voice pairs so nicely with Elizabeth Mitchell's pretty and more delicate tones.
And as someone who has listened to Elizabeth Mitchell's daughter Storey from a wee thing singing on previous releases, I think her growing-up voice is the perfect addition to the title song, Turn Turn Turn. This classic song about the passing of time seems even more poignant with the inclusion of newly discovered lyrics written specifically for children, by Pete Seeger's wife who recently passed away.
An element of fun throughout the CD keeps things playful for the kids and for those of us who are still young at heart. One of my favorites is an original written by Dan Zanes titled Coney Island Avenue which has such a singable chorus and funky instrumentation. And when it leads into the happy So Glad I'm Here, I feel like our entire day is brighter. – Christina
Dan Zanes and Elizabeth Mitchell's Turn Turn Turn is available from our affiliate Amazon. And grab a free download of Now Let's Dance!
Congratulations to lucky winner Elliot B!