Hey, Cool Mom Picks: Any good recommendations for a waterproof winter jacket for my preschooler? I'm starting to realize it's probably going to get cold on the East Coast fast! Thanks!
– Leah, via the Cool Mom Picks Facebook page
UPDATE: Please see our updated 2017 post of the best warm, winter coats for kids
Hi Leah!
I totally feel your pain. I have been searching for the most-awesome winter jacket for my son and engaged in the online equivalent of window shopping for several hours. Some days, my job is really hard.
To help me narrow down my options, I considered three things: Style, warmth, and quality. I love coats that look awesome, but they also have to keep kids warm enough to play outside for hours. (Even when they say they aren't cold, but those blue lips say otherwise!). Since us parents like to have coats for a couple of seasons, I also featured jackets that are durable. (Isn't it awesome to pass along coats to a sibling and get more out of your bang for your buck?!)
Featuring a collection of our favorite waterproof and water-resistant winter jackets for preschoolers, that are also awesome for bigger kids, I hope that you love some of my finds, and discover one of your favorites below.
CMP is an rstyle affiliate
Related: Winter hats for kids from a cool little company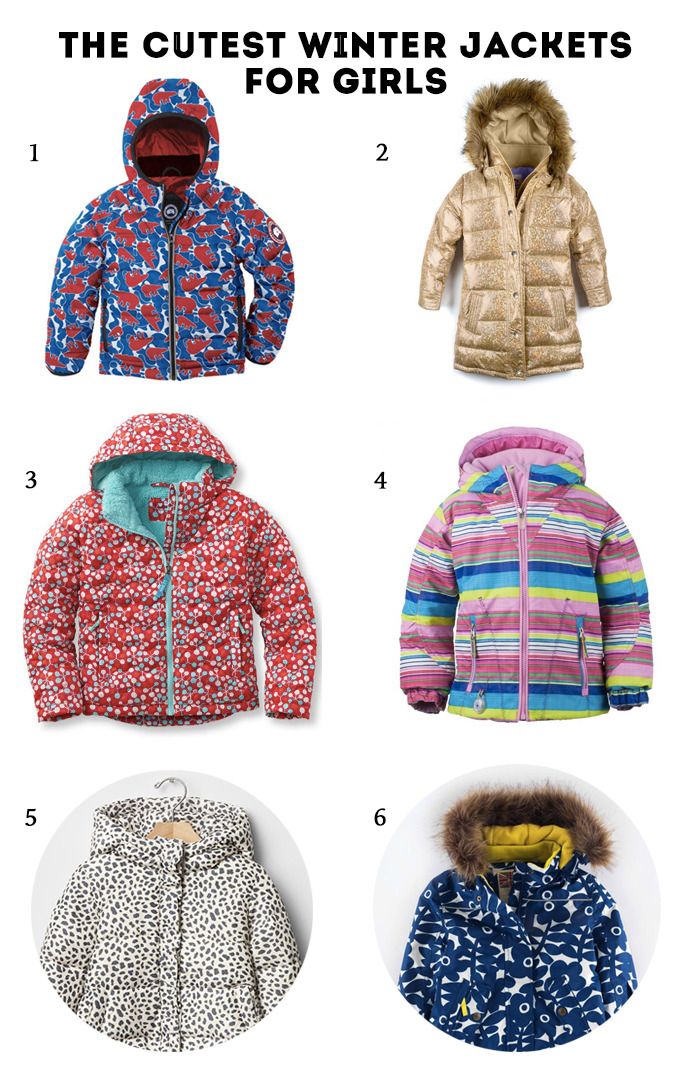 1. If you want the Rolls Royce of jackets for kids (no, seriously), we suggest the incredibly warm and  water-resistant Canada Goose Bobcat Down Winter Jacket for kids. We get that this jacket is not for everyone but we think that it could be awesome if you and your family are avid skiers or live in super cold climates. If you need justification to spend this much, know that can extend the sleeves an additional inch and a half — giving it life for another winter. ($294.95)
2. Sometimes, all that glitters is gold. Well, actually shimmering metallic fabric, to be exact. The faux fur trim of this Long Down Coat from Appaman perfectly complements the holographic-like material of this all-purpose jacket. A moderate price, this jacket actually looks really awesome in person and will make your kids sparkliest dreams come true. ($115)
3. With its mod floral pattern, this water-repellant L.L. Bean Fleece Lined Down Winter Jacket for Kids might remind you of something from a trendy Scandinavian brand. But, huge shocker: It's actually L.L. Bean. We all know them for their quality and durable pieces that are now on par with some seriously stylish prints. ($89)
4. Speaking of the great outdoors, we love this comfy and cozy striped Arielle Winter Jacket for Kids from Obermeyer. We just love the fun attached compass, and the ingenious I-Grow technology that extends the life of the coat so your little one can wear it for at least another year. Plus, this super water-resistant jacket will keep kids dry in winter storms and on the slopes. ($119.50)
5. This animal print Ruffle-Trim Puffer Jacket from the Gap is packed with très chic details like a ruffle-trim snap placket and a water-repellant outer layer. It might not be the perfect for harsh winter storms, but it is ideal for moderate climates. Plus, it is an affordable option that your budding fashionista will adore. (On sale for $54.60)
6. The bold Marimekko-inspired pattern is what initially sold me on this Girls Snow Jacket from Boden, but the wonderful details like fleece lining and a detachable fur trim really seal the deal for us. It's 100% waterproof and designed to keep little girls warm on the ski slopes, but it'll also do the trick when you are building your own Olaf in the backyard or local park.(On sale for $64.80 – $86.40 in three different styles)
UPDATE: Our newly updated 2017 post of the best warm, winter coats for kids

1. As the wife of a former military officer, I've seen my share of camouflage, which is maybe why I'm not always so excited about the trend. However in unexpected maroon, the camo pattern on this Appaman Puffy Coat for Kids is one that I can definitely rally behind. It doesn't appear to be waterproof but should keep your son (or daughter!) warm and dry during their typical snow day activities. ($110)
2. For under $100, this reversible North Face Water Repellent Hooded Jacket for Kids offers a lot of bang for the buck; you're basically getting two jackets in one (score!). This will be helpful for those days when your kid is feeling particularly fickle or its cool but not quite cold yet and just need one layer. Trust me. ($80)
3. We just discovered a water-repellant coat where you kid can stay warm and become a mini-explorer all at once. The eye-catching Strato Kids Winter Jacket from Obermeyer features a fun blue ombre print that also happens to conceal stains picked up by any rough and tumble preschool boy. Or girl.  ($129.50)
4. We are huge fans of Hanna Andersson, so we were thrilled to see their new Hanna Andersson down winter jacket for kids that offers active little boys and girls the best of both worlds. The water-resistant jacket is fun and functional warm and lightweight. It also reverses from a solid side to a stripe sides – how cool is that?  So, basically it's almost too good to be true. ($110)
Related: 6 fantastic pairs of warm winter boots on sale right now. Hurry!
5. You can't even see the most awesome part of this Fleece Lined Anorak Winter Coat for Kids by Boden: Corduroy elbow patches! Although the contrasting orange zippers and cozy fleece lining aren't too shabby either.  Oh yeah, and the price is pretty awesome, too for a water-resistant jacket. ($68)
6. Puffer jackets may be trendy this season; however, it can be hard to play in the snow in a super bulky coat. This Boys Puffer Winter Jacket for Kids from Lands' End offers a synthetic insulation, a fleece lining, and a water-repellant finish that will keep your kid warm on freezing cold days without that added bulk that makes him look like the Stay Puft Marshmallow Man. ($79)