I love the simplicity of brown paper packages tied up with string as much as the next person, but sometimes I'm in the mood for more creative holiday gift wrapping to make my presents really stand out under the Christmas tree or by the menorah.
There are no shortage of cool gift wrap options and ideas out there; you just have to know where to look. And we've done that part for you! From free color-your-own printables to reusable bags, here are some of the coolest and most creative holiday gift wrapping ideas I found — including a way to pretty up a regular old brown paper bag.
Related: Find 350 amazing gifts in our 2016 Cool Mom Picks holiday gift guide!
CMP is an rstyle affiliate
Recycled Sweater Gift bags
Get out those sweaters you haven't worn in years (especially the ugly ones, because who doesn't love an ugly Christmas sweater) and make these cozy DIY sweater gift bags from A Homemade Living. Follow her simple instructions with a sewing — or no-sew option, yay! — and finish them off with a festive ribbon.
Washi Tape Gift Wrap
Start with those brown paper packages (or white boxes work too) and then spruce them up with festive Washi Tape to make the prettiest packages, like these on The Sweetest Occasion. So simple, yet so special.
Related: 14 more creative gift wrap ideas for this holiday season
A Fun Gift Bag
If, even with the coolest gift wrap, you are gift wrapping-challenged, just get yourself a few of these witty "I Don't Know How to Wrap" gift bags from Cool Mom Picks fave Emily McDowell and call it a day. Really, any gift bags work but these are just so amazing! Here's a list of retailers where you can find them; or, if you order today 12/20/16 with UPS 2-day shipping, you can get a whole bunch just in time for Christmas.
Furoshiki Gift Wrap
Imagine origami, but simpler and with fabric and you have Furoshiki. I love this easy tutorial for this creative gift wrap idea that I found on Evermine (also pictured at top) because she really breaks down how simple this wrapping technique is in just 5 easy steps. I love this idea for wrapping up boxes, or even wine bottles (click over, she shows you how). You can use scraps of fabric or even a pretty scarf to make this two gifts in one.
DIY Word Search Gift Wrap
The search for the perfect wrapping paper for your favorite literary person is over with this fun (and customized) DIY Word Search Gift Wrap idea from Grasping for Objectivity. Follow the simple steps on the blog — from creating your own personalized word search to printing it out for wrapping. I love how you can personalize it with recipients' names.
Reindeer Brown Paper Gift Bags
With just a few simple items, most of which you probably already have at home, you can make this adorable Reindeer brown paper bag gift wrap at Lines Across to wrap up some smaller items under your tree. This is also a fun way to pass out favors or goodies from your holiday party.
BAGGU Reusable Bag
Two gifts are better than one, so I love this creative idea to wrap your gifts with BAGGU reusable bags. Just watch their simple YouTube tutorial. I am always in need of more bags for library books or the farmers' market. And here at Cool Mom Picks, we've been fans of BAGGU for years, so we can vouch for the great quality and design of the bags.
Printable Color-In Wrapping Paper
Part craft project, part gift wrap, the lovely illustrated printable gift wrap (it's free!) from We Are Scout can be colored by you or the kids! Though, if you run out of time and still love these designs, we think they look pretty great in black-and-white, too. Just add a colorful ribbon and you're done! Or, tape on a small box of crayons and let the wrapping paper itself be a fun add-on gift.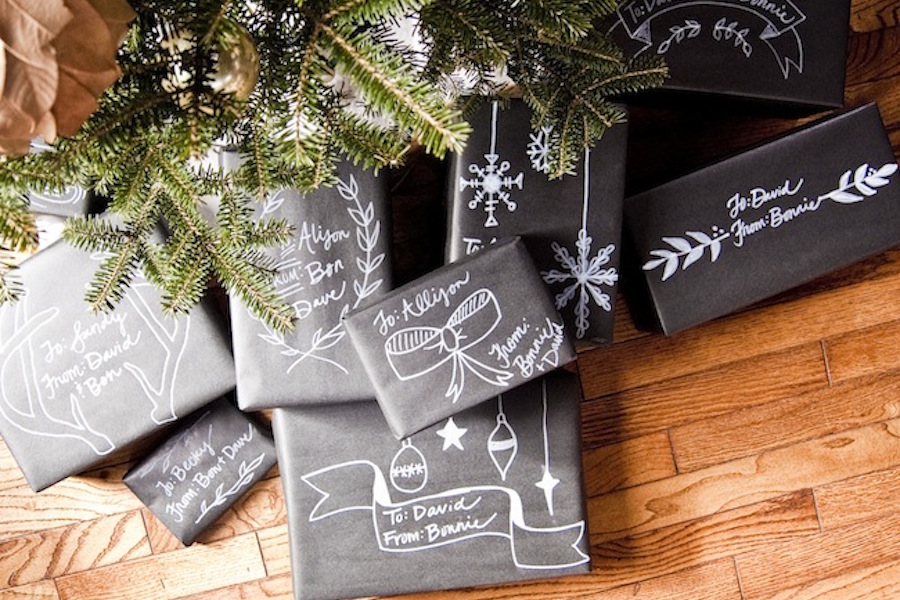 Chalkboard Gift Wrap
This DIY chalkboard Christmas gift wrapping idea at Going Home to Roost is so modern looking, and will look so clean and gorgeous underneath a tree of colorful ornaments. And it's so easy!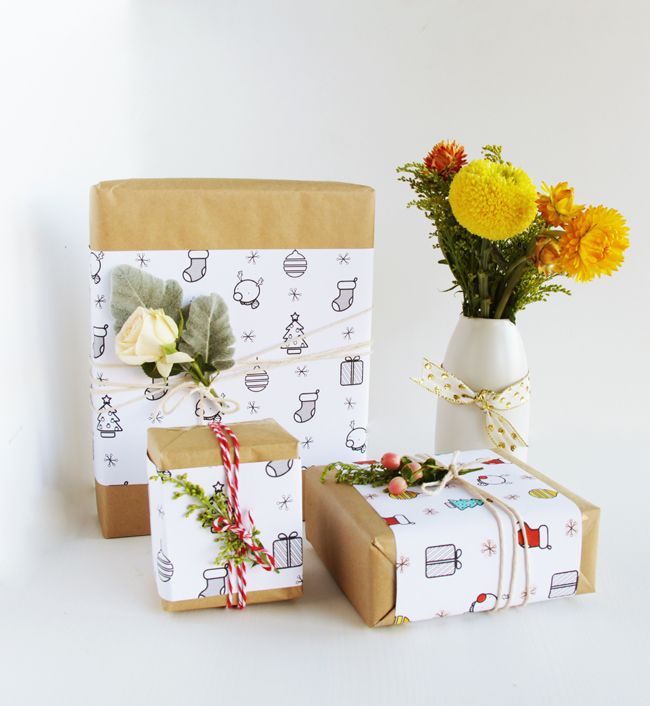 Color-In Christmas Wrapping Paper
Add a little bit of personality to plain packages with this free downloadable color-in Christmas wrapping paper from Design is Yay. You don't even have to cover the whole box. Like I said, I love brown paper packages tied up with string.