The simplest handmade gift can feel like it's worth a million bucks if you've taken the time to wrap it with love. So we've pulled together some stunningly creative gift wrap ideas from the best of the Web to help you make your loved ones feel extra special this Christmas.And they don't have to be hard!
My grandmother was my style icon. She believed that, although what's on the inside matters more, what's on the outside still matters quite a bit. In other words, she taught us not to be lazy with details. I think that's especially true when it comes to gifts, and why one of my favorite trends right now is including fresh flowers or herbs in place of a bow. I mean, how gorgeous are the gifts wrapped with flowers up top from Studio DIY and Local Milk?  I'm kind of speechless. Of course you can always add a candy cane or an ornament but this just ups it a notch.
If your kids are expecting some gifts straight from the North Pole this year, you can follow the step-by-step instructions for making parcel gifts from the North Pole on the amazing LMNOP blogs. These would be so special to discover under the tree on Christmas morning.
When you're wrapping up gifts for the kids, think outside the box, literally.  Lines across offers 3 creative ideas for giftwrap for kid. A favorite suggestion you give your budding artist the gift of a blank canvas, by taping crayons on a blank paper package with washi tape. If you have a car fanatic, use your black construction paper to turn your gift into a speedway. Or roll up some pages of stickers and tape them to a cut-out Christmas tree with the instructions for your child to decorate his own tree this Christmas.
My sister and I are the only two grandkids on my dad's side of the family, so we decided to share some of the more significant heirlooms we inherited. We trade them back and forth each year at Christmas, so I love the idea of slipping a special piece of jewelry or a thrifted brooch onto the bow of her gift Christmas Eve to send it back to her for the year. (Grab this gorgeous herringbone ribbon to go with it at Penny Paper Co.)
Don't be afraid of tons of color under your tree. Sticking to just red and green all the time isn't for everybody. So if you're ready to kick up the festivities a notch, check out this lovely knotted yarn idea. It's so bright and cheerful, and I like that my kids could help me wrap gifts this way. Just be warned…this isn't one for late-night Christmas Eve procrastinators.
If you're super ambitious and lacking in things to do this holiday (ha!), stay up all night and build a box for that new PS4 out of Legos. Can't say any of us will be embarking on this one, but surely your kids will think you are the coolest ever. And the box is reusable.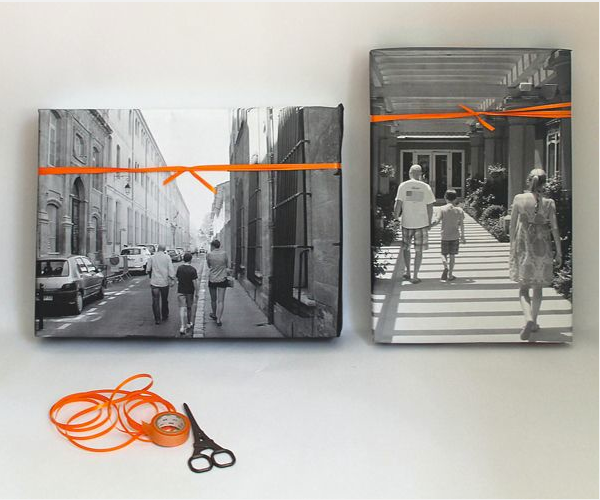 If you like a more modern look, you'll love the wonderful idea at Most Lovely Things for using your photography as gift wrap  [corrected link] . Order an "engineering print" of your favorite black-and-white photos at your local copy store, then wrap the gift in the photo add a simple ribbon in a bold color.
Washi paper masking tape makes for fun, easy gift wrap embellishments. This set comes from the MoMA store but you can find it in so many craft stores now.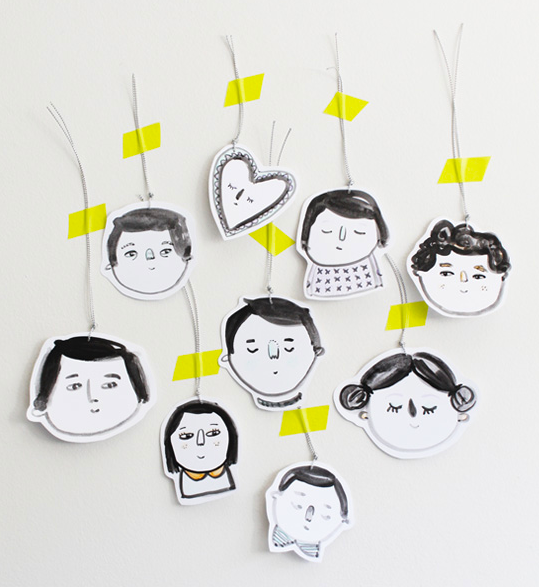 Sometimes it's all about the basics — amazing gift wrap and clever tags, and we have covered tons of printable Christmas tags over the years. I have fallen for these personalized, printable doodled gift tag à la Handmade Romance. Julia Rothman has also created some fun, free printable gift tags via Design*Sponge.
If you're handy with paper and scissors, Simple as That has some really nice ideas for gift wrap. A sweet DIY bunting can really make a gift look special (or buy one on Etsy or at a craft store), or simply embellish with clip art, old holiday card covers, or doilies. With a craft paper backdrop it won't look fussy.
Shortcut: Unique gift wrap can be the simplest way to make gifts look great, if you don't have the energy for crazy bow-tying techniques. For cool, quirky gift wrap, check out Charlotte Trounce's On the Slopes or the Bonnie & Clyde paper from Dear Prudence which are gorgeous–but ship from the UK. Rifle Paper gift wrap has some great options this season, like the Screen Printed Pine sheet shown above. Check local boutiques for some great finds.
Finally, don't forget those family members out of town! Decorate those packages you're shipping with simple pen-and-ink drawings around the side. If you can't draw, grab a roll of Cityscape Tape to recreate this fun scene. Or hey, just let the kids go to town on the sides with a Sharpie, imperfections and all. Perfect.
What are your favorite gift wrapping secrets? We'd love to know!