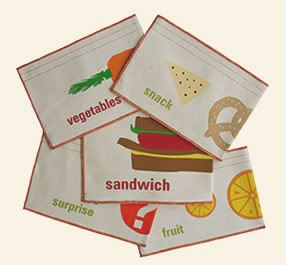 I don't even want to think about how many plastic sandwich bags I go through a month. Every day my son takes at least two or three in his lunch bag, and I've felt it's either use a disposable sandwich bag or buy the much more expensive pre-packaged bags of snacks. But Graze 100% organic cotton reusable sandwich and snack bags seem to be a pretty cool alternative.
Heather Jacobs and Leslie Sarracino are the brilliant moms behind these eco-friendly reusable, resealable cloth sacks. Each certified organic reusable bag features a charming silk-screened print (all water-based inks) of a sandwich, fruits, veggies, or snacks…and my favorite, a big question mark labeled "surprise"
The Velcro seal is really strong, so the food inside should stay fresh, but you will have to wash the bags after each use depending what you're putting inside. I felt more comfortable using my bags for dry snacks like pretzels and cookies than a gooey sandwich or moist veggies. But then, the cloth diaper washers among us have probably survived far worse than jelly stains.
Maybe I'm not ready to completely overhaul my son's lunch bag, but I'm now proud to count myself as one the light green moms. -Betsy
You can find organic reusable sandwich bags and cute cloth napkins at Graze.
Updated to add: Need more help packing those school lunches? Find more great eco-friendly reusable bags and kid-safe food containers in our just-released 2009 Back to School Shopping Guide.