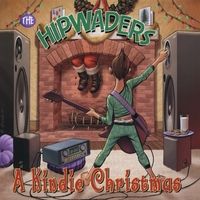 I've reached that time of the season when I hit the wall when it comes
to Christmas carols, and yet I'm not ready to totally go cold turkey. Let's just say I need a little holiday music
palate cleansing, and The Hipwaders' new A Kindie Christmas CD is just the
ticket.
With
their distinctive sound we lauded not-too-long ago for their EP Goodie Bag, A
Kindie Christmas keeps me in the spirit of the holidays with lyrics
about Santa, reindeer and tinsel. But other than the sound of a few
sleigh bells and a ho-ho or two, only the lyrics are December-ready.
It's
Wintertime starts with a funky guitar line straight out of the 70's,
which reminds me of the years when I wore footed PJ's and waited
for the sounds of reindeer feet. Christmas Vicuna is a cool Latin-infused number that does not in fact include the words Feliz Navidad.
Sure, the first time I heard The
Hipwaders' A Kindie Christmas CD, I thought, This isn't a Christmas CD!
and set it aside. But, now that I've been listening to the same traditional holiday tunes over and over again for a month? It's perfect. -Christina
The Hipwaders' A Kindie Christmas can be downloaded or purchased for a stocking stuffer at CD Baby.
And for another kindie rock holiday option, check out Uncle Rock's Express Your Elf
Congratulations to Julie E., lucky winner of a copy of A Kindie Christmas!