Memorial Day is this weekend, which in my world means the beginning of popsicle season. It's hard to talk diy popsicles without talking the Zoku pop maker, so it's a good thing they've given us something new to talk about!This summer, you can indulge in the new single Zoku pop maker which makes a frozen popsicle in just seven minutes. You can make up to three pops in a row before the unit needs to be put back in the freezer.  Even better: The Single comes in five bright colors so that each kiddo can choose their own. Because nothing brings out sibling rivalry like popsicles.
All you need to get in the Zoku action is plain juice, or alternatively kefir and honey, but that doesn't mean you can't get more ambitious. Here, some of the more tasty looking popsicle recipes: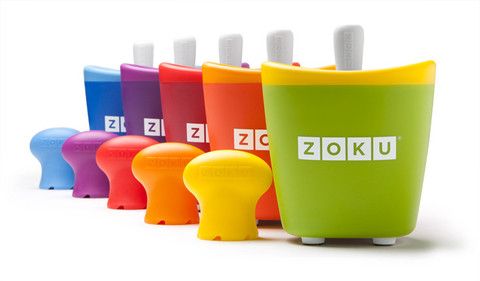 The Quick Pop Character Tool Kit actually makes these easy to do.
Cucumber Mint Margarita ice pops – not for the kids!

Apple Pear and Orange Popsicles

Pineapple Coconut Popsicles
The Zoku Single is available around $25 at our affiliate Amazon or lots of gourmet stores. What a great little hostess gift. Or grab enough so that each kiddo has his or her own. Trust me.
The Zoku Single Pop Maker, the Quick Pop Character Tool Kit and other accessories are available through Williams-Sonoma (where they can be personalized or monogrammed!) or from Amazon. CMP is an rstyle affiliate.