The back-to-school fun has begun: cue the sandwich making! I'm the queen of packing school lunches, but even I rely on peanut butter and jelly sandwiches. My kids love them, they are quick, and an easy way to pack a protein punch. But, as much as I love the classic brown bag lunch, PB&J can feel tired after, oh, the 93rd sandwich. So this year, I'm stocking up on fabulous spreads that will keep things spicy–so to speak–and super tasty, too.
Whether you're using peanut butter or one of our favorite peanut butter alternatives, you'll definitely want to check out these 10 sandwich spreads.
June Taylor is known for their jams, but I'm betting on their Pear and Vanilla fruit butter this school year. The spread is made by cooking down fresh pears, pureeing them, and then cooking the puree for a second time to concentrate flavor. It's naturally sweet, but has a very low sugar content and will go great with any nut or seed butter.
Cream cheese might be mundane smeared on a bagel, but it's an unexpectedly delicious pairing with nut and seed butters. Plus, it adds extra protein. You can top your peanut butter with plain organic cream cheese or cream cheese sprinkled with cinnamon and layered with sliced bananas.
If you want to get fancy, make a flavored cream cheese. You can easily adapt this recipe to make Pumpkin Cream Cheese, which–bonus!–adds a little veggie to the kiddo's sandwich, too.
A simple drizzle of honey is one of my favorite ways to top nut and seed butters. (What can I say, I'm Greek.) The better the honey, the bigger the flavor. I love the raw, unfiltered, varietal honeys from Bee Raw Honey, a company that sources honeys from family-owned apiaries across the country. If you prefer local honey, check out the Local Harvest honey search. All you have to do is plug in your zip code.
American Spoon produces award-winning preserves and spreads in Michigan where, despite great success, their cooks still prepare fruits by hand and cook them in small copper kettle batches. I love everything I've ever tried from these folks, but have a particular soft spot for the Sour Cherry Spoon Fruit, which makes a mean sandwich. Their Maple Cream ain't shabby either, and makes for a great sweet lunchbox surprise (among other things).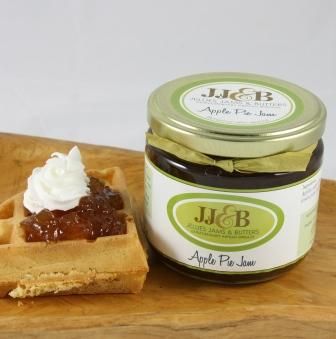 Peanut butter and apple pie jam? Who's going to turn that down?! This ridiculously delicious jam is handmade by JJ&B, a producer of jellies, jams and fruit butters made in micro batches and available with seasonal ingredients. Thank goodness for the abundance of apples! (Edited to add: It appears the apple pie jam is currently not available; however, there are many fun flavors at this shop.)
Riff on the classic peanut butter and banana sandwich with this Banana Butter from the Country Canner. This stuff is straight off of the shelf of a country market in Virginia which, if you ask me, makes it all the more appealing. Yum!
I am cuckoo for coconuts, so I snatched a bottle of this organic coconut butter the first time I saw it. This spread is a whole food made from pureed coconut flesh, which means it gives big flavor and whole food nutrition–it's full of protein, fiber, vitamins, and minerals. It will also give your nut or seed butter sammy a delicious tropical flair.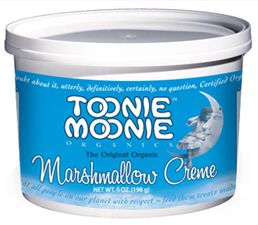 Want something so that you can surprise kiddo with a sweet sandwich treat? A fluffernutter is the way to go. I have a crazy weakness for marshmallow creme and peanut butter sandwiches and now, thanks to Toonie Moonie, a marshmallow creme made with organic ingredients and sweetened with (slightly less processed) evaporated cane juice, I don't have to feel quite so bad about it.
Want to stick with good old fashioned jam? Me too, sometimes. And that doesn't mean that we have to keep it boring! Confituras makes killer small batch, locally sources jams, jellies and preserves out of Austin, TX and offers jam shares. Their 6 month share will get you 6 jams over 6 months (they ship in pairs every other month). With flavors like Texas Fig, Bourbon Brown Sugar Peach (which won a 2012 Good Food Award and might be a little better for you than the kids) and Blueberry Basil, you don't want to miss out. Neither does your sandwich.
Also find inspiration at the One Hungry Mama Facebook page where Stacie, as said, obsessively documents her daily lunch packing.