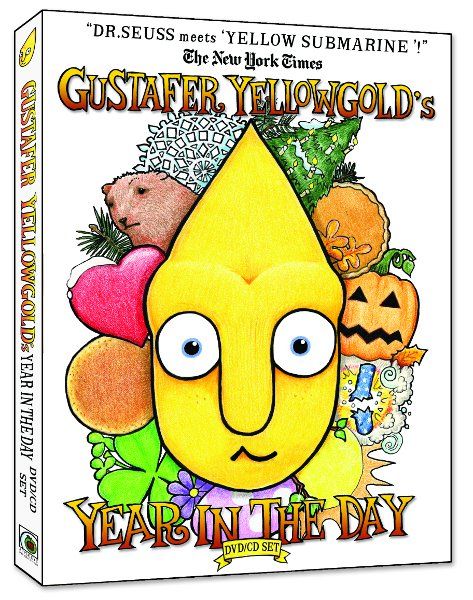 Yes, the years are going by so fast, though I've never had one whiz by in 28.4 minutes, thank goodness. But if anyone can make that happen in a way that will put a smile on your face, it's the musical, yellow-hued cartoon Gustafer Yellowgold, whose latest release takes us through a year of holidays, seen from the point of view of an outer-space creature who came here from the sun in 2005.
Yeah, it's a bit weird, but a whole lot of awesome.
As with Gustafer Yellowgold's previous releases,
Year in the Day
is a combo DVD/CD. I love the combo concept for albums for kids. In this case, the music can definitely stand on its own, but the sometimes trippy lyrics make a bit more sense when they come to life on the screen.
The creation of musician Morgan Taylor, Gustafer Yellowgold's Year in the Day follows the same melodic footsteps as before, walking through a land of cool indie pop and far-out lyrics. Kids love Gustafer Yellowgold, and many parents are just as enthralled, as evidenced by the fact that Gustafer Yellowgold has opened for Wilco before. This new CD features guest musicians from Semisonic, Norah Jones and Bjork, lending even more depth to the overall sound.
From the lively
Fireworks!
and
Werewolves Rock,
my kids enjoyed seeing their familiar holidays retold from the standpoint of Gustafer. And while we don't normally celebrate midsummer, we just might after hearing the happy story of Gustafer's birthdate in
Midsummer's Son
.
I will admit that I had no idea what
Pancake Smackdown
was talking about until I read that it was an ode to Fat Tuesday. I imagine my Austrian-born mother was just as perplexed when she moved here and celebrated her first Thanksgiving.
–Christina