Dollhouses have always been a common feature on the floors of Toy Fair, but Liz and I noticed more and more options this year with dollhouse kits that add building and design, and sometimes even circuitry, to the act of play. Future architects and designers of the world, we've found the toys for you.
Roominate Dollhouse Building Kits
Combining building, engineering, and design, Roominate's clever dollhouse building kits come together in so many different ways, kids can conceivably construct a totally different house every time they sit down to play. And I love the many ideas on their website for how to create everything from an outdoor grill to a bunk bed.
Both the Basic and Deluxe Roominate sets come with a motor to create things like a windmill for the top of the house or an elevator to take favorite toy figurines from the first floor to the second. Made for kids ages 6-10+, this is a neat way to get them interested in electronics without having them take apart your toaster oven.
Lille Huset's eco-friendly, assembly-required dollhouses allow your child's inner designer to shine as they decorate the walls with the enclosed accessories sheets and picks from their own arts-and-craft supplies. These paperboard houses come in pretty, complimentary colors which can be flipped to show off either side, and the uncoated paper stock invites little hands to add their own designs to the walls. The cardboard comes apart to lie flat, making this a "mobile home" of sorts that can come on vacation or to a friend's house to play. Add the set of little paper dolls, and you have a family that is ready to move right into their special home.
I also like the looks of Lille Huset's higher-end birch wood houses, best for slightly older kids who really want to put their creative stamp on a long-lasting dollhouse. I think the little peg people are adorable, especially when clothed in some of the free printable outfits on the Lille Huset blog. And animal lovers: Keep your eyes open for the Lille Huset farmhouse that will come out later this year.
Build and Imagine Dollhouse Story Walls
Build and Imagine Story Walls got a big shout-out in our Toy Fair recap for good reason: This is one fun construction toy for kids that combines playing with dolls with an active building experience. Each panel comes together with magnets in endless combinations, so kids can build in any way that makes sense to them. Magnetic accessories attach to the walls and floors too, so scenes can change constantly. Plus, the walls stack flat, making them easy to transport and store.
Their first set includes a Marine Rescue Center where girls can imagine themselves using microscopes and helping animals. I'd like to see some boy figures added to the character mix since my son would enjoy this set as much as his sisters; perhaps they will be part of the final set when it launches for Holiday 2014.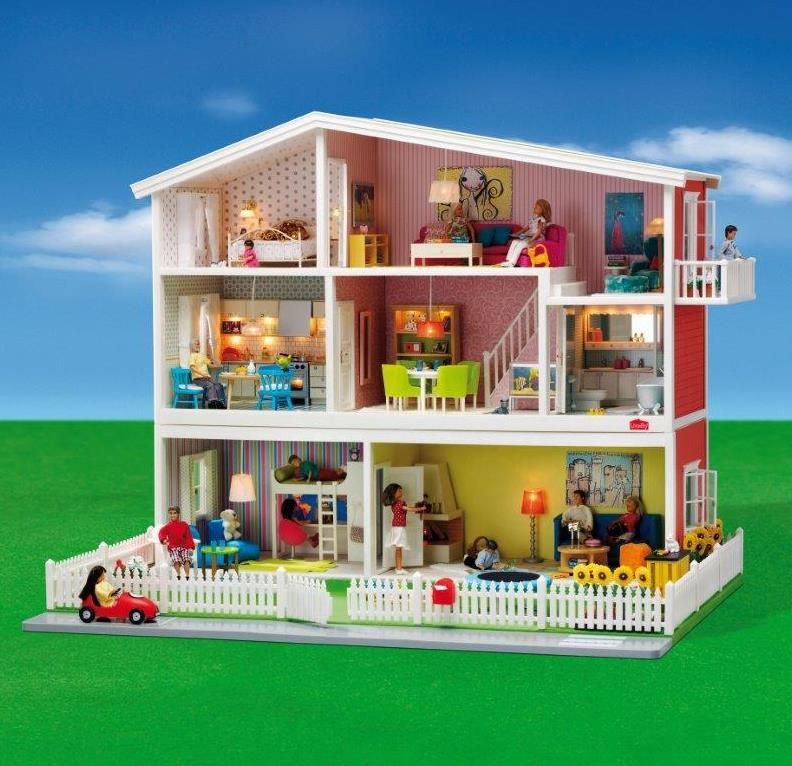 More of a ready-made traditional dollhouse, what sets Lundby dollhouses apart is a modern aesthetic and fun features like real working lights. Creativity comes to play when kids are encouraged to customize the houses  with free printable wallpaper and tons of DIY dollhouse projects for the houses. Future interior designers will have a blast with these kits.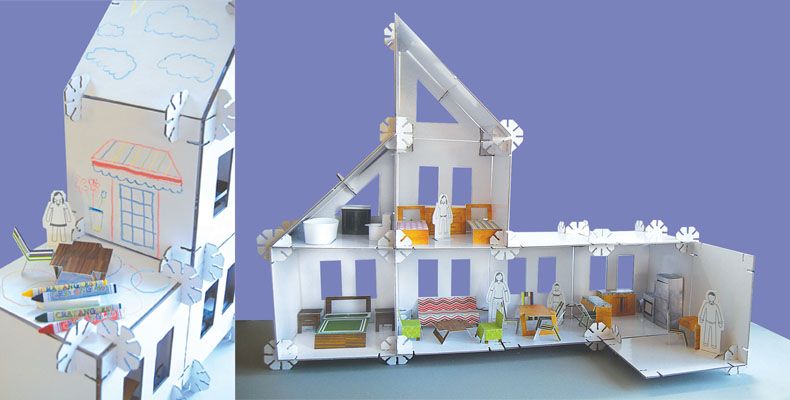 Urban Canvas Eco-Friendly Dollhouses
While any cardboard box could be turned into a house of sorts, I like how Urban Canvas (above and at top of page) provides kids with clean, white, recycled cardboard pieces that they can put together in a variety of unique ways. With sets that include the large Mod House or the smaller BlueSky Bistro and Sunrise Cafe, I love how many ways kids can choose to construct their structures. The coolest feature is that kids can color in their creation with crayons but they can erase it endless times and start over. So yeah, this is way cooler than a regular cardboard box.
You'll find loads of dollhouses, in addition the ones above, in our archives.