I grew up in New Jersey, where hanging in the parking lot of a 7-Eleven slipping on a Slurpee was, like, totally cool. So, yeah, I come by my love of slushies honestly, and now that I'm legally of age, I can drink boozy versions too. In fact,  I can think of no better way to cool down on a hot summer evening than with one of these grown-up slushie recipes, although these days I sip them on my stoop, Brooklyn style. Hope you enjoy!
How can I resist something called a Naughty Peach Slushie (above)? Well, I can't. If you like the sound of this Curacao-spiked drink by Sneh Roy of Cook Republic as much as I do, hop on over to The Boys Club for the recipe. And, if you'd like, skip the booze and share with the kids or your favorite pregnant friend. Peach, citrus and mint are a delicious combination all on their own.
Does any fruit scream summer more than watermelon? These wholesome Pink Watermelon Lemonade Slushies at Half Baked Harvest are a perfect cool treat on a hot summer day. If you want to bring them into evening for the grown-ups, hit them with a splash of vodka or a good white rum.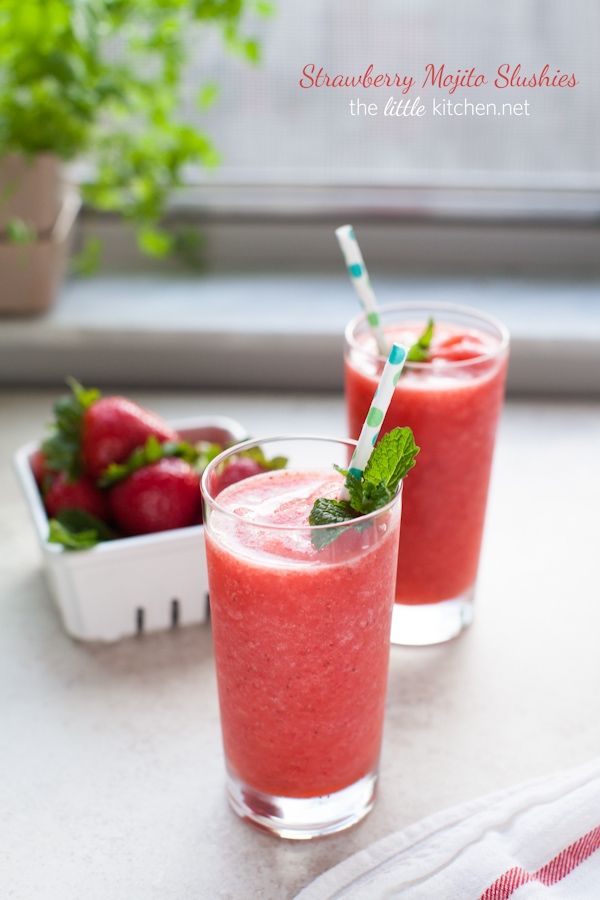 The delicious mojito recipes that I found recently have me stuck on the Cuban libation and I just can't get them out of my head. Especially this Strawberry Mojito Slushie recipe from The Little Kitchen. Look at that perfect color! And with such a simple, seasonal ingredients list, I know that it tastes just as good as it looks—yes, even without the rum.
This Skinny Cherry Vodka Lemonade Slushie from The Housewife in Training Files uses Skinny Girl Cherry Vodka and sugar-free lemonade to make a refreshingly low-calorie grown up slushie. If you don't care about keeping it light, use any cherry vodka—or grenadine if you're making a virgin version for kids—and regular lemonade. It's the classic summer flavor combo, and not the skinny part, that makes this so good.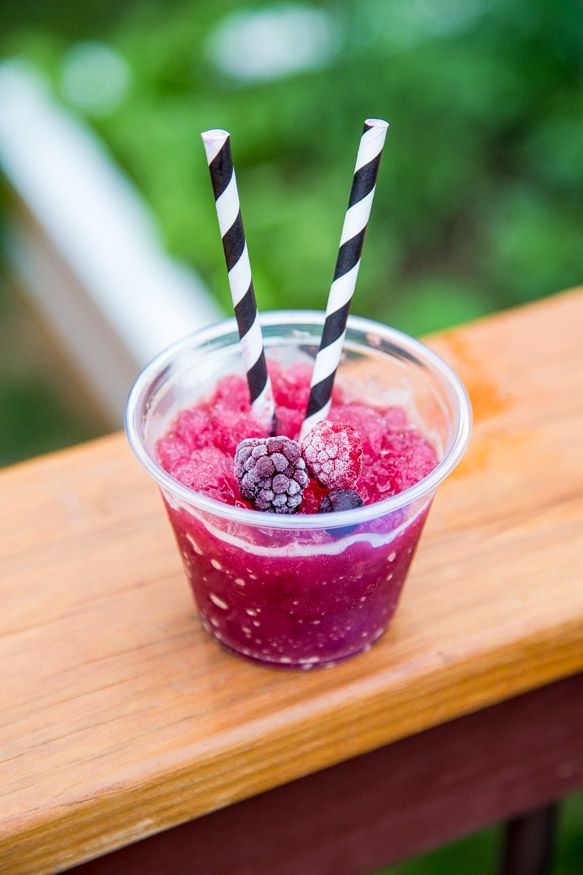 For a low-maintenance cocktail, I love this simple, two-ingredient Wine Slushie recipe from Dessert for Two. It's the perfect treat when you want something grown up, but not too boozy or sweet. And yes, it uses White Zinfandel which we will refrain from making fun of just this once; what a perfect way to use the maligned pink wine. Now you just have to be brave enough to buy some. (Ha.)  Oh—and this recipe is just for the adults, thank you very much.