As soon as spring hits, I immediately try to switch food gears by ditching all that stick-to-your-ribs winter fare in favor of super light meals instead. It's a good impulse, but sudden changes like these rarely last more than a week for me. Know what I mean? After that, I find myself feeling hungry for more. So I've looked for some great skinny comfort food recipes that will help me lighten up my menu for spring and summer, while satisfying my cravings for the hearty foods I've been feasting the last few months. They're the perfect way to ease into new, healthier eating habits without sacrificing taste, whether you're making a seasonal change, or a wholesale move to better habits overall.
Plus, my kids love these comfort foods, too. Always a bonus.
 Related: 9 skinny snack foods with all the taste, less of the guilt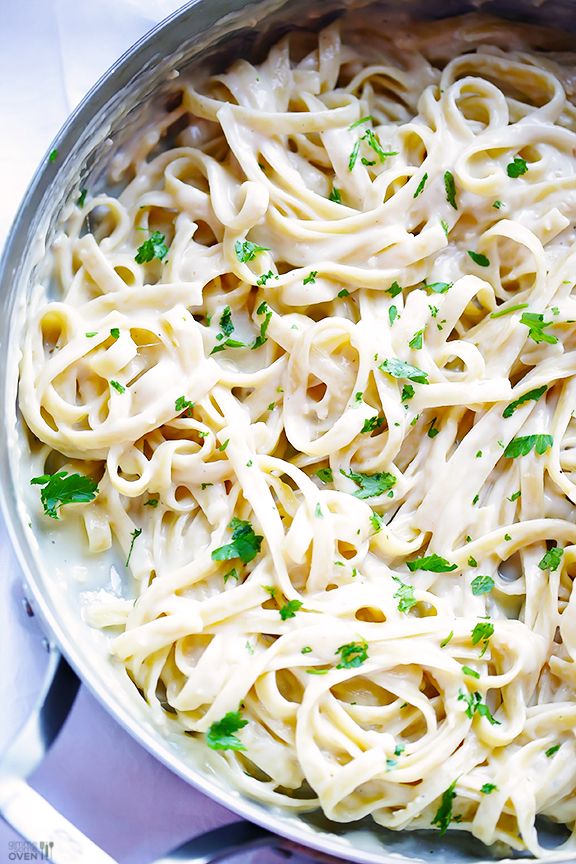 Arguably, Fettuccine Alfredo is up there on the list of most indulgent foods ever, and I love it. Every winter, I can somehow resist making it until February, when a worry that winter will never end sets in. Then I start making it with abandon. By April I'm thinking, "what have I done to myself?"  Thankfully, I found a Skinny Fettuccine Alfredo recipe at Gimme Some Oven last year that hits the spot. Think olive oil, chicken broth, and low-fat milk instead of all that heavy cream. It's a delicious way to continue my habit — occasionally. (Heaven knows I can eat a whole pound of this stuff. Alone.)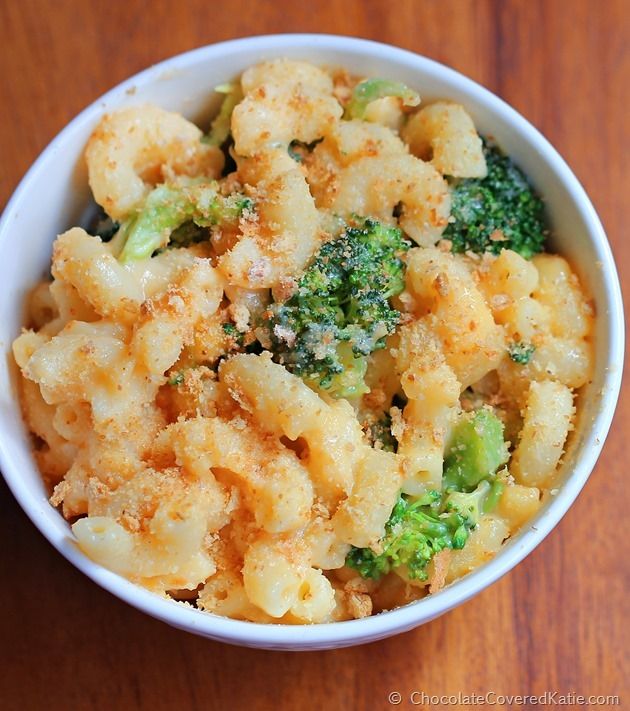 Wile we're talking creamy, cheesy pasta, I have to mention macaroni and cheese. It's is just as delicious to me as Fettuccine Alfredo, but definitely one that the kids ask for more often. This Skinny Baked Mac and Cheese recipe from the SkinnyTaste cookbook (one of our favorite family cookbooks of 2014) found at Chocolate Covered Katie is the perfect dish to whip up for the kids without feeling quite so much guilt, which is so last year, if you ask me. In fact, go ahead and make it once a week, especially if the kids will eat it without a fuss.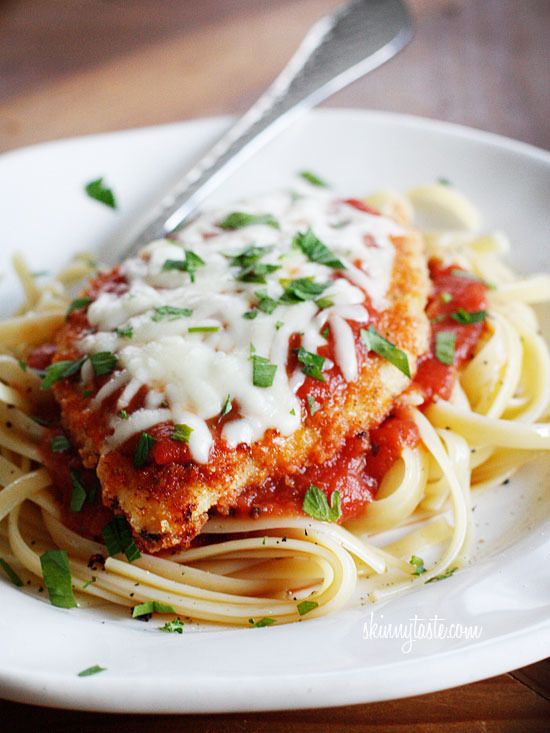 Growing up in New Jersey, I'm a sucker for Italian-American classics, aka foods draped in melted mozzarella. While a taste of home, these dishes can be way over the top—and not always in a good way—which is why I'm loving this Baked Chicken Parmesan (pictured above & top) at Skinny Taste. It has every element that make a great parm dish, all in perfect measure.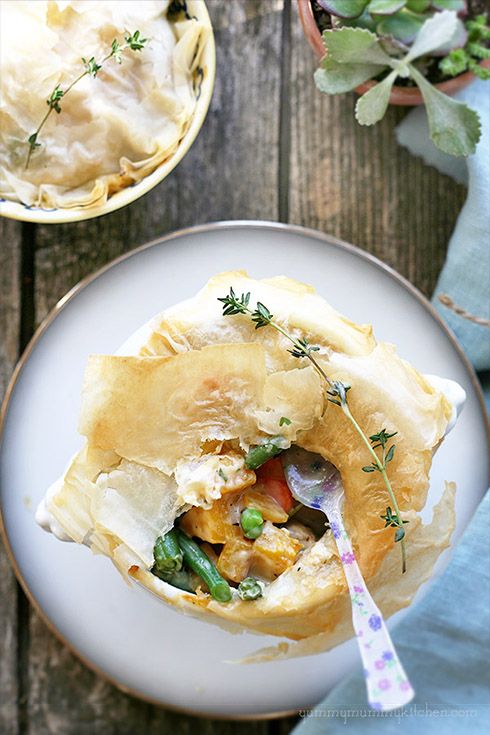 For many, comfort food doesn't get better than a rich and creamy pot pie. I happen to find most a little heavy, even in the dead of winter, which is why I turn to recipes like this one for Lighter Vegetable Pot Pie at Swanky Recipes. With just 3 tablespoons of butter and 1 cup of milk (you can use reduced fat), this veggie-packed pie is a perfect lightened-up version.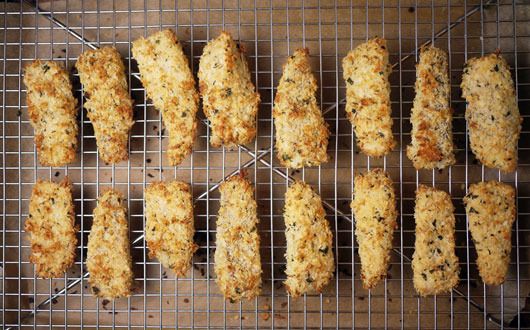 Long ago, my kids tried their first fish stick at grandma's house and they were hooked. Unfortunately, not a fan of fish sticks myself, my kids were out of luck once they got home. (What can I say.) Well, eventually their begging worked and a couple of years ago, I gave in and created a recipe for Baked Fish Sticks that you can find at my site, One Hungry Mama. My intention was to come up with a healthy version that I'd like as much as the kids and, lo and behold, it worked. Now, baked fish sticks are on heavy rotation in my house—for the whole family.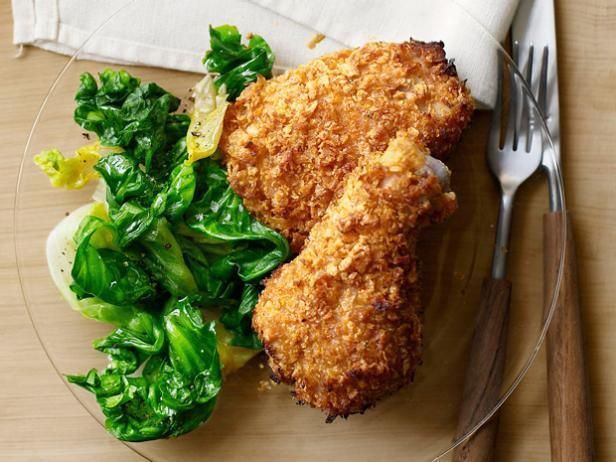 Is it just me, or do you agree that it's crazy to mention fish sticks without also talking fried chicken? I'm going to assume you're with me on this, which is why I pulled this recipe for Crispy Baked "Fried" Chicken by the Food Network's Cat Cora. Um, yum. And thanks to it's picnicability (yep, I'm calling that a word), this is a skinny comfort food that's just as perfect for spring cookouts and easy summer dinners.
Related: 5 healthy chicken nugget recipes, and not just for the kids.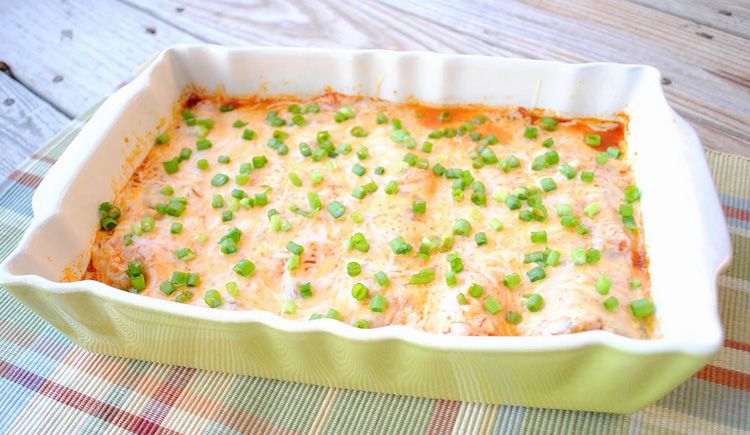 Last, but not least, I've been serving up Skinny Chicken Enchiladas from Eat Yourself Skinny. Mexican recipes like these are my favorite kinds to lighten up because there's still so many great ingredients to work with. Even a reduced amount of cheese gives big flavor, and it's easy to bulk up enchiladas and tacos with high protein beans and lean veggies without sacrificing taste. Give these a try and you'll see just how decadent even skinny enchiladas taste.