It feels like the holidays are going to be here in a minute, and I'm not ready! If you're like me and are still scrambling for a few great gifts that will make your kids think you're pretty awesome, then you might want to look into one of the cool subscription gifts for kids we've been scouting out. Over the past couple of years, we've seen so many companies with such good ideas for subscription boxes that range from developmental toys for babies to science kits for our bigger kids.
And we know from experience that our kids are thrilled to receive actual, real packages in the mail each month (or week, as some of these come). So sure, it may be a bit cliche, but these subscription gifts for kids really are the gifts that keep on giving.
Related: Get more great gift ideas from our 2016 Cool Mom Picks holiday gift guide!
Subscriptions for babies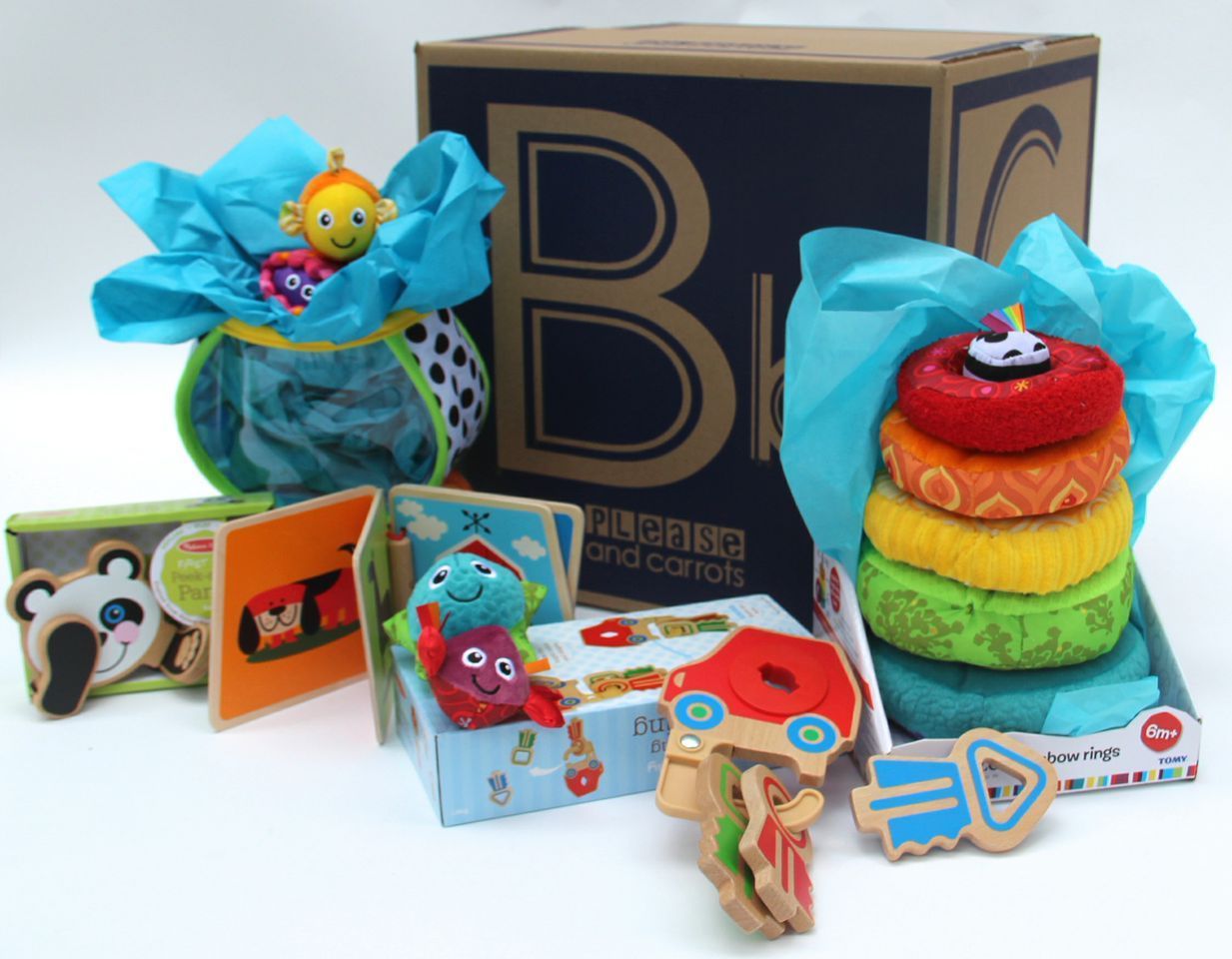 Please and Carrots Baby Toy Box ($99/quarter)
Wondering if your baby is hitting their milestones each month can be stressful for most parents. That's why we think the carefully selected toys in the Please and Carrots quarterly subscription, which are all aimed at your child's development, is a pretty great gift for any new parent. Along with the 5–6 toys and books in each box, you'll get tip cards with 10 or so activities to help you stimulate your baby's language skills and motor development. The subscription isn't cheap, but if you order by 12/31/16, with the code 20FORHOLIDAY, you'll get 20% off.
Cricket Crate by Kiwi Crate ($60 for the first 3 months)
We're such huge fans of Kiwi Crate's awesome DIY boxes for kids, and we can't wait to get our hands on their newest Cricket Crates for babies (ages 4–36 months, coming soon). Each month, you'll get a baby gift (loveys, mobiles, etc.), a board book, an issue of Wonder magazine for parents, and an online tool kit with printables and activities to do with your child — things like cool graphics to add to your adorable baby photos. We love this for a first-time parents. And, right now, you can save 30% on the first month with the code FESTIVE30.
Mystery and adventure subscriptions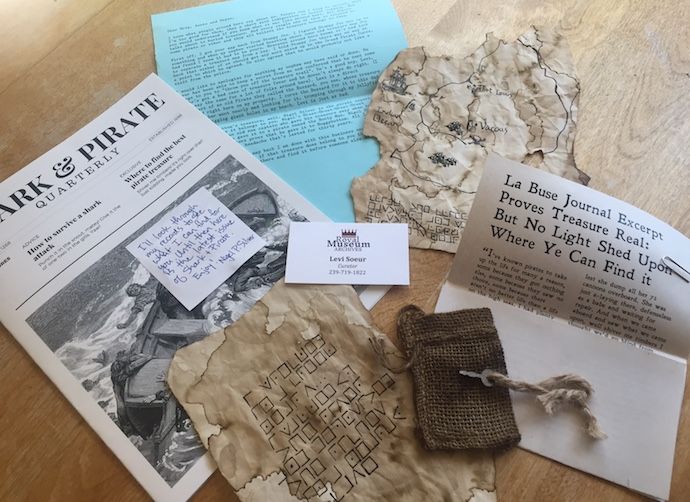 Mail Order Mystery (from $75 for entire mystery)
My kids have spent the last month trying to figure out where buried treasure is hidden in their personalized Mail Order Mystery subscription. This is a weekly mailing, and the letters and clues in the kit are written directly to them. The first week was a pretty complex cipher that took us a while to figure out, and over the week, we've had to make phone calls to characters in the game and decode a secret map. So much fun. Spoiler alert: Our final box arrived this week and included a treasure chest full of goodies for the kids, which they naturally freaked out about. If your kids love adventure and intrigue, this is a great kit for them.
Little Passports Early Explorers (from $14.95/month)
Little Passports is a CMP favorite, and our kids have loved learning about different countries and cultures all over the world through their travel-themed subscription boxes. The first shipment arrives in their signature kid-sized suitcase, which you also use to store the subsequent mailings. Educational info about each destination and arts and crafts supplies are included each month, which will keep the kids interested for, oh, a few hours — if not longer. And right now, you can get 15% off any subscription with the code JOY.
Kids Mystery Box from Wonder and Company (from $72)
We were astounded by the detail included in the Kids Mystery Box from Wonder and Company. Before the package arrives, your child will receive a letter in the mail teasing what's inside in cryptic, mystery form. Oh, the anticipation! When your box actually does come a week or so later, it's filled with carefully curated toys and gifts on a theme — the one shown here was on cryptids, the mysterious and possibly imaginary creatures of the world like Sasquatch, the Loch Ness Monster, and more. This is an incredible gift your child will really cherish.
STEM subscription boxes

Tinker Crate by Kiwi Crate (from $16.95/month)
See, we told you we love Kiwi Crate (also shown at top). They have so many smart, innovative crafting and science-based boxes for kids of all ages. Their Koala crates are for kids as young as 3 years old, and the Doodle Crates and Tinker Crates send art and STEM projects, respectively, to kids up to 16 years old. We've always been very impressed with the quality of these boxes and the types of educational, inspiring projects they're helping our kids create.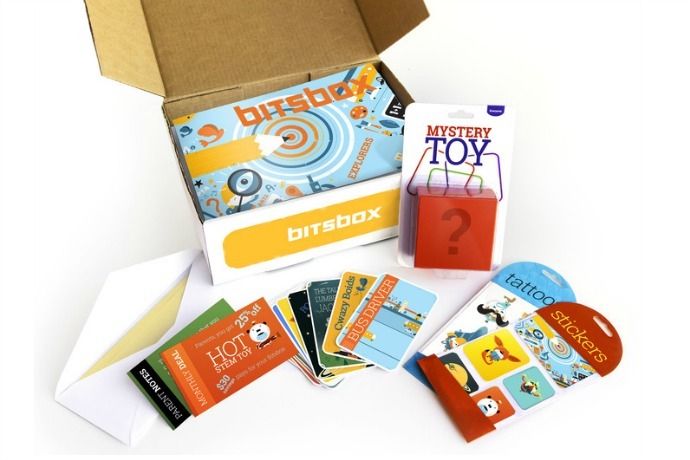 Bitsbox (from $19.95/month)
Let's just say, we were pretty impressed when our kids started writing their own apps — that really, actually work! — and Bitsbox is genius at making this happen, easily, with the codes and tips that come in their subscription boxes. You can choose a streamlined all-digital subscription for kids who are really all about the coding, or upgrade to the basic box, which includes a binder and printed cards with the projects on them. The deluxe set also has tattoos, stickers, and other fun little gifts that just make it even that much more exciting to receive. And right now they're offering CMP readers 20% off any subscription plan with code COOLMOM.
Little Passports Science Expeditions (from $17.95/month)
When we found out another of our favorites, Little Passports subscription boxes, was launching science-themed boxes too we set our expectations really high. And they didn't disappoint. The kit we tested was all about forensics, and included fingerprinting equipment, supplies to examine the DNA in a piece of fruit, and a kid-friendly graphic novella showing how forensic detectives do their work. It was so engaging that my daughter is now talking about working in this field when she grows up, which is a pretty good sign that she loved it.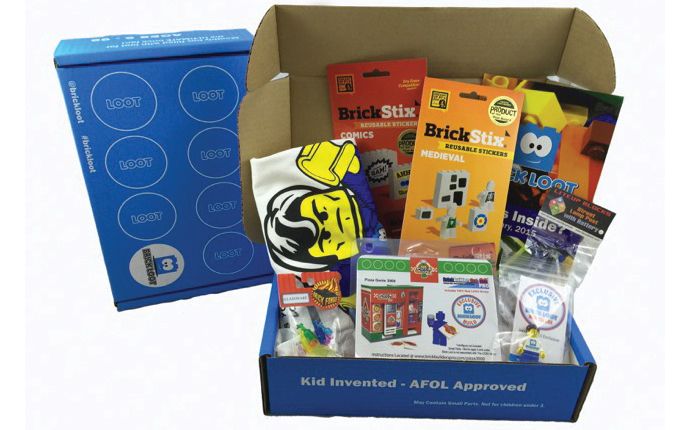 BrickLoot (from $24.95/month)
If you have a LEGO-obsessed kid in your life, you need to know about BrickLoot — an incredible company run by a 12-year-old CEO. Each box comes with 4–8 items that are worth about $45 total, and can include a custom building kit — think, 100 pieces or so for some — and exclusive minifigs. You'll also get a couple fun accessories like stickers or a keychain. All you have to do is avoid stepping on these bricks once they're unboxed, and, everybody wins.
Arts and literary subscription gifts
Just Like Me ($25/month)
We're huge fans of the incredible Just Like Me subscription gift. This company curates the very best children's books featuring kids of color, which are woefully underrepresented in children's publishing. Each month, you'll receive 2–3 books, chosen just for your child based on their personal profile, including age and gender. We're thrilled that more kids are getting the chance to read about these cool characters, whether they look like them or not.
Darby Girl by Darby Smart (from $19)
This cool DIY crafting subscription box has everything a budding designer needs — from fashion accessories to room decor your kids can make on their own, and actually use, when they're finished. For our kids who love to make and create, getting supplies this nice every two months is a real treat.
Uppercase ($23/month)
We love the YA book subscription boxes from Uppercase for their smart selection of new books our kids haven't read yet. Having their inside scoop on what's getting all the buzz from the publishers is big. In addition to the brand new hardcover book you get each month, the box also includes other small gifts like a handmade accessory or cool bookmark. While it's a little pricey per month, it's a gift our teens (and, maybe even some of us adults) can share, so we think it's definitely worth every penny.
Kidstir (from $12.95/month)
My kids love to cook, and the kits from Kidstir are a great way to give them more independence in the kitchen. Each box comes with tools and a premium ingredient they can use in the recipes included with the box. There's also educational info and some crafting ideas too — like the wrappers for the granola bars in the photo above. Our whole family has enjoyed the recipes my kids have made, and the best part is that they can keep all their recipes in the included binder, and make them over and over again.
Epic (from $4.99/month)
For kids from preschool on up who prefer to read on their devices and like the flexibility of having, literally, an entire library at their fingertips, the Epic ebook subscription is a fantastic gift. The books in their collection are the ones our kids are really wanting to read — like Timmy Failure, Nancy Clancy, Big Nate, Olivia and thousands more. We'd slip the subscription letter into a real book when we gift it to them though, because as much as we love this service, there's still nothing like unwrapping a brand new book. Need ideas? Check out this year's best new books for Christmas.
Cool subscription for tweens and teens
TIA Girls Club (from $26.99/month)
The tween years can be rough on many kids, but one of the best ways to help our daughters grow up to be confident, strong, healthy women is to give them great role models. That's where the TIA Girls Club (which stands for, Today I Am, BTW) comes in. Each month, your daughter will receive tween-y things like a charm necklace or sleep mask and some inspirational posters or cards. But the focus is really all about the bios of some pretty awesome trailblazing women, including entrepreneurs, Olympians, and filmmakers, which might just be the inspiration they need to make it through all that middle school drama. Girl power, for the win!
Nerd Block (from $19.99)
If you have a teen who's into everything sci-fi, comic book, or video game, then they may be a perfect candidate for a Nerd Block gift subscription. Each month, they'll get a geeky t-shirt and 5–6 little toys or figurines covering everything from Doctor Who to Nintendo. No geek stone is left unturned, so we think this box will satisfy the game-loving girl or boy in your life almost as much as a Final Fantasy 11 binge will.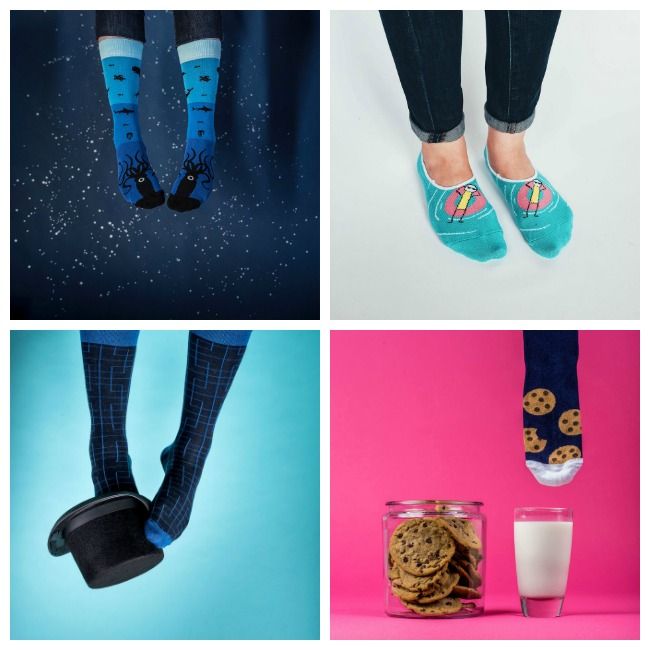 Foot Cardigan (from $9/month)
Among many other things, my kids always end up getting socks and undies in their stocking for Christmas — hey, it's what we do — but I think a fun subscription to Foot Cardigan would make the gift that they have come to expect a little more fun. You can choose from their different collections, including their original crazy socks, low-cut Houdinis that hide under your shoes, or the hilarious Borings, which are all business at the top but crazy down by the toes. Or get two pairs every month for $11 a month with their just-for-kids Whippersnappers collection for ages 3–12. With this new gift idea, my kids will never complain about "another pair of socks?" ever again, thankyouverymuch.
Some of the companies included here have sent us sample boxes to try out. And for that, we thank you!