If your kid is going to sleepaway camp this summer — especially if it's for the first time — your family is probably dealing with a lot of organizational kerfuffles right about now. Not the least of which is packing.
Even though your camp will send its own checklist of "what to bring" and "what not to," you're still going to have plenty of questions. So we rounded up some sleepaway camp packing tips to help make it all much easier. That way, there's less time to worry, and more time for what really matters: Lots of pre-camp hugs.
CMP is an rstyle affiliate
Related: Our favorite summer camp stationery for kids (here's hoping they'll write us!)
1. Sleepaway camp packing tips: Label everything. Everything.
Really, no one at camp is setting out to rob your kid of his Spider-Man flashlight. But there are an awful lot of Spider-Man flashlights out there, and there's a good chance that some of them will be at your kid's camp too. A good ol' Sharpie can do the trick in some cases, but self-stick camp labels are quick, easy, super cute (as evidenced by CMP favorite Mabel's Labels camp labels, above), and won't bleed all over a favorite t-shirt.
Iron-on camp labels are an option too if you're more interested in an ultra-permanent solution to keep your kid's gear in check but honestly…they're a PITA. Go for the stick-on labels which last longer than you think.
Besides cutting down the chances of lost stuff, labels are also comforting for kids who aren't used to communal living. With so much sharing of camp resources going on, it can feel good to know that that backpack is definitely my backpack.
2. Sleepaway camp packing tips: Multipurpose items rule.
For parents, the idea of our little babies all alone in the woods can cause a lot of anxiety (and, ahem, bring out our dramatic tendencies). One way to make it easier on them — and you — is to cut down on the amount of choices they have to make.
For example, most camps ask you to pack several pairs of shoes for different activities, like general recreation and water play. You could consider packing one pair of our favorite kids' water shoes (like these Stride Rite Made2Play Phibian Sneaker Sandals, above) instead of two pairs. They're all-terrain, quick-drying, and easy to take on and off without the pain of laces.
Other multipurpose sleepaway camp items to consider: non-toxic kid shampoos that double (or triple) as conditioner and body wash; interchangeable wind and rain jackets; and clothes with built-in sun protection.
Related: Summer camp care package ideas so cool, your kids might even miss you.
3. Sleepaway camp packing tips: Bundle things together.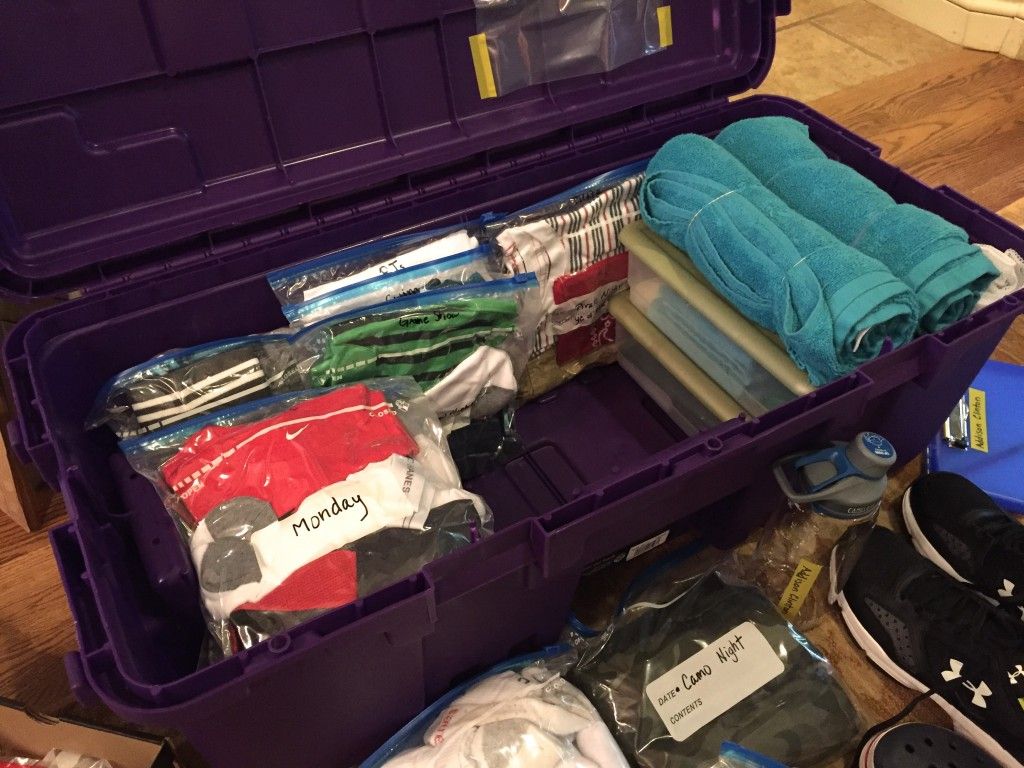 Kids who are used to having the underpants be in the underpants drawer and the shirts in the shirt drawer might feel a little lost when…there aren't any drawers. A good idea is to put each day's complete camp outfit into a large baggie and label it (like how Hugs, Kisses & Snot did, above). Be sure to click over to her site, stat, for some genius camp tips that we are using this summer too.
Make sure to include a mesh bag or even a trash bag for anything worn or dirty to go into. And kids can use the leftover baggies while at camp too — like to carry camp-allowed snacks for nature hikes or to bring home souvenirs. As long as they aren't bugs. Especially if they aren't bugs!
4. Sleepaway camp packing tips: Pack something to cuddle.
Even the most seasoned camper can feel pangs of homesickness, which is why we think it's especially important that a sleepaway camp essential be an extra-special lovey to squeeze. You can always send a favorite to camp (be extra careful to label it!), but a new just-for-camp doll can come in handy too.
We love the Worry Eaters dolls (above) for anxious kids, because they're specially designed to stash away the concerns, stresses, and any other icks they might feel about being away from home. (Of course, remind your kid that counselors are there to help too.)
Related: 7 smart sleepaway camp essentials that help stave off homesickness.
5. Sleepaway camp packing tips: Make sunscreen (and bug spray!) easy.
Kids need to apply about one ounce of sunscreen every two hours for adequate sun protection. But go ahead and ask a kid to eyeball how much an ounce is — which is about the size of a golf ball. Our suggestion is to go over this with them before camp so they have it down, but of course, good counselors are there to help.
Some parents suggest buying lots of one-ounce plastic containers (which you can buy in bulk,) but TBH, kids just want to grab the container and go. If it's more than 2 nights at a scouting camp, better to teach your kids how to apply properly. If they're responsible enough for camp, they should be able to handle this.
Related: The safest sunscreens for kids and babies, sorted by price per ounce.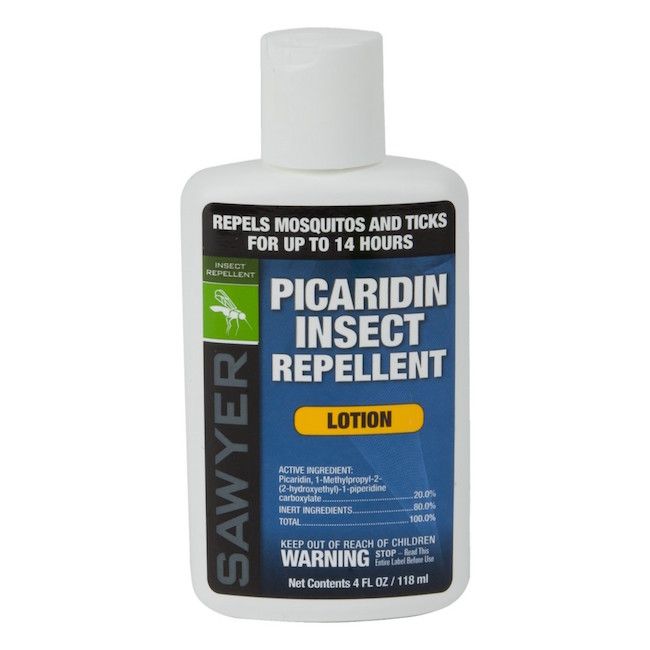 And, don't forget to pack them a safe-for-kids bug spray too, especially because this season the ticks (as you may have heard, ahem) will be baaaaad.
In our comprehensive article on the best, safe tick prevention tips and tick repellent products (definitely worth a look!) our top pick is  Sawyer Fisherman's Formula Picaridin Insect Repellent which is rated by the EWG as safest for Zika, and a good choice for ticks too because it contains 20% Picaridin. Plus it works up to 8 hours.
We're also huge fans of Ben's 30% DEET Tick and Insect Repellent Wipes, but one big caveat: DEET wipes are not the best option for sending your kids off on their own, especially if they need to apply bug repellent themselves. Because, well, DEET. And getting it on their fingers and hands (eep)! But we sure love these wipes for parents visiting day!
(Top photo: chezbeate for Pixabay)
6. Sleepaway camp packing tips: Include a surprise. Awww.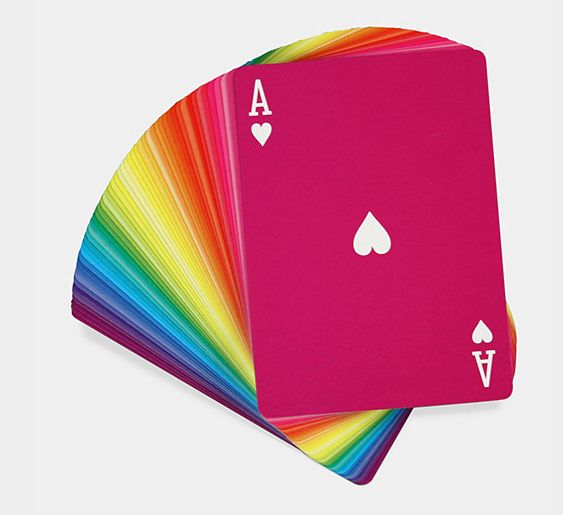 Go ahead and hide a small surprise gift for your kid to find once they've settled into camp, whether it's tucked away in a pocket, at the bottom of their trunk, or between the pages of their favorite book they've packed.
It doesn't have to be big or expensive; in fact, it's better if it's not. I like these pretty and practical rainbow playing cards (above) by MoMA which we included in our list of affordable toys from museum stores; or for kids who might be prone to homesickness, think about a mini photo album with pictures of pets, friends, and family.
Whatever it is, surprising your little camper with a little piece of home can do wonders.