If you regularly have to drag your kid (or yourself) out from behind a Harry Potter book, or you've ever been asked to personally sew a Gryffindor scarf for a Halloween costume, we've got great news. Because there's an expanded new Harry Potter collection at Pottery Barn, and it's pretty fantastic.
In fact, there's so much there, your kids can pretty much keep themselves immersed in the magical world of Hogwarts all the time. Or at least until they leave their rooms.
CMP is an rstyle affiliate. 
Related: A Harry Potter crafts book that renews your faith in magic and hot glue guns

In addition to the standard fare of themed bedding (including a gorgeous star-dappled Hedvig quilt), backpacks and school gear, artwork and throw pillows, what's notable are the more sophisticated pieces. Like an engraved spruce headboard, a Hedvig jewelry cage, and a deathly hallows bluetooth speaker (above). This way, fans can be as bold or subtle about their fandom as they want
If you've got tweens and teens, the Golden Snitch Clock may be just what kids need to get them up out of bed in the morning (ha).
Parents of younger kids, you'll want to check out this Buckbeak rocker for fans of Rowling's many fantastic beasts. Way cooler than a regular old rocking horse, right?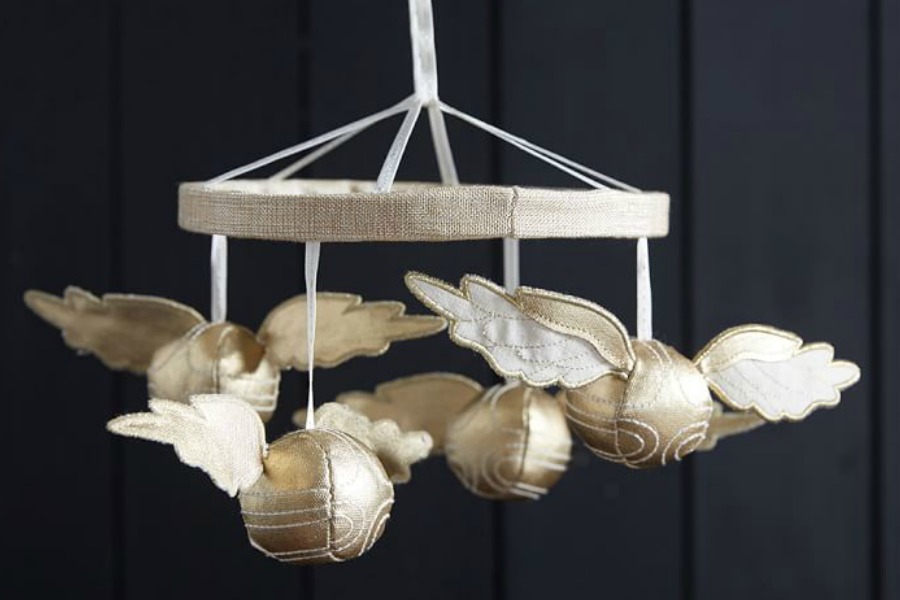 And if you've got a baby, we're in love with the golden snitch mobile for hanging over the crib. Because is it ever too early to introduce your kids to Harry Potter's world? That would be a no.
Check out the whole Harry Potter Collection at Pottery Barn Kids and Pottery Barn Teen.