Trending right now. As in this second.
You are listening to our podcast, right?
Back in January, we spoke with Jake Knapp about making time for the things we love. In other words, prioritizing.(Way better word than "balance," don't you think?)  Jake offered outstanding tips for making sure your days and weeks and years are spent on more of the...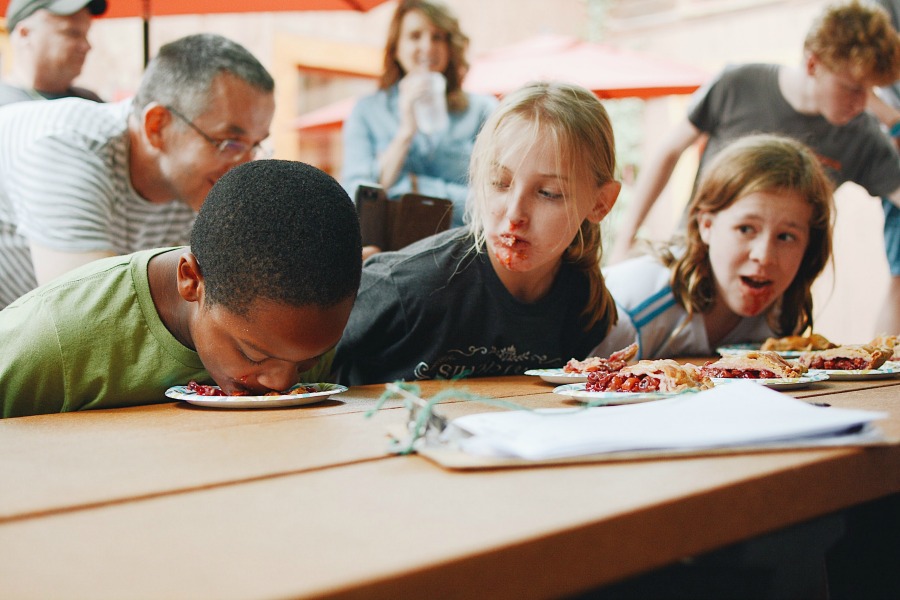 Just last week we read an article that said Japan Airlines would soon to be letting their customers know where children would be sitting on the plane. So what's next? Kid sections in restaurants? With Kristen's husband and Liz's ex in the restaurant industry (along...
I think our listeners will find this is a slightly different kind of Spawned episode than usual. It's a lot more personal for me than most of our interviews. It was a little tough in some ways.  And above all, it was inspired by a listener. A few episodes, ago I joked...
So much coolness. Where to start…
This is a sponsored message for Plant Package Whether you want to start a garden yourself, or give a gift that grows to someone else, Plant Package makes it so easy that even your kids could do it. (In fact, mine did). They ship beautiful, hand-picked seasonal plants...
Hispanic Heritage Month runs from September 15 – October 15 each year, and our favorite way to honor the occasion is by sharing some of our very favorite children's books honoring Hispanic heritage. So this year. I've picked five brand new books that celebrate this...
As a small-space apartment dweller, I'm always thinking about ways to declutter. Not that I always achieve it, but I try! A lot of the trick, as I've learned, is about getting stuff off the floor that we just assume goes...on the floor. So we all know about hooks for...
Here's an obvious statement: motherhood is hard. It's so hard, in fact, that it can often feel like you're not doing a great job. It's actually why I started my blog Motherhood Uncensored, and why author Leslie Bruce wrote her newest book, You Are a F*cking Awesome...
Those of you who are also fans of Maria Popova's Brain Pickings may know that it's one of our own favorite sites too. We include their list of favorite children's books on our own annual lists of the best children's books lists of the year. (How's that for meta). For...
Remember that part in Sleeping Beauty, where the evil fairy puts a sleeping curse on the princess via paper cut, and the kingdom is threatened to become completely devoid of all books as her parents try to make sure she'll never get a paper cut again. No? Well, it's...
I'm super excited to share the next Cool Mom Picks Virtual Book Club selection that many awesome people in my life have raved about. And sure, it's not technically a parenting book, but who cares? If we're making positive changes in our lives (and learning how to...
This is a sponsored message from Coding With Kids If you're trying to balance fun and educational after school activities for your kids this year, Coding With Kids has you covered with both at once. Because, coding! For five years, Coding for Kids has taught children...
Once in a while, a new picture book come along that we want for our early readers right away. And sometimes one comes along that we kind of want for ourselves too. And for all the toddlers in our lives. And for our cool tweens too. Well, that's what's so wonderful...
My family recently returned from our fourth trip to Disney World (thanks to a very generous grandmother), and I've finally figured out those BTDT pro-tips for a successful Disney vacation. For me, it starts with packing the right items. And, knowing what to leave at...
Before we agreed to partner with Johnson's on this series, we did our own research about their growth and evolution in terms of ingredients, practice, and transparency. As parents ourselves, we are incredibly conscientious about the brands we work with and we felt...
When you've got middle and high school aged girls who may be feeling awkward or uncomfortable in their changing bodies, getting into athletic clothes for gym or dance or after school activities that give them a little more confidence is a major major win. And just...
Finding all of these free sight word printables for kindergarten instantly brings me back to those sweet early days of school, sniff. Now that I have a middle schoolers and a brand new high schooler (OMG) I remember how scary it could be to send your kid off to...
This is a sponsored message from VSP Individual Vision Plans A lot of family members offer practical gifts that help support our kids in big ways, like school tuition, summer camp, after school activities, and college savings plan donations. And here's one more that...
While some trends we leave all to the kids, platform sneakers is one that I love and okay, so do my girls. It's a way to get a little style into your comfortable footwear (or vice versa) and, if you're not Kristen (ha), to get a little more height! If you're like me,...
This is a sponsored message from Reading Eggs If there's one desire all parents have in common, we want to make sure our kids are doing well in school, learning the skills they need for success, and working to the best of their ability. And there's arguably no more...
The limited edition, totally collectible, geektastic collaboration between Barbie x Star Wars is coming soon, so start saving those Creds. Shipping exclusively from Amazon around November 18, you'll find 3 Barbie figures, including Barbie R2-D2, Barbie Leia, and...
Going to school for the very first time can be a scary thing for a Kindergartener, and we've found that reading books that show them what Kindergarten is really like is a huge help! So we've found these 7 new children's books about Kindergarten that we think your kids...
In case you haven't noticed, we've become big fans of clothing subscription services. We've tried and reviewed Kidbox, Rockets of Awesome, and Stitch Fix Kids …with more on the way! But we haven't seen a service devoted to shoes, until now. Just in time for back to...
There's one question universally asked by basically all parents once your kid gets old enough: How much does the tooth fairy pay these days anyway? So I'm fascinated by this chart that breaks down the average price per tooth paid by the tooth fairy in each state. The...
We're big believers in helping kids to be mindful about how they save and spend their money, and we're so excited to find this beautifully designed Give Spend Save piggy bank to help reinforce what we're all helping teach our children anyway. CMP is an rstyle...