Trending right now. As in, this second.
You are listening to our podcast, right?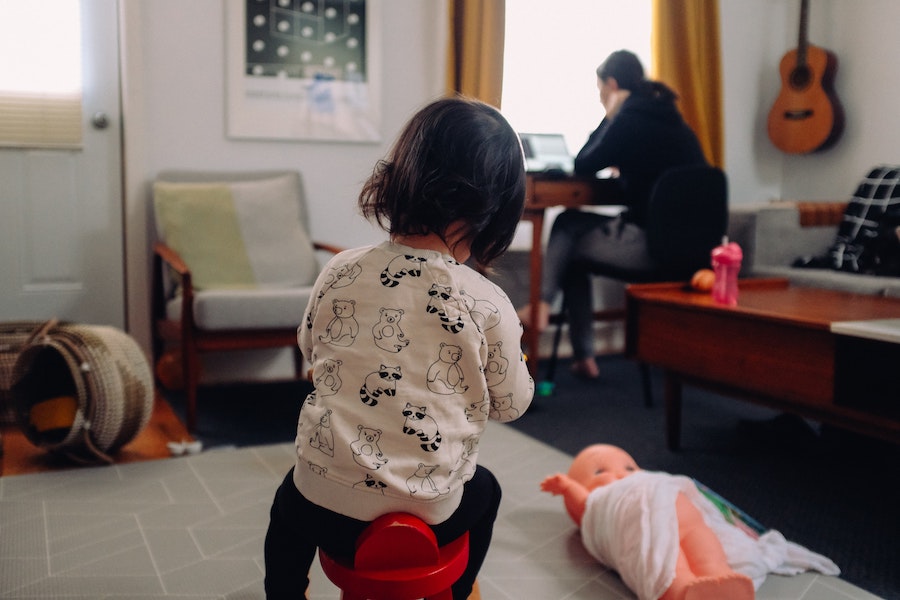 After reading (and raging over) the Five Thirty Eight article, How the Pandemic Could Force a Generation of Mothers Out of the Workforce, we knew we had to have a candid discussion about it with Katherine Goldstein, the award-winning journalist, working mom expert,...
These days, it's like we blink and it's dinner time and we think, "what the heck happened to this day?" As we looked around our feeds to see what else parents are discussing -- you know, beyond school, school and school --  turns out we're not alone. Seems like a lot...
If you're like us, then you've probably seen a whole lot of weight-related pandemic memes and posts on social media. Whether it's the kind of worn out "Gaining the COVID-19" joke to talking about "letting ourselves go," ours pretty amazing how much weight and body...
So much coolness. Where to start…
Even before the Coronavirus pandemic, the United States Postal Service (USPS) was getting hit pretty hard. And now, well, it's worse than ever, with no bailout in sight. As you might have seen on social media with the #SaveThePostOffice hashtag, people are rallying...
We love our game nights with friends, and cancelling those has been a sad part of the quarantine for us. But we've found 6 great games you can play over FaceTime or Zoom. It helps make that distance feel not so far at all, and gives you more opportunities to connect...
With the CDC recommendations that we now where face masks in public, I made a few myself - no sewing involved! - and purchased a couple from a few local businesses who have pivoted their businesses during this Coronavirus pandemic. But when I saw these customizable...
No matter how you celebrate Easter with your kids, things are going to be different this year during quarantine. There will be no town-wide Easter egg hunts or photos with the Easter Bunny at the mall. Church services, if you attend, will be virtual, and big family...
As a long time eczema sufferer myself, along with a now teen daughter who's been battling it since she was a baby, I've tried and used my fair share of creams and lotions with the hopes of getting some relief. So, when I was introduced to our newest sponsor, Gladskin,...
With our kids tearing through our craft kits, puzzle boxes, activity books and more while they shelter indoors, the brand new, 231-piece, interactive LEGO Super Mario Starter course could not have come at a better time. I can't think of anything more delightful to say...
You've braved the grocery store or you've had your groceries delivered. Your kids are home 24-7. And you've got to feed them. So, why is it so hard? Well, it doesn't have to be difficult, in fact, feeding your kids during a quarantine (and cooking during one) can...
This is a sponsored message from Capital One Shopping Capital One Shopping compensates us when you get the Capital One Shopping extension using the links provided   These days, we're all shopping online, and we're all looking for great prices on anything we buy....
With Easter around the corner, I'm thinking about how I'm going to fill three Easter baskets and dozens of plastic eggs safely and finding Easter gifts from the drugstore is a smart way to do it. First off, we love ordering Easter gifts from Etsy that helps support...
I have spent the past week grappling with whether or not to make my own face mask and upgrade from the bandana I've been wearing over my mouth and nose when I head out for groceries. The thing is, I don't sew. This post last updated April 6 with new information, tips,...
Even those of us who are seasoned homeschoolers are feeling a little frazzled about how to fill our kids' long, uninterrupted days at home right now. But I've loved the way our artist community has come out to support our kids and families in so many ways -- drawing...
My son turned 10 this month, and I have to admit, it was a bit of a bummer birthday. He had a great attitude and enjoyed some chocolate cake, but with the current quarantine and social distancing guidelines, his party was cancelled and his friends weren't able to come...
If you've lost track of days like we have, then you might not know that it's April Fool's Day tomorrow. Which used to mean all sorts of crazy Internet pranks (us included - like this one, and this one... just to link a couple), and ones we'd to do our kids. But given...
We are safe-distance podcasting today! We have wine! And we are punchy! With all the time we have (no, we don't entirely have a lot of time) we are watching ALL THE SERIES and laughing through this conversation today about our binge watching recos -- what to watch as...
Huddle up, friends, because I'm about to give away a bunch of my secret gift ideas that I send to folks when I want to tell them how much I'm missing them. And when you're under a shelter-in-place order thanks to this Coronavirus crisis, that's a whole lot of people....
We know that this year's Easter gifts are going to take on a lot more meaning for our kids this year. At the same time, Easter gifts sold by small businesses can really make the difference in another family's life, too. Which makes it an extra wonderful idea to peruse...
When I saw this amazing free printable Women's History Month coloring page from Here Wee Read, I geeked out and immediately messaged Liz. It's such an amazing resource for those of us hoping to teach our kids more about important and diverse women who have come before...
I was never really a robe person until this whole Coronavirus quarantine went down, and now I barely take it off. I wear mine the second I wake up, and then when 5pm hits, it's back on again. Full disclosure: There may have been days these last two weeks where I had...
I know a lot of parents have jumped right into homeschooling their kids (or, schooling-from-home might be more accurate) so that they won't get too far behind in their studies. But with news that Virginia has canceled school for the rest of the academic year due to...
We've all been seeing our social feeds fill up with amazing "OMG THIS IS FREE RIGHT NOW!" posts from friends, and it's hard to keep track of it all! Between the online story time for kids, the Club Quarantine virtual dance parties, the museum tours, and the weekly...
We know that the shelter-in-place orders and social distancing due to the Coronavirus pandemic has been difficult for all of us in one way or another, teens, in particular, are taking an extremely hard hit. We're seeing with our own teens, and we've been hearing from...