Trending right now. As in this second.
You are listening to our podcast, right?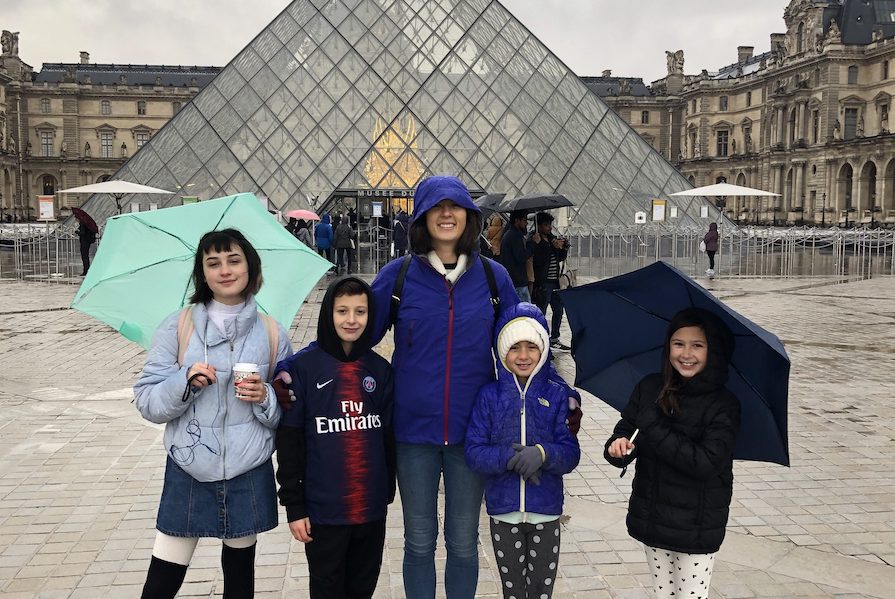 We are big advocates of travel with tweens and teens as you know. And now that we have older kids of our own -- and have a new travel contributor focusing on teen travel -- we thought we'd cover some great tips for parents who travel with older kids, on this...
Spring is here, which if you're like us, means spring cleaning. But in the 21st century, that also means dealing with digital clutter. Think those photos on your phone, or those files on your computer. And we won't even talk about our email inboxes. But that's all...
Every year, we do an entire show dedicated to help you with your last-minute holiday shopping. Lucky for you, we've got an entire holiday gift guide full of awesome gift ideas, many of which are from handmade artists, indie artisans, and small businesses. So, on this...
So much coolness. Where to start…
If you're a parent who's spending Valentine's Day on the couch with your sweetheart this like I am, I've got a list of the best romantic movies streaming on Netflix, Amazon Prime, and Hulu that you'll definitely want to check out. Because if you ask me, even a low-key...
Children's books that deal with slavery and other dark aspects of America's history often wrap stories up neatly, with messages of hope and freedom and and liberty and justice for all. But of course, that's not the way things often go. And in Coretta Scott-King...
Yep, it's that time we fill our site with the best free printable Valentines for the classroom, to help save you all time, money, and the conundrum of shopping for 26 store-bought Valentines when they call come in packs of 24. If you're looking for your kids to do a...
Over the Thanksgiving break, we enjoyed a vacation in Paris with kids, and wow, I'm still thinking about our amazing time. I have to admit that I was worried taking my family of six to Europe for the first time, but thanks to lots of research and planning, we had...
Clicking over to Target today (as one does), I was so happy to see the current promotion they're running to support new parents -- with the purchase hundreds of of baby essentials, you'll get a $15 Target gift card when you spend over $75. CMP is an rstyle affiliate I...
If you're thinking about traveling to Iceland with kids like we did last summer, let me just say you're in for a special treat. Our trip in August 2018 was one of my all-time favorite family vacations. Whether you're currently planning an Icelandic vacation, or you're...
I realize that a fitness New Year's resolution is a bit of a cliche', but in my case, it's a choice I need to make for my health. After losing 25 lbs last year with a change to my eating habits (and no exercise), I've been needing to add a workout routine of some kind...
We've talked at length about how the future is female, hey, it's even on shirts now, but the jury is still out on how female power impacts femininity and the associated stereotypes. That's where our guest (and dear friend) Catherine Connors comes in, who is addressing...
With the Year of the Dog waning and the Year of the Pig right around the corner, I've been browsing the web and uncovering some of best Chinese New Year crafts for kids! Even if you've never celebrated before, the Chinese New Year, or Lunar New Year, is a fun way to...
Ever since I had to have my eyelash extensions removed (RIP - seriously, I loved those things), I've been on the hunt for a mascara that would give me the same amazing lash length that I had with the extensions. That's not as easy as it sounds considering most...
On our Facebook page this week, we shared a meme from Mother Playlist, that said, I'm going to write a parenting book called "Fine. Whatever. Go ahead." Can you relate? Hilarious as our Facebook followers are, they started sharing titles of their own parenting books,...
When our beauty contributor Ibi shared this rainbow bath bomb with me, well I just pretty well near bought 10 of them right then and there. I have a daughter who is obsessed with bath bombs and I can't even imagine what her reaction would be if I told her to place the...
If you're like us, then you've said something like "I wish I had more time" at least once. Or like 1000 times. Well, that's exactly what we learned how to do with author Jake Knapp in our recent Spawned with Kristen and Liz podcast episode. He chatted with us about...
Heads, up baby shower attendees! I've found cutest gift idea for new babies in this collection of wonderfully themed Baby Boxy boxes. Since I don't have the budget for a Snoo (sorry, new parent friends!), I usually like to go with an assortment of small, fun gifts for...
A couple years ago, we shared 10 wonderful non-candy Valentine's Day treat ideas for the classroom, and this year, I've put together so many more. And they all come with free printables, whoo! We love giving out little treats with our kids' printable Valentine's Day...
Today we commemorate Dr. Martin Luther King Jr's life and legacy, as we have every year since we started this site. Over the years, we've shared plenty of excellent books, videos, resources, and websites to help kids understand the reason for MLK Day. And they are all...
After reading Marie Kondo's The Life-Changing Magic of Tidying Up, I immediately started purging my closets and folding my clothes differently. I've also binged on her new Netflix series Tidying Up with Marie Kondo and am currently in the process of piling all of my...
Every time I hear someone complain about social media, or how they're quitting this platform or that because of "all the negativity," I can't help but think about all the ways that social platforms have literally saved moms. From blogs that share true, difficult...
I've been trying to re-kickstart my yoga habit, and there's nothing like a fresh new yoga mat to get me motivated. So when we saw that yoga mats in tons of fantastic designs from independent artists are now available as limited editions from Society 6,  I kind of...
I was so sad to find out that one of my favorite poets, the bestselling and Pulitzer prize winning Mary Oliver, passed away earlier today. Her poetry collections were some of my all-time favorites: Wild Geese helped me slow down and appreciate the natural world; Dog...
We didn't have Instagram when my kids were babies, so I wasn't exactly all over the "photograph every baby milestone" thing the way new parents are now. But if I had found this creative Monthly Milestone Play Mat made just for photographing those many baby milestones,...