It's easy enough to fill up our kids' Easter baskets on one stop to the
drug store, but for the more sophisticated palates on your Easter guest
list, step it up with delicious, artisan chocolate that will make them
forget the foil-wrapped stuff faster than you can say "hide the scale."
New Orlean's Sucre Caramel Egg Basket includes three ridiculously yummy caramel chocolate eggs made from all-natural, identifiable ingredients like dark chocolate for the shell and chocolate puffed rice and real caramel on the inside. Magic.
CMP's past fave, Philly's John & Kira, have done it again with this box of six hand-decorated chocolate eggs filled with luscious dark chocolate ganache. I think these candies would be lovely grouped together on the Easter dinner table, or perhaps placed singularly at each place setting. With their modern squiggle in cheery yellow, green and purple, they are almost too pretty to eat. Almost.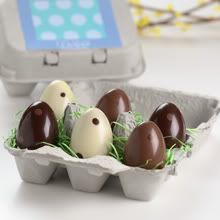 The chocolate egg crate from L.A. Burdick of a half-dozen crispy chocolate eggs has me hoping that the Easter Bunny loves mamas too. Each shiny hand-painted, white, dark or milk chocolate egg is filled with hazelnut, chocolate and "secret crunch" along with a sophisticated accent of either mocha, pear-cranberry or orange-pistachio. These may not be the flavors my kids crave in candy, but hello? That is exactly the point. –Christina
Easter is less than 2 weeks away so order your chocolates now! Grab the Caramel Egg Basket from Sucre or any of their amazing treats by April 8 and get $10 off a purchase of $50 or more with the coupon code "SPRING".
Buy Artisan Easter Eggs from John & Kira, or anything else from their site, and receive a 10% discount with code EASTER09.
Gather up a half-dozen Crispy Chocolate Eggs from L.A. Burdick.