Once upon a time, there was a girl who wasn't a very good housekeeper. Then she flew to Minnesota–which is cooler than she could have imagined–and met a fairy grandmother who taught her that cleanliness is next to just-plain-goodness, because it can actually be pleasant to clean the house if you're using products that smell awesome and work, too.
Did I mention that this is a true story?
First of all, there's a real Mrs. Meyer–that's her, in the photo, teaching me how to clean a burned-out pot when I took a trip to their headquarters recently.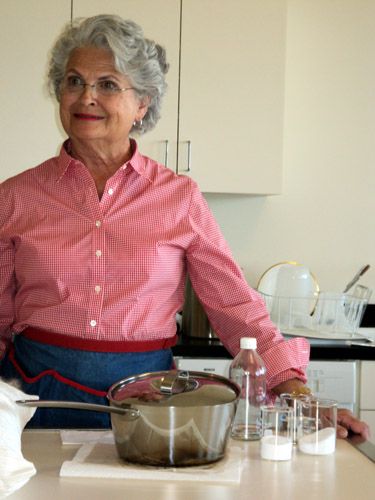 Her name is Thelma, and her old fashioned values and timeless charm inspired her daughter to create the Mrs. Meyer's Clean Day line of eco-conscious cleansing products.
Everyone at CMP has always been fans of their simple philosophy: keep your home clean and happy by using reliable tools that are good for you and good for the environment. I like that they use natural ingredients in their cleaning products wherever possible and make sure that everything is biodegradable and recyclable, from sprays and scrubs to soaps and candles.They're also allergen-free and safe around babies and pets so you never have that "open the windows, I just used bleach!" moment.
I also am happy to learn that the products aren't made and tested far away in some secret, underground bunker by stuffy old guys in lab coats. The lab is right inside the Mrs. Meyer's headquarters in Minneapolis (that's it in the pic, below), and the testing is done on-site by discerning staffers willing to wash towels eight times in a row before running blind fabric softener tests on unsuspecting reviewers.
(Here's a hint: Even with my eyes closed, I picked Mrs. Meyer's fabric softener as the #1 softest towels three times in a row.)
Inside scoop: There are some awesome holiday scents coming up. The Snickerdoodle and Iowa Pine are to die for. While I did ask about unscented products, I was told that although Mrs. Meyer's tried that, it didn't go over so well. Good thing I love the Basil.
Let's just say heading home with a suitcase full of their products, I've cleaned my kitchen more in the past month than…um…ever. On behalf of my entire family, Thanks, Thelma. –Delilah
Mrs. Meyer's Clean Day products can be purchased from their website or from our affiliate, Amazon.
If you think Thelma is as cool as I do and want some cleaning tips that have turned my life around and unclogged my drains, check out her book, Mrs. Meyer's Clean Home.
Ed Note: Delilah was flown to the headquarters on a press trip for the purpose of learning more about Mrs. Meyers products. It worked–she learned that she loves them.
—
PS. If you read this study on 1,4 dioxane and are concerned about carcinogens in Mrs. Meyer's products, we asked about that, too. Mrs. Meyer's has severed their relationship with the suppliers in question and now thoroughly test their raw materials to insure safety. You can read their environmental information here.