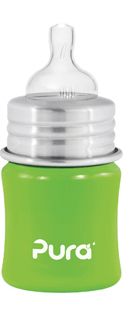 We've been toting our drinks around in stainless steel bottles and containers for years now. But what about the babies? Well, obviously when they're drinking their milk straight from the source, they've got the best drink container out there. But if a baby needs a bottle, it seems that a lot of the choices still involve plastics.
Not anymore.


The new Kiki Bottles from Pura
are made from stainless steel and they're free from all those icky
things we don't want touching our kids' drinks, like BPA, phthalates, lead
and PVC. Even the fun and bright paints used on the outside of the Kiki baby
bottle are non-toxic. And everything is dishwasher safe too,
which means a lot to a slacker mom like me.
But what I love most about these bottles is that they can be
used as sippy cups once the bottle stage is done. So instead of having
to buy a whole new round of cups, all you need is a couple of new
spouts. And, while there is a Kiki line of silicone nipples and spouts
available, the bottles are also compatible with a number of other
popular brands, too which might be more accessible when you find you need a new nipple before you've got time to track down a Kiki one..
So, glass bottles: potentially breakable. Plastic bottles:
potentially harmful. Stainless steel bottles? Well, if it's good enough
for my coffee. –Stephanie
Find the new stainless steel Kiki Bottles from Pura