It's no secret that my Cool Mom Picks cohorts and I are fans of the smart folks at Martha Stewart. (And it's not just because
they're fans of Cool Mom Picks
, too!) So you can imagine how excited we were to learn that they've launched a free cooking video newsletter with
Everyday Food
editor-in-chief Sarah Carey. I signed up immediately and couldn't be happier.

Sarah's cooking video newsletter is my new go-to–or I should say come-to-me!–cooking inspiration, since it comes to my inbox every day.
The video recipes are classic
Everyday Food
dishes: laid back, fresh, and truly family-friendly. In her funny and
approachable way, Sarah shows us how to make things like an
Every Week Roast Chicken
,
Creamy Orange Pops
,
Southwestern Steak Salad
, and yummy
Mini Deep-Dish Pizzas
(
pictured
).
Her emphasis isn't on perfection (thank you, Sarah!), but rather on
delicious everyday meals that easily come together for even the busiest
home cook.
And she should know–she's a busy mom herself.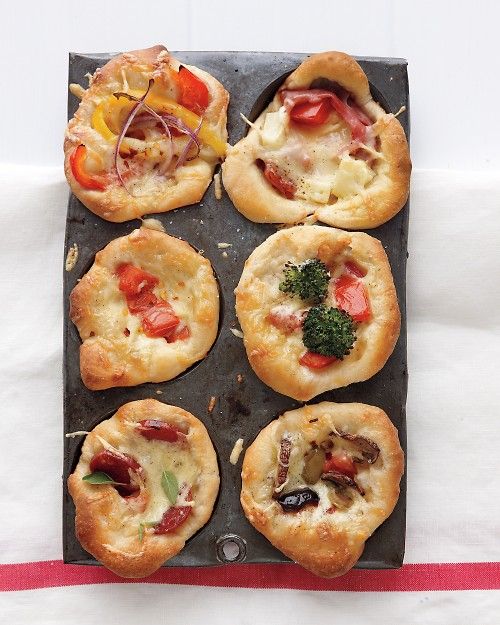 The
videos are beautifully shot as you'd expect, and Sarah is endearing.
Watching her is more like watching a friend who's taping something just
for you than it is like watching a pro celebrity chef. Maybe it's
because Sarah's not afraid to complain about the pain of chopping
onions, or the fact that she forgot to oil her grill pan.
As much as I love Sarah's videos, some are a
wee bit long for me. That could be because, when it comes to cooking, I
get the point quickly. It's my job as a food writer! If it's not yours,
though, you may feel differently. After all, each 3-5 minute video is
packed with great kitchen tips.
Sarah drops gems like the fact that she stacks a plastic cutting board
over a wooden one before prepping chicken so that a clean board is ready
and waiting for the rest of the ingredients. She also connects her
videos in helpful ways: One day you'll get a roast chicken video, the
next you'll learn what to do with the leftovers. Plus each email
includes a short write-up complete with notes on ingredients, tools, and
estimated time.
All in all, Everyday Food with Sarah Carey is, as Martha likes to say, a good thing. A very good thing. -Stacie
Sign up for your free daily dose of Everyday Food with Sarah Carey, then you can then click through to the video and recipe right from your email. All of the videos are archived on MarthaStewart.com and also on the Everyday Food YouTube channel, where even non-subscribers have access. But the email is totally worth it.