I confess: I have a love-hate relationship with planning birthday parties for my kids. While picking a theme can be fun, I also find it a little exhausting to sift through website after website looking for cool activities for a superhero party or the perfect decorations for a tween girl's sleepover bash.
So I'm celebrating my latest find: an online shop with soup-to-nuts party plans that will help anyone create a snazzy (but wallet-friendly) kid party sure to impress.
One Charming Party offers nine different party themes, ranging from a baking party for older kids to a superhero party or dinosaur party for active little ones. Purchase one of the party packages, and you'll get a PDF magazine full of beautifully photographed yet still totally doable party ideas (promise!)  that you can then replicate for your own bash.
I'm pleased to find that this isn't just an idea book. In addition to the 50+ page PDF booklet, you'll receive adorable themed invitations you can print from home, often along with ways to package them for the cutest "special delivery." There are also printable thank-you cards and other little extras too that vary by party, like printable food tags and banners which I just love for giving my parties a little extra polish.
Admittedly my photos will never look as gorgeous as the ones in the PDF. But non-Martha Stewart types like me can easily re-create One Charming Party's dinosaur cake idea with a store-bought version.
I also love the cupcake-liner garland from the Baking Party theme for its genius simplicity. And while the 8-layer rainbow cake from the Art Party theme is way out of my league, I love the neat alternate idea of creating cupcakes that are mini works of modern art.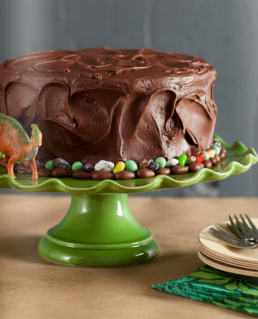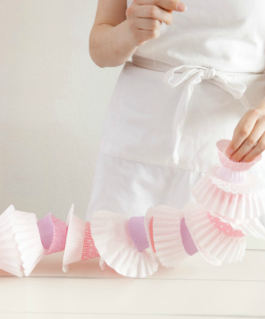 Yes, you'll still need to do a little work and shopping on your own, but you won't need to hire a team of 25 decorators and a professional frosting artist, or gain access to a Swiss bank account to afford any of these parties.
Maybe this year I'll actually make it through all three birthday parties without needing a nap before the guests even arrive. -Christina
Check out previews of all nine birthday party themes at One Charming Party's online shop. Also, check out the One Charming Party website for even more interesting party ideas and themes.