-Featured Partner-
At Cool Mom Picks, we all love family game night, even since before it was a thing called Family Game Night. (It's a thing now! It's true!) And with the holiday season officially upon us, we're seeing lots of family time in our futures. And lots of people big and small looking for something to do that bring them together.
Sometimes we get so caught up in the newest/latest/greatest toys hat we forget that the classic games are essentials for your family room or game closet. We love getting them as holiday gifts and introducing our kids to the stuff we loved as kids ourselves. And let's face it–you can never have enough stuff for kids to do indoors–something we're especially reminded of with the crazy weather this week.
Here, our very favorite classic board games from our partner Hasbro (and their partner, Dr. Christine Carter) that still hold up over the years. Make sure you add them to your kids' holiday wish lists if you are missing any. There's not one you won't be happy to have on hand.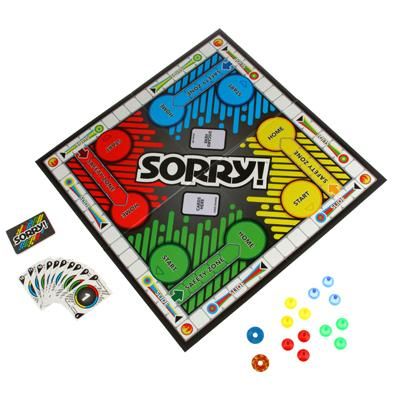 Sorry: We recently played Sorry again for the first time in years, and forgot what a great first board game it is for  younger kids. It's especially great because if they're playing with older siblings, everyone can enjoy it. There aren't a lot of games that can say that.
Yahtzee: Oh, we can get suuuper competitive with Yahtzee after the kids are asleep. It's brutal! But when we're playing with the kids, it's a great way to teach counting, pattern and sequencing (and hold up on the braggy Yahtzee Victory Dances.) Even our kids as young as 3 can play–or at least roll the dice–as long there's some help in the counting and score-keeping department.
The Game of LIFE: Our tween daughters in particular are as obsessed with this game as we were when we were tweens. Something about getting to drive your own car, no doubt.
Monopoly: We're big advocates of the original, of course. What can we say, we're purists! Also, it doesn't have to last forever; we tend to stop at the first tears over landing on Boardwalk with a hotel. (Ha.)
Battleship: It's amazing how fun this pretty simple game can still be. Just make sure no one cheat and uh, moves their battleship midway through the game. Not that we know anything about that.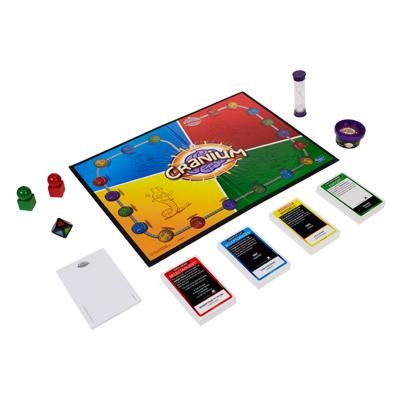 Cranium: This is a new classic, at only about 15 years old, but it's now one of our all-time favorite family games for older kids, or just the adults.  Cool trivia: It was invented by a Microsoft alum, so no wonder it's so smart. You can up the ante by grabbing photos and video, especially when someone chooses one of the green "Star Performer cards.
Scrabble: Hooray for word nerds! As much as we love the digital versions on our phones, there's really no substitute for sitting around a table with the family and going to town. Family tip: We pair an adult and a child together if we're playing with our younger kids.
Our sponsor Hasbro conducted a study about family game night assisted by Dr. Christine Carter (who recommends extending dinner 20 minutes to make time for game time) with some pretty fascinating data. You can see some of the results in the infographic below, or visit the Family Game Night website for more information. Yay games!