We are so excited to launch our 2015 Father's Day gift guide, because as our longtime readers know, we just love tracking down fantastic gift ideas for the dads we love in our lives. (Yay cool dads!) So we're starting out with the coolest personalized Father's Day gifts — not just because we really like them, which we do, but because personalized or custom gifts often require a little lead time. So if one of these strikes your fancy, get moving! Father's Day is June 21 this year.
-Hey, it's 2018! Check out our updated Father's Day Gift Guide!–
And we're thrilled to welcome back Pinhole Press as our sponsor of this post in our series. Especially seeing as how they've been making some of our favorite personalized photo gifts for years. And wow, how they've grown since then; it's amazing how many fantastic products they have that are perfect for Father's Day, a few of which we've included right here.
Hello, awesome custom beer bottle labels. Or the Daddy & Me board book shown at top, that we happened to make ourselves. Their personalized gifts start at just $3.99 (we know!) so it's really worth a look.
What's even better, they've been generous enough to offer our readers 15% off all the custom photo products at Pinhole Press with code COOLMOM through June 21.
And hey, what would our Father's Day gift guide be without a seriously awesome giveaway? So hoo boy do we have one, and we've made it super easy to win, too. Keep reading for all the details! And of course, some seriously great personalized Father's Day gift ideas.
Daddy & Me board book ($29.99, Pinhole Press)
There are lots of fantastic custom photo books at Pinhole Press, but we happen to be blown away by the sweetness of this fantastic Daddy and Me board book that our associate editor Kate created with her kids' help. Ask yours to help you describe all the reasons they love dad, then find the photos to match.
It not only gives him a special keepsake, it gives him time with his favorite kiddos every night.
Or if you think the book will end up in a child's room (can you blame them?) take a look at the glossy coated custom board book option from Pinhole Press which is safe for toddlers who think of such things as teething toys.
Related: 5 great photo book ideas for Father's Day gifts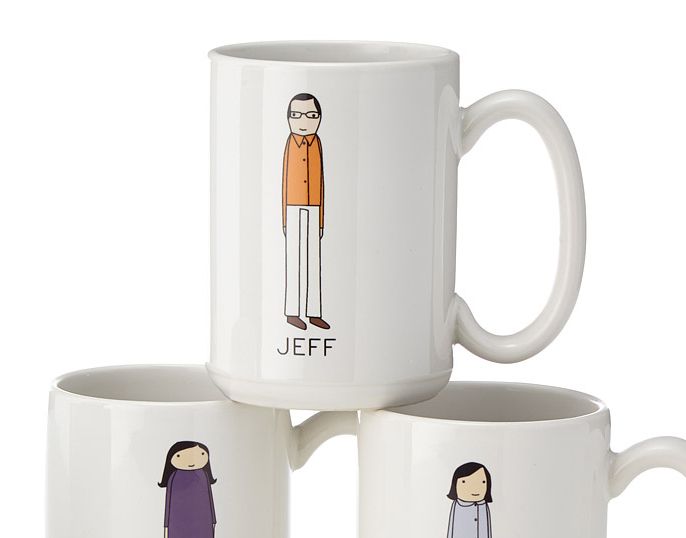 Personalized family mug ($28 for one, Uncommon Goods with bulk discounts)
We've loved the custom illustrations from K Studios for so long and how nice to see them show up on these fun custom mugs. Choose from different looks, skin tones, hair colors, even five different clothing colors depending on whether he looks best in blue or eggplant. For dads who would appreciate something a little more personal than#1 Dad, this is a very cool personalized Father's Day gift.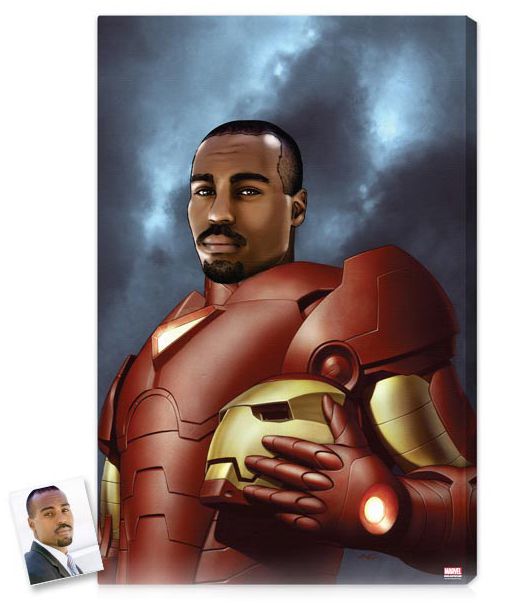 Custom superhero portrait ($99 and up, The Comics Factory)
We love the selection of portraits at this site which does a fantastic job of making your own favorite dad look like the Thor, Superman, or uh, SuperLarry that you know he is. The artwork is all made by real comic artists, and comes printed on museum grade cotton canvas so this one really is a keeper.
(Update: Please note that many styles are selling out; you may want to order a gift card should the perfect one be worth the wait.)
Personalized Father's Day beer bottle labels ($11.99, Pinhole Press)
How fantastic are these labels made by our associate editor Kate? (And how perfect is it that she chose a shot of her husband in, of course, a bar.) Of course you can use these labels to personalize his favorite beer, soda, or even a giant bottle of lemonade. The template makes it easy and the price is fantastic. Buy them to serve beverages to the family at brunch in his honor, or just present him with a 12-pack of his favorite brew that will seem like it was handcrafted just for him.
Personalized USB flash drives ($49, Mark & Graham)
Ooh, we are so taken with these handmade colorblock wooden 8G flash drives. So much so, it's a good thing the hand-monogramming comes free; it will make us less apt to "borrow" it. Permanently. (Use code EXTRA25 for 25% off everything through 5/31)
Personalized Father's Day ice cream or gelato assortment ($49.99 and up, eCreamery)
We are longtime fans of the absolutely delicious handmade ice creams from eCreamery which can not only be customized to include your favorite flavors and mix-ins, but you can personalize the labels too. Or make it easy and just opt for one of their Father's Day assortments with names like Dad's Breakfast of Champions and Dad's Tub o' Love. Which is not a play on words. We think.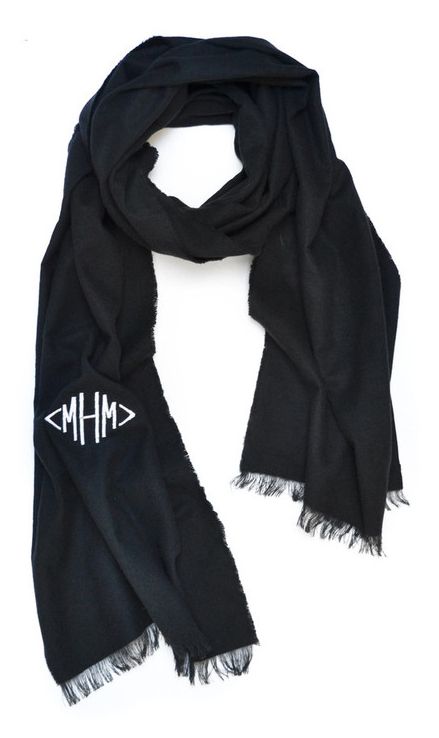 Brushed cotton flannel monogrammed scarf ($48, Mizu)
If he loves his accessories, we love this affordable, high-quality monogrammed scarf in a comfy flannel. Perfect to keep him warm when he's stuck alone outside grilling for the family when the sun goes down.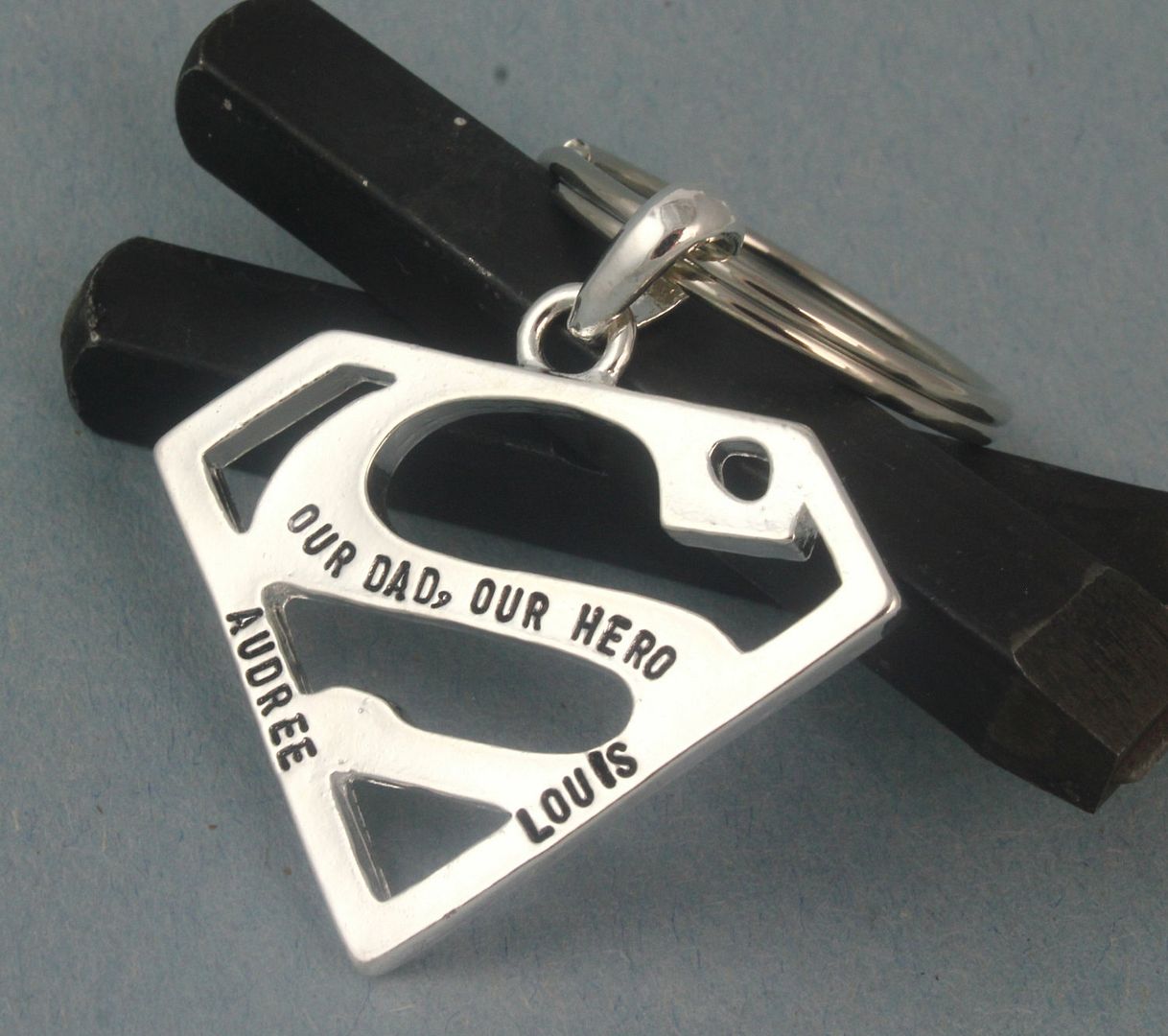 Our dad, Our hero keychain ($20, Stampin' Off the Path)
Okay, so we have a thing for superhero gifts. And this affordable pewter and silver alloy keychain is a fun one, displaying a sentiment that would be hard for a lot of kids to disagree with. The popular Etsy shop even makes room to add a few engraved names or special dates if you want.
Custom Memory game ($19.99, Pinhole Press)
For the dad who has everything, we love this affordable idea: A custom photo memory game, which Kate customized with her own family photos here. It's so perfect "from the kids" with a coupon for some dedicated time for them to play together. Pretty awesome for under $20.
Personalized wool initial baseball cap ($49 at Mark & Graham)
If he's got a baseball cap that came free from somewhere, time to trade it in. (More so if it's got a logo on it.) Instead, try these beautiful wool caps complete with an adjustable leather tab in back — not plastic. One more reason he needs this. Every letter is available too, so all you Xanders are in luck. (Use code EXTRA25 for 25% off everything through 5/31)

Personalized battery charger with custom photos ($69.99, Shutterfly)
We found this battery charger in time for Mother's Day, and it's just as perfect for device-loving dads, too. We've tried it out ourselves and the charger works really nicely, with decent battery life and a convenient multi-prong charging cable. How thoughtful to give him both peace of mind on the go, along with the sentiment of a favorite photo on the case.

Monogrammed forged steak brand ($49.95, Williams-Sonoma)
Men. Steak. Fire. Tools. Enough said.
EXTRA COOL: WIN IT!
We've got a prize package filled with some of our favorite gifts for dads, valued at more than $800!
PRIZE INCLUDES:

• His own Amazon Fire TV (though we hope he shares with the whole family)
• A fantastic Pinhole Press $100 gift card which we could spend in about a second
• The Dad's Gotta Eat gourmet collection from MOUTH
• The fabulous new convertible Epiphanie leather Hudson satchel-backpack
• A Tom & Teddy $150 gift card for their super hip men's swimwear.
• A huge, pampering Dove + Men Care gift basket
CONTEST IS NOW CLOSED!
Other 2015 Father's Day posts: 
20 fantastic ideas for DIY Father's Day Gifts
The coolest gifts for Grandpas
17 very, very cool Father's Day gifts under $25