For those of us with young kids, we know that one of the best parts about Father's Day is letting the kids participate in making DIY Father's Day gifts for their dads and grandpas. And because we don't expect them to be hand-stitching an eyeglass case, forging their own iron tools in 112 easy steps, or drawing his name in perfect calligraphy (can you tell we've looked through Pinterest?), we've put together tons of ideas for realistic DIY gifts for Father's Day from the kids.
Related: Don't miss our updated guide to creative DIY Father's Day gifts kids can make
Sure, you may have to help a bit — or plonk down your credit card for a few supplies — but these are gifts for dads that kids can proudly sign their names to, maybe even on their own homemade cards. (Sniff.) We hope you love them too.
CMP is an rstyle affiliate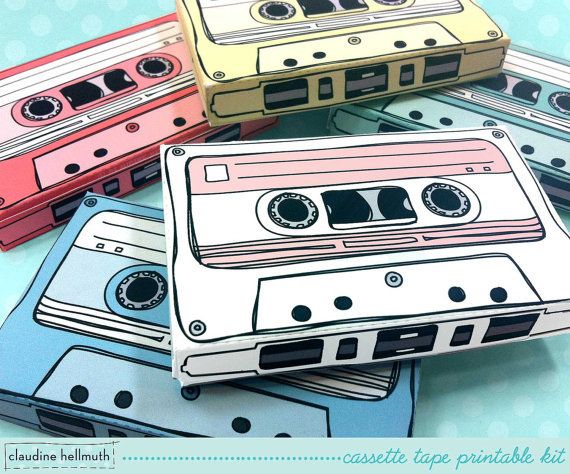 Printable cassette tape gift card boxes ($4.99, Claudine Hellmuth)
We are so in love with these printable cassette boxes, especially for…shall we say a dad of a certain age? (Don't worry, we're that age too.) Insert a USB with a great playlist that the kids help put together and throw a family dance party. Or include an iTunes gift card and let him pick out his own favorites.
Home-baked cookies in a jar with a Father's Day label (free printables, Lia Griffith)
We love Lia Griffith's beautifully designed, printable Father's Day labels for everything from soda pop to barbecue sauce. But it's the jar of cookies we think kids will spark to best, especially when they get to help back them. Our tip: Take a look at our roundup of homemade Girl Scout cookie recipes, and pick his favorite. Like these Samoas from Jaclyn of Cooking Classy. Hopefully he'll share.
Related: 14 brilliant last-minute gifts for Dad. So many ideas! | Father's Day Gifts 2019
Portrait of dad from the kids (free download, Tried and True blog)
There are plenty of free coloring pages for Father's Day, but I don't know if I've seen one as adorable as this one from Tried and True. Our kids would totally go to town on it with watercolors. The best part: The portrait of Dad the kids will get to make. However it turns out.
DIY Happy Father's Day banner (tutorial, Modern Parents Messy Kids)
Whether this is hanging on the door when he gets up in the morning, or the card in the envelope that greets him with breakfast in bed, this is such a fun craft activity that kids will have a great time making. You can use colored card stock or for a great money and time saver, try paint chips! Note: Whether or not you want to reuse the hole punches as confetti depends on your love for vacuuming.
 Related: 10 free Father's Day printables that make great gifts all on their own
My Dad Can Do Anything DIY board book ($8.73, Amazon)
We first featured this clever, affordable Father's Day gift a while ago, but we keep coming back to it. It's filled with hyperbole about a superhero dad, and kids will love drawing their own illustrations and even embellishing the story on their own. What, your dad can't pick up a car by himself to retrieve a lost toy?
Color-Your-Own Best Papa Ever Apron ($24, Cafe Press)
Whether his domain is the grill, the microwave, or the entire kitchen like some of our favorite dads, we love the idea of getting him a white cotton twill apron, then handing the kids some quality fabric paints or Sharpie fabric markers like these we found at our affiliate Amazon — perhaps with a little supervision, of course. The apron is cute on its own, of course, but with the kids' personal touch it becomes a keepsake.
DIY Decoupage Photo Frame (tutorial, Modge Podge Rocks blog)
This one is best for a crafty tween or teen — or a kid with some adult help. But actually it's not all that hard, and the result is so adorable. All that's missing is your favorite photo of Dad with the family or portrait of the kids.
Related: 30 amazing Father's Day gifts under $15: For when the thought counts, but so does the gift
We love dad shadow photograph (tutorial, Crafty Gator)
A couple of years ago, we shared this awesome idea: Instead of grabbing a favorite pic of the kids off your phone to frame, make your own special photo using a piece of poster board with a message cut out with an X-Acto blade. Then, hope for a sunny day.
Related: 9 creative kid portrait ideas that make sweet Father's Day gifts
DIY Things I Love About Dad photo book (This version, Pinhole Press, $29.99 plus 15% off with code COOLMOM)
We featured this in our roundup of 12 of the coolest personalized Father's Day Gifts, and it was such a hit, we'd be remiss not to include it here, too. Our editor Kate made this Daddy & Me book through Pinhole Press (the sponsor of our previous gift guide post) and they has a great template that makes it super easy to DIY. Even the littlest kids can answer the simple prompt: Why do you love Daddy? There's no wrong answer. Psst…it's fantastic for Grandpa too.
Related: 5 great photo book ideas for extra special Father's Day gifts
Dad, You Rock Cupcakes (recipe, Oh Happy Day)
The way to many men's heart is through cupcakes. To make them more fun, remember those candies in your grandmother's living room that you were never sure were real candies or real rocks? They make fun toppings for homemade cupcakes  and lend themselves perfectly to a "you rock" message like this fun tutorial at Oh Happy Day. You can even spell out the word YOU if that would make Dad happy. We know a few who are sticklers that way.
Related: Fabulous Father's Day breakfast and brunch recipes for dad 
Sweet treats Father's Day printable (free download, Make and Tell)
If baking isn't on the agenda, with just a little bit of effort, you can pack his favorite little store-bought treats in a fun bag like this one. For Liz's dad it would be Red Hots, Fireballs, Mary Janes, or Goldenberg's Peanut Chews. For the dad in your house…whatever he likes. Champagne truffles? Sure. It's his day, right?
Fill-in-the-blank Father's day card from the kids (free download, Make and Tell)
The same designer also created this sweet fill-in-the-blank card that pairs perfectly with the treats, but we think it's so sweet on its very own, whatever age you are–and whatever age Dad is. Because he's probably not making coffee for the four-year-old. Or hey, maybe he is? No judgments.
DIY Father's Day coupons in a jar (tutorial and free coupon downloads, Catch My Party)
We've seen lots of printable coupon books over the years, but we like the idea of putting them all in a mason jar that kids will have tons of fun decorating. We especially like the fill-in-the-blank coupons which let you customize them to suit him perfectly. Hey, there are dads who don't have lawns to mow (hi, city dwellers!) or who would rather trade in a coupon towards delicious homemade brownies than cookies.
Related: 14 easy ideas for last-minute Father's Day gifts that also happen to be cool 
We also have two sets of our own free printable coupons for family fun which might fit the bill perfectly. Plus, they're all activities that are free or very close to it. We know quite a few dads who would be happy to just stockpile the musical veto cards.
Alternatively, we are still cracking up at these free printable Father's Day vouchers from Moomah, which are so clever! Actually, we might be inclined just to take this one, copy it 20 times, and leave it at that.
Father's Day printable checklist from the kids (free download, The Girl Creative)
It would be so great for a dad to wake up to one of these surveys, filled out by the kids, framed…on a breakfast tray. Or just tuck it into a Father's Day card.

DIY Comic Book Magnets (tutorial, Crafts by Amanda)
These are actually so easy and the result is fantastic! You basically need some old (or new, whatever) comic books, magnets and Mod Podge.
Breakfast in bed with superdad printable cupcake toppers (free download, Catch My Party)
Clearly we love the superhero theme for Father's Day. So here's a fun one: If you've got surprise breakfast plans in mind for Father's Day, let the kids decorate his pancakes, frittata, or bowl of granola with these very cute free superdad printable flags. Of course you might know them better as cupcake toppers, and we imagine they'd work just great there too.
Related: Father's Day recipes for breakfast and brunch the kids can help make
DIY Father's Day Medals (tutorial, And We Play)
We know our kids would have a blast making these for every dad, stepdad, and granddad in their lives. Proof it doesn't have to be fancy and it doesn't have to be perfect to be very, very special.
Other 2015 Father's Day posts: 
12 of the coolest personalized Father's Day Gifts
The coolest gifts for Grandpas
17 very, very cool Father's Day gifts under $25
Or visit our 2016 and 2017 Father's Day Gift Guides for even more great ideas!