I have had such a great time this week looking for ideas for DIY ornaments for the kids. After all, one of my favorite parts about decorating for the holidays is seeing the Christmas tree ornaments my kids have made over the years and hey, we're always open to new ideas. So here are 9 really easy, fun ways to turn those plain round ornaments into holiday keepsakes for anyone in your family, their favorite teachers, or even a BFF.
I really like that these DIY ornament ideas make great group projects too, if you're looking for a classroom or playdate project for a bunch of creative kids. Just keep reading for 10 different and easy ways to turn plain round ornaments into something totally unique and special and see which ones you'll want hanging from your tree.
Sharpie ornament image: Simple as That blog
Related: Great handmade craft gifts kids can make themselves
Ideas for DIY Ornaments for kids: Use Stencils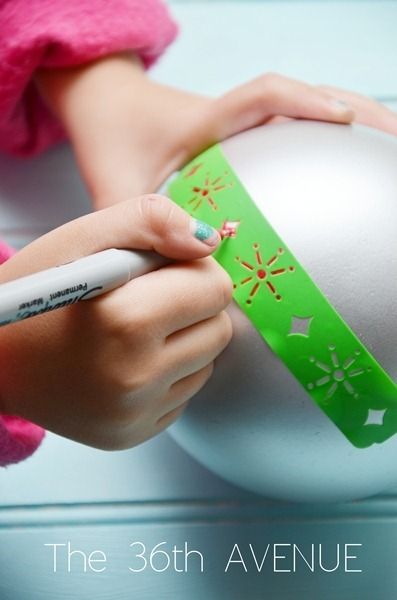 Not all of us have a degree in illustration which is one reason I love this idea at The 36th Avenue which calls for reusable stick-on stencils to create beautiful DIY stenciled Christmas ornaments. Easy enough for a careful preschooler to do, but fun enough for your tweens, I think the finished result is pretty stunning. If you have trouble finding similar stencils at your local craft store, I found a lot of stick-on stencils at Create-For-Less.
Ideas for DIY Ornaments for kids: Neon Puffy Paint
Add a pop of color to the tree with these DIY neon puffy paint ornaments from I Love to Create. The puffy paint dries with some dimension on the outside of the glass, and it really doesn't matter how your lines squiggly onto the globe. The finished product will look really merry and bright. And hello? Neon puffy paint? Is that like the perfect DIY ornament for kids or what?
Ideas for DIY Ornaments for kids: Sharpie art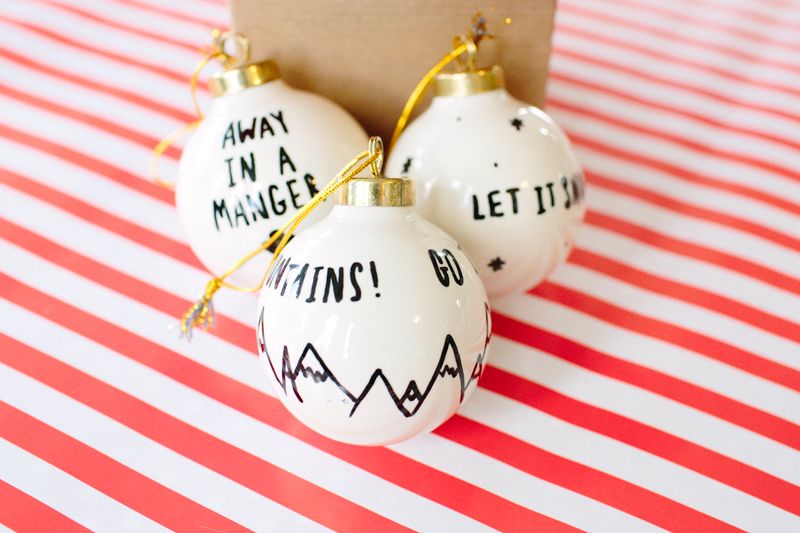 Though nice handwriting makes this particular Sharpie handwritten Christmas ornament from Walk in Love quite special, I love how huge, imperfect toddler letters on a Christmas ball will make you smile when you see them in years to come. Some more ideas: Kids can write their favorite holiday sayings (Smiling is my favorite! Right.), they can try their hand at their favorite emojis, they can write the name of a recipient like Grandma, or just spell out their names or doodle around their first initial. Also try to write the year small on the bottom of the ornament so you can remember just how old the kids were when they were writing their E's backwards.
Also check out the DIY Sharpie art ornament for kids from Simple as That which really is so simple to create and looks so pretty hanging on her family's tree. If you do a new one every year, you'll have a wonderful keepsake.
Related: 15 of the most gorgeous printable holiday crafts for kids
Ideas for DIY Ornaments for kids: Reindeer Thumbprints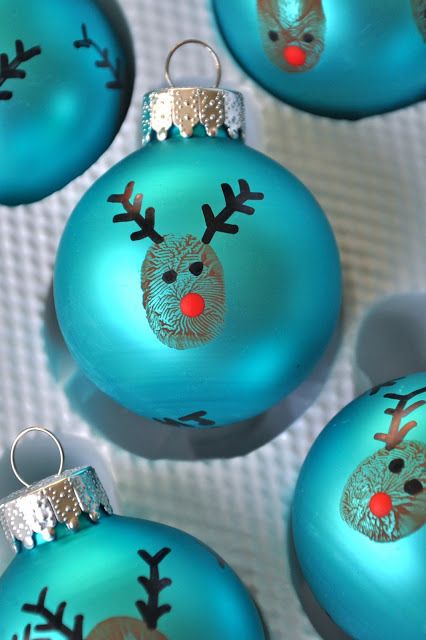 Preserve that tiny thumbprint in the cutest way possible with this reindeer thumbprint ornament craft from Little Bit Funky. We love how it looks on this matte turquoise ball, though on her site, you can see how the finished results look on shiny green Christmas balls too. Older kids could do this craft from start to finish, while younger ones might need your finishing touches. Don't worry, there are step-by-step instructions for finishing Rudolph, if you are as artistically challenged as I am.
Ideas for DIY Ornaments for kids: Chalk Paint
If you have any leftover chalk paint from The Great Chalk Paint Craft Explosion of 2014, it makes an interesting cover for a round ornament as shown on this DIY chalk paint ornament for kids from A Night Owl. I agree strongly with her that you only use plastic balls, since the kids will be pressing on them with chalk after the paint dries. But, this is a fun way to change up how the ornament looks every year. Or maybe every day, since my kids would want to draw something new on it daily.
Ideas for DIY Ornaments for kids: Paint Swirl Ornaments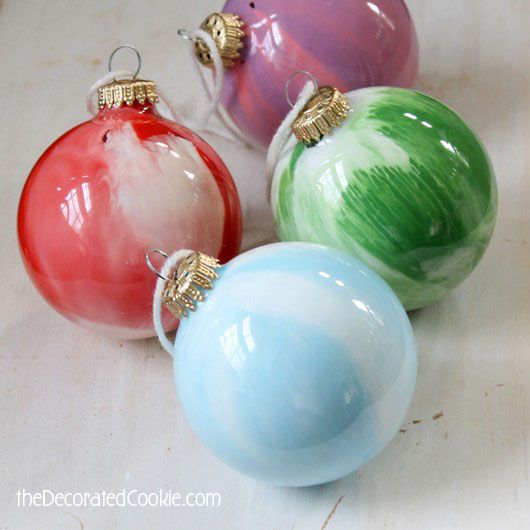 Decorating the inside of the ornament isn't difficult when you follow this terrific DIY paint swirl ornament tutorial from The Decorated Cookie. Be sure to read her suggestion for the best paint to use for optimal swirl-ability. The finished product looks pretty fancy with just one color, though you could also see what happens when you add more than one color. Just remind your kids what happened to their play-dough when they mixed all the colors together.
Ideas for DIY Ornaments for kids: Easy confetti ornaments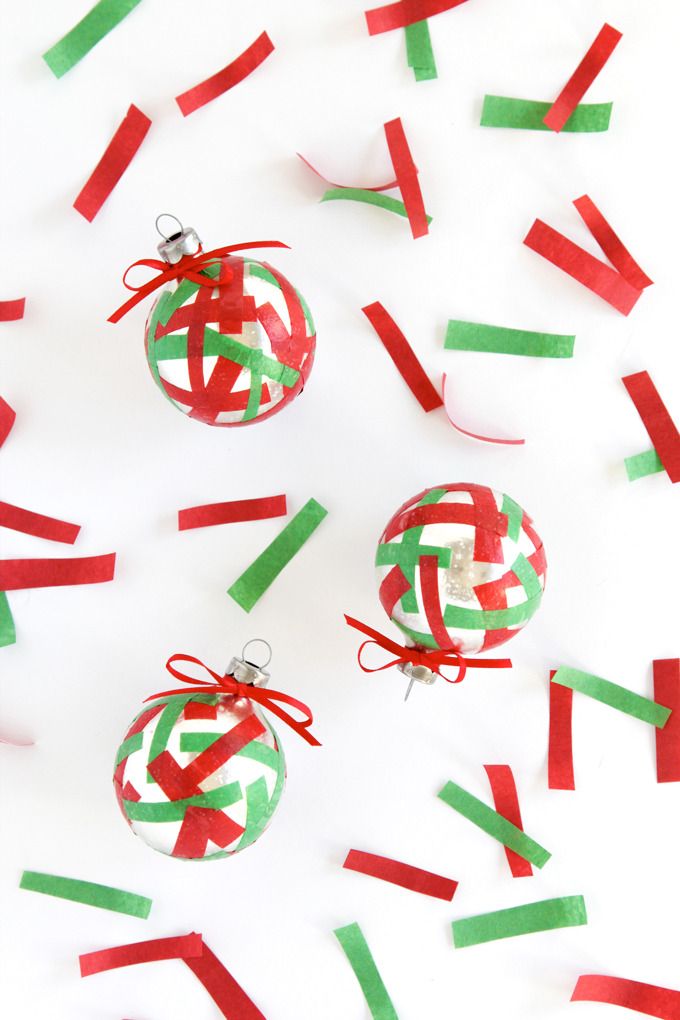 We love this idea from the Modge Podge Rocks blog so much, we featured them in our Holiday Gift Guide list of 18 cool DIY Gift. I like how festive the green and red looks, though you could also choose your babysitter's college colors or a the colors of a favorite sports team if you're making gifts. Or you know, just the colors your kids like. Which means buy lots and lots of tissue paper.
Ideas for DIY Ornaments for kids: Melted Crayon Drip Ornaments
If your artistic kids have left you with an abundance of crayon nibs, get thrifty and use them to create DIY melted crayon drip ornaments like this clever tutorial from The Swell Designer. Because there is heat involved, you'll want to be in charge of this one, with your little elves serving as crayon peelers and quality control. Be sure to read the comments on her post too which have lots of helpful advice for creating the most beautiful ornaments.
Related: 14 of the coolest art toys and gifts for kids of all ages
Ideas for DIY Ornaments for kids: LEGO filled ornaments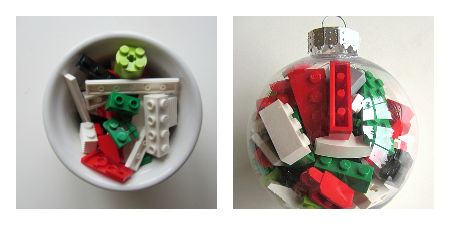 When you have as many LEGO bricks in your house as I have, using some to create DIY LEGO filled Christmas ornaments for kids will probably sound like a great idea to you too. The No Time for Flashcards blog also offers six other ideas for ways to fill a clear ball ornament, though I do love the green, red, and white LEGO bricks all jumbled together. My feeling: If they're all hanging on the tree, that's one less brick for me to step on, right?