Trending right now. As in, this second.
You are listening to our podcast, right?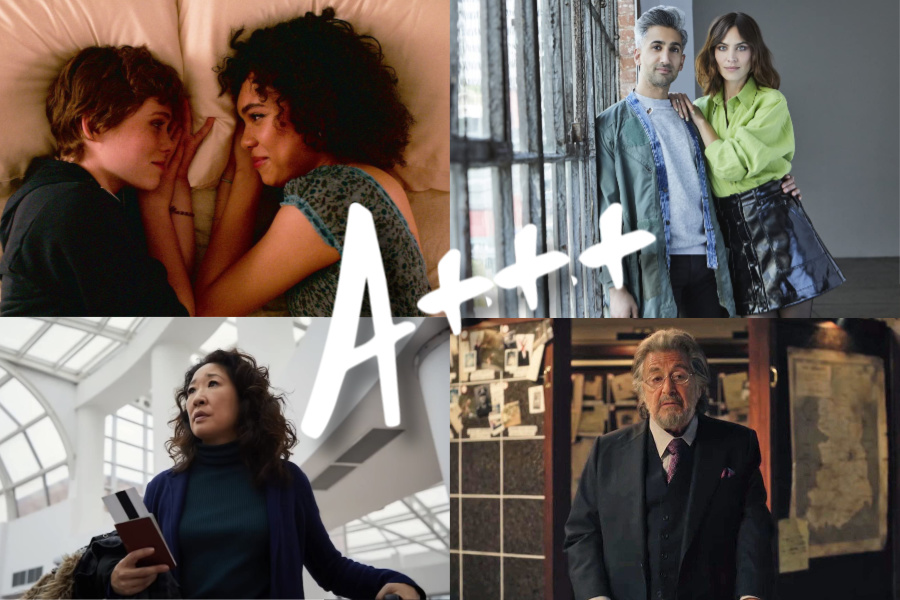 We are safe-distance podcasting today! We have wine! And we are punchy! With all the time we have (no, we don't entirely have a lot of time) we are watching ALL THE SERIES and laughing through this conversation today about our binge watching recos -- what to watch as...
We know that the shelter-in-place orders and social distancing due to the Coronavirus pandemic has been difficult for all of us in one way or another, teens, in particular, are taking an extremely hard hit. We're seeing with our own teens, and we've been hearing from...
Considering we're pretty passionate about activism and binge watching, it's probably no surprise that we're a big fan of Alysia Reiner, known best for her role as Natalie "Fig" Figueroa in Orange is the New Black, a show that might have been the first use-case for the...
So much coolness. Where to start…
If you feel like the holiday season came sooner this year -- along with the holiday ads, the holiday sales, the Mariah Carey videos, and the holiday pressure, it's not in your head. There are lots of reasons we're feeling it more this year, and social media isn't...
We write a lot about the importance of raising good digital citizens. The way we see it, the internet isn't going away, and the older your kids get, the harder it is to start teaching them good behavior. So we start young, so that as kids get older, they'll know how...
This is a sponsored message from Panasonic HomeHawk If you don't yet have a smart home monitoring system, it can seem overwhelming to get started. Systems can be expensive, and complicated, with professional home-wiring to schedule, and installation to figure out....
I love that increasingly, so many of us are trying to be more mindful with our product purchases, opting for eco-friendly reusable products instead of wasteful single-use alternatives. It doesn't just make good earth sense, it makes good budget sense. Besides, some of...
This is a sponsored message on behalf of Macmillan Children's Publishing Group Kindness comes in all shapes and sizes, which is exactly the lesson kids will learn reading the newest book from New York Times-bestselling author Deborah Underwood. Finding Kindness...
I've seen so many clever Halloween costumes this year, it's hard to keep up! There are always the year's super popular costumes -- the astronauts, the princesses, the superheroes and a lot of VSCO girls. (Including me, ha. Hey, it was what I could throw together 5...
If it's not clear by now, we loooove Halloween around here! And if you need some ideas for party activities on Halloween night, or fun printables and craft ideas to keep the kids out of the candy stash for a few more days, take a look at these terrific ideas we've...
This post was written in partnership with Summer Discovery This past summer, my 12-year old son mentioned to me that he was finally ready for sleepaway camp, but knowing him, I wasn't sure the traditional sleep-in-a-cabin type experience was right for him. He's an...
We love finding cool, creative advent calendars each year, and this year we're geeking out over the new Infinity Harry Potter Advent Calendar Liz found over at Merchoid. Potterheads, don't let this one disappear (through the forces of muggles, not magic) before you...
This past week, I made a rare impulse clothing purchase: a gorgeous, long belted shirt dress from Uli Herzner that I spotted at a Chelsea Market pop-up. I've admired her work ever since she made it to the S3 fashion show on Project Runway, and I'm so excited to get to...
Last week, we shared the hilarious, if painfully relatable new mom complaint about snap-up baby pajamas, thanks to comedy writer (Jimmy Kimmel!), humorist (the New Yorker) and author of Nobody Will Tell You This But Me,  Bess Kalb. Seriously, she's one of my favorite...
After speaking with Dr. Ken Ginbsburg on our Spawned Parenting Podcast, I went out and bought all his books, one of which I'm thrilled to share is the next pick for our Cool Mom Picks Virtual Book Club. I found his approach to parenting teens (and well, kids in...
Recently, we received a question on Facebook that hit me in the gut: Q: What is a really thoughtful gift to give someone who's suffered a miscarriage? This is so tough. And since October is National Pregnancy and Infant Loss Awareness month, it's a topic I thought was...
While a real pet requires food, water, and responsibility, the phenomenal hand-knitted animals scarves from Dutch Etsy artist Nina Fuehrer require...well, just enough responsibility that they come home with your kids at the end of the day. At a recent Etsy holiday...
It's time to decorate those pumpkins, parents! And it's always fun to look around for some of the cute, creative pumpkin decorating ideas. Especially for those of us with little kids who aren't quite into the super creepy pumpkin vomiting guts thing just...
Cookbooks aren't just about recipes -- they open us up to new perspectives, new cultures, new ways of thinking about food. They can be funny, quirky or heartfelt., and they can even make our lives richer -- both at mealtime and beyond. Whether you're nodding along...
Today is the day that's been traditionally celebrated as "Columbus Day" in the U.S., but knowing now what we know about Christopher Columbus, the holiday is fast transforming into Indigenous People's Day for many. If you're wondering what Indigenous People's Day is,...
I just got wind of Statement Cards, a new line of greeting cards designed to honor women's successes beyond the traditional congratulatory occasions. You know, like engagements, weddings, pregnancy and childbirth. Not that there's anything wrong with any of those...
When you're a new parent, it's not like you have a ton of time, energy or brain cells to carefully DIY an Insta-perfect baby costume. So to make it easier, I've put together the guaranteed cutest handmade baby Halloween costumes on Etsy from all kinds of talented...
I've been looking for that next great heartwarming book to read to my kids after having fallen in love with Augie in RJ Palacio's Wonder a couple years back. So when I saw my friend Jamie Sumner's new book Roll With It in stores this week -- complete with an...
I think you're going to be as excited about LEGO Replay as I am. Because if your kids are like mine, they've accumulated a whoooole lot of LEGO bricks over the years. And there comes a point where maybe they don't need them. Or at least all of them. (Seriously, I'm...