DIY handmade ornaments make some of the most lovely Christmas gifts. Our own Christmas tree is filled with handmade holiday ornaments, some from flea markets and craft shops on our travels, and some DIY ornaments from crafty friends. (Save for those few Redskins ornaments that I can't get the SigOth to part with, sigh.)
Here, a few DIY ornament tutorials for you crafty folks who want to rock more of a handmade, cozy style on your tree–or add a thoughtful "I made this just for you" appeal to your gifts this year. Or hey, make a few to tie onto a gift as an added little bonus. You know, if you're one of those super-wrappers.
DIY Needle Felted Woodland Ornaments [above]
I adore the look of these sweet animal cameos! If you're good with wool felt, then needle felting would look amazing–but something tells me you can cheat with scissors and fabric glue and still have something quite pretty. (via Martha Stewart)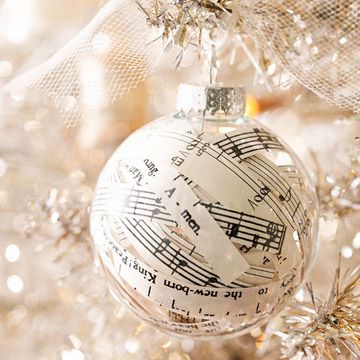 Sheet Music Christmas Ornament
I love this simple idea from BHG.com: Cut up strips of sheet music and place them inside clear glass balls. It would be fun to find songs with meaning for the recipient (Dominick the Donkey would have my brother rolling on the floor), but even doing them all with White Christmas is sweet.
Liz Stanley at Say Yes to Hoboken always has the most amazing ideas, and I just love this clever ornament project using little more than those paint chips that you can't help but steal from the paint store. (Just me?) They look cool even if you don't take the time to stencil on words like Joy or Merry Xmas. Skill Level: 0. In a good way.
Considering all you need is cardboard, yarn, and glue, these snowflakes are a great DIY handmade ornament project for kids to make and give as gifts. In fact if they don't turn out perfect, I think that's even cooler. (Via Creative Jewish Mom)
This is such a smart ornament idea, and I think even I could pull it off. Use some red plastic cookie cutters to make it more kid-like, or stick with aluminum and back with black-and-white imagery for a little more sophistication.
You don't need much more than felt, rickrack, ribbon and stuffing for this ornament idea from My Fantastic Toys–they're like mini pillows! Like the kind I made in home ec in 7th grade. (Ha.)  I love these so much. They seem like they could even be a great project for kids without the stuffing. Just lay out lots of ornament shapes, ribbon, cut circles and fabric glue–the little ones will have a blast.
If you're good with small details, all you need is some pretty heavyweight paper, small ribbon and a mini bow, and some baker's twine for hanging. A whole tree full of these would be gorgeous. And while I tend to like real live trees, seeing it hang on these faux snow white branches is kind of funky. (via BHG.com)

DIY Personalized Scrabble Tile Ornaments
As a bonafide word nerd (see also: an entire word nerd gift category in our Holiday Gift Guide this year) this is one ornament that I'd love to get for a gift. I bet you can simplify the project by skipping the hand saw, and just gluing the tiles together neatly, attaching the ribbon in the back. If you spell
out the kids' names, you've got one stocking stuffer down to boot. (Via Christmas Your Way)

DIY Gingerbread Cookie Ornaments
Of course the most classic–and easy–DIY handmade ornament simply involves baking, which is why we make these every year at Grandma's house. You can buy gingerbread men ornaments (like these from Solvang Bakery), or find a good