Considering I grew up with a gorgeous handmade felt stocking given to me by my godmother, it's not in me to settle for some $18.99 mass-produced one for my own kids. And so I've searched high and low to find the perfect Christmas stockings this year.
Perennial favorite Ahna Holder, known for her brilliant wool appliqué work, has a stunning new addition to her collection this holiday season with the festive poinsettia. It features a small photo holder as a clever way to identify whose stocking is whose without a monogram. Nine styles (at decent prices) are available at Ahna Holder's Etsy shop.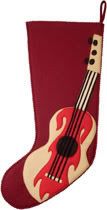 If you've got a few hundies just laying around, then you'll want to visit Hable Construction, a sister-founded business that collaborates with a Hungarian woman's cooperative to assist in the creation of their heirloom quality but very modern felt stockings.
Take a few minutes and have fun with Hable's interactive decorate your mantle feature. Just we warned that their unique stocking offerings have a remarkable way of speaking right to your credit card. -Kristen
[thanks, laura]